They beat Pakistan recently to clinch another edition of the Blind Cricket World Cup. And when you win against Pakistan- given the intense rivalry Pakistan's closest neighbour shares with it- it's supposed to be a mega achievement.
They've always given olives to strong teams like Sri Lanka. And their performances in the sport have consistently been good.
The Indian Blind Cricket Team is a jewel of its own. This is a serious statement, it's not endowed with pale or loose emotions. To be able to generate a full flow of the bat and get dismissals in the form of clever wickets is something that's extraordinary cricket.
Perhaps, in humble regards to this great sport of ours, it may not be incorrect to suggest that in Blind Cricket, Cricket realises it's true vision. It reaches a high that the bare nakedness of the human vision cannot achieve.
Those who play this sport combining passion and sweat aren't blind. Rather those who cannot take a minute to appreciate the abilities of these dedicated albeit physiologically-challenged athletes are the ones who truly are blind.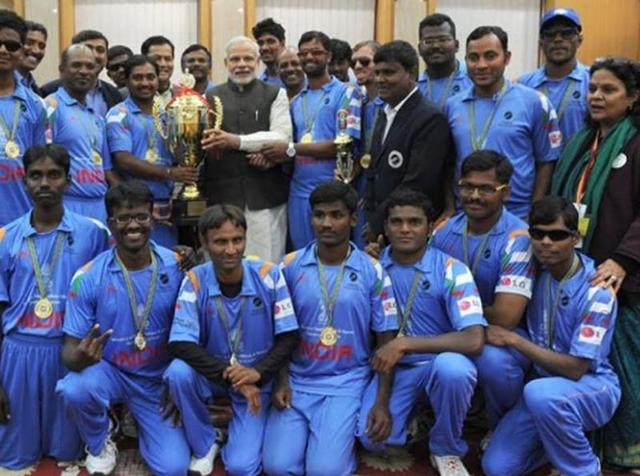 In this regard, the achievements of the Indian Blind Cricket Team are nothing less than extraordinary. And the same goes for those they play against and those they are able to out-fox. In recent times, the Indian Blind Cricket Team got beaten fair and square by Sri Lankans.
They were unconquerable it seemed; they just couldn't be defeated. In the 3-match limited-overs series, India lost to Sri Lanka by a close margin of 2-1. Captain Ajay Reddy, no less a champion than any of your Marvel superheroes was visibly distraught and sad.
"Bahut bura lag raha hai series haar ke," said the captain. Stating, "I'm feeling very sad at having lost the series," Ajay Reddy exclaimed his true emotion.
But that said, who should actually be feeling sad?
Shouldn't it be the countrymen- just about any human being hailing from a cricket crazy nation who don't find time to acknowledge the feat of a one of a kind cricket team? Shouldn't they feel bad at hardly supporting a side that travels to different nooks and corners of the globe to participate in a game India is mad after?
So brilliant has been the team's consistency that the just-concluded series loss to Sri Lanka was India's first in 6 years. That's not an ordinary feat; that's a rare peak of sorts.
The captain of the side, consistent among runs, regardless of the venue or opposition, shared that since the side has only recently absorbed a slew of youngsters that may not have been able to handle the pressure of international cricket- the team may have lost. Else, it certainly played its regular competitive brand of cricket.
The side that just lost to Sri Lanka at the latter's home-turf had about seven youngsters. In the previous game where they drew level- it was clear which way the pendulum was going to swing after India, from their allocated 40 overs, still managed to put 328 on the board. In so doing, it lost 8 wickets. But the team bundled out the hosts at 257. They did that inside 40 overs comfortably before going to lose the final.
While there's less time to get itself sorted as an onerous challenge awaits the Indian Blind Cricket Team at England, one can hope that this side goes from a strength to another. Being led by world-cup winning leader Ajay Kumar Reddy may prove to be a turning point in many a youngster's careers, it can be said.
At the moment, to strengthen the current unit's bench strength is something both captain Reddy and John David, Secretary of the Cricket Association for the Blind in India note.