India vs Sri Lanka series ended with the visitors registering a 9-0 whitewash while dominating in all the three formats but what if we tell you that it was all possible due to a major blunder made by Murali Kartik?
While the one-off T20I was one of the most entertaining clashes of this series, Sri Lanka came very close to winning the first match of India's tour. Moreover, the hosts played with a lot of intent and freedom, two things we never saw in this series from them but regular wickets by Kuldeep Yadav and Yuzvendra Chahal restricted them to a total of 170 runs, which in the first place was a commendable job by the Sri Lankans.
However, Virat Kohli knew that the dew factor will favor them in the second innings that is what happened. Despite losing Rohit Sharma and KL Rahul in the early stages, the 119-runs partnership between Virat Kohli and Manish Pandey lead them to an enthralling victory with four delivers still remaining.
But what if we tell you that the same dew factor could have given Sri Lanka their first victory of the season?
Yes, it was possible as Murali Kartik made a big mistake by stealing this chance from Upul Tharanga and his team during the toss.
Here is what happened.
( Video Source: SPNSportsIndia )
In the video, it is more than obvious that Sri Lanka won the toss and Murali Kartik wrongly announced that Virat Kohli will be choosing to whether bat or bowl first.
On the other hand, match referee Andy Pycroft, who was baffled with the development, failed to stay true to his duties didn't even told Kartik about the mistake he made.
Considering the importance of an international fixture, how insignificant the toss might sound, but it still is one of the major factors behind the result of a match and mistakes like these should not be acceptable in any scenario.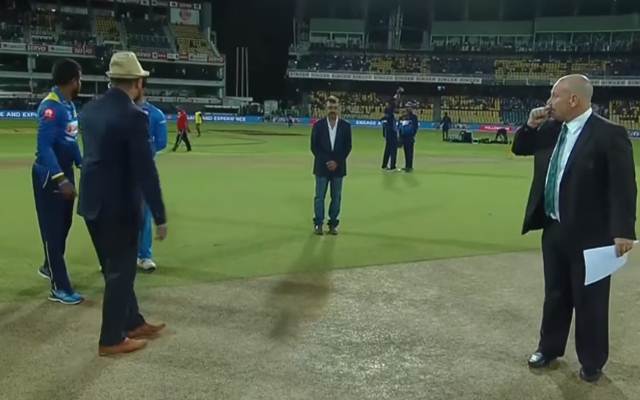 But the questions that has to be asked here are why Andy Pycroft didn't correct Murali Kartik? Wasn't Pycroft responsible for a fair play at any cost? Would the result of the India vs Sri Lanka one-off have been different, after Upul Tharanga had rightly asked India to bat first if the correction was made?
Share your views in the comments section below.