After witnessing some rare intent from the visitors in the ODI leg, we expected the India vs Sri Lanka 2017, 1st T20I to finally be 'That' thrilling match which we were waiting for, however, it might be due to the Indian team's formidable form or Sri Lanka's low on confidence side, we once again saw a one-sided clash between the two teams at Barabati Stadium, Cuttack.
Electing to bowl first, Thisara Perera might have thought that the due factor would give them an advantage in the second innings but a great show from Kuldeep Yadav (4-18-2) and Yuzvendra Chahal (4-23-4) completely dismantled the Sri Lankan lineup, which was bowled out for 87 runs in just 16 overs.
However, with a total of 180 runs in the first innings, Indian already had a foot on the winning side and the credit should be given to Lokesh Rahul's dependable knock of 61 runs followed by a fast-paced partnership between Manish Pandey (32) and MS Dhoni (39).
In fact, MS Dhoni's 22-ball stand ended up being the highlight of the innings as his fans finally saw the helicopter shot after a long draught which was also followed by more than a couple of boundaries.
While his batting prowess was enough to silence his doubters, MS Dhoni ended up adding another feather to his marvelous career in the second innings.
Apart from that, Yuzvendra Chahal too registered a record by becoming the most successful T20I bowler of the year.
On that note, here are some statistical highlights from the India vs Sri Lanka 2017, 1st T20I.
MS Dhoni now has the second most number of catches as a wicketkeeper (121), only after Kumar Sangakkara (133).
The two-time World Cup-winning captain went past AB de Villiers' record for the record of most dismissals in T20Is (74), which is one more than the South African.
This was India's biggest victory in T20Is (by runs) while the previous best was a 90-run win against vs England in Colombo, 2012.
MS Dhoni also becomes the second wicket-keeper, Kamran Akmal, to execute 200 dismissals in T20 cricket after.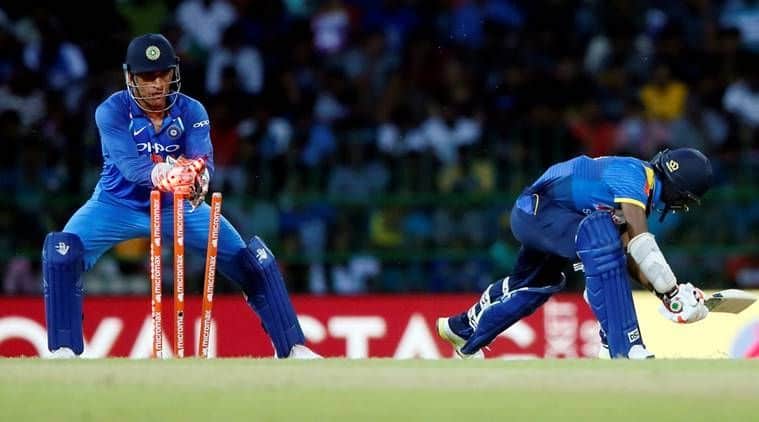 KL Rahul became the only fourth Indian cricketer to register a half-century against Sri Lanka in T20Is after Gautam Gambhir, Virender Sehwag, and Shikhar Dhawan.
During the India vs Sri Lanka 2017, 1st T20I, Angelo Mathews dismissed Rohit Sharma for the tenth time which is the most any bowler across all formats against Sharma.
With his 4-wicket haul, Yuzvendra Chahal became the leading wicket-taker for 2017 in T20Is having grabbed 18 dismissals.
With this win, Rohit Sharma became the third fattest captain to register his 50th victory in T20s (81st game) while Shoaib Malik (50th win in 68th game) and Misbah-ul-Haq (77th game) lead the tally. MS Dhoni sits at the fourth position having taken 86 games to achieve the feat.
With the hosts now having a 1-0 lead in the three-match T20Is series, Rohit Sharma will be looking to end this year on a high note after winning his first ever T20I series as the captain which will further bolster his image in the current squad.
As for the Sri Lankan side, Thisara Perera would want to at least lift a single trophy from this tour but for that, the whole team would have to up the ante in the remaining two games.