India vs Sri Lanka, Ist ODI was another one of those matches where the hosts were embarrassed despite a fabulous start and scummed to the pressure and almost unbreachable attack by Indian bowlers.
After being put to bat first, the hosts raised hopes for a challenge which fans never saw during the Test series, but what they got was a sudden collapse that outlined Virat Kohli & Co's dominant start to the series with a 1-0 lead.
From being 139/1 to 216 all out, Sri Lanka failed to cope up with a great comeback staged by Indian spinners, Axar Patel (3/34) and Kedar Jadhav (2/26), along with a disciplined bowling from current Indian pace sensation, Jasprit Bumrah (2/22).
Niroshan Dickwella (64) and Danushka Gunathilaka (35) put out a 74-runs partnership for the first wicket, however, Gunathilaka mistimed a reverse sweep against Yuzvendra Chahal (2/60), but Kusal Mendis (36) paired with the opener and kept pulling the run rate while keeping India under pressure.
And then Virat Kohli played his trump card by bringing in Axar and Jadhav, in a bid for some change to the bowling attack. Not only they managed to put a brake on the runs, but the same also forced the men on the crease to take risk with their bat, which triggered in downfall in the first innings of the India vs Sri Lanka, Ist ODI, after Dickwella and Mendis were sent back to the pavilion by Jadhav and Axar, respectively.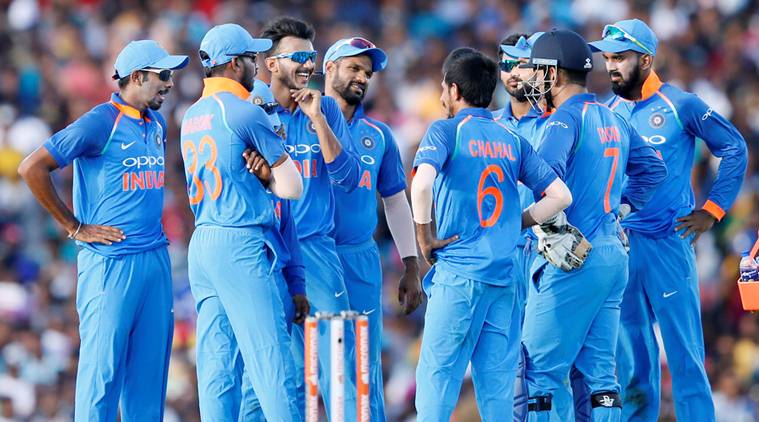 Angelo Mathews (36*) somehow managed to be at the crease until the end but he could not help Sri Lanka register more than 216 runs.
However, there was also a moment worth cherishing for MS Dhoni fans in the 42nd over, when, on Chahal's delivery, Malinga advanced down the pitch, but the bowler saw his intention and deliberately bowled an outside-off wide delivery. MS Dhoni, as expected, didn't miss out on the opportunity and with his lightning fast glove work, dislodged the bails before the batsman could get back into the crease.
— cricket (@84107010ghwj) August 20, 2017
Then came the second innings of India vs Sri Lanka, Ist ODI and except Rohit Sharma's dismissal raising an eyebrow of the selectors after his quick dismissal, it was a dominating chase by the visitors as Shikhar Dhawan scored an unbeaten 132 off 90 balls with the help of 20 fours and three sixes while Virat Kohli (82 off 70) played a perfect supporting innings to take India home.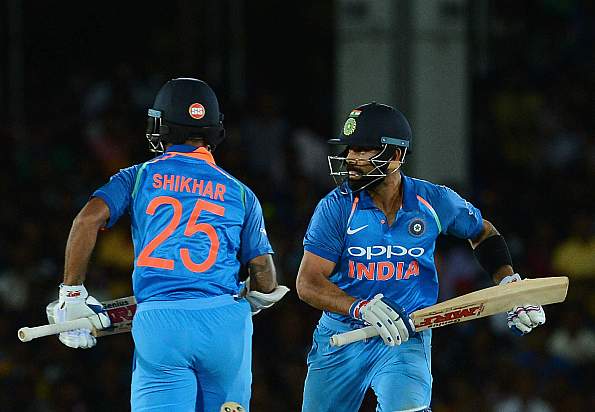 Here are the numbers that define Sri Lanka's fall and the visitor's dominance in the India vs Sri Lanka, Ist ODI.
India were left with 127 Balls to spare in the run chase of 217, the most for them in an One Day International where the target was in excess of 200.
It was also the biggest defeat for Sri Lankan team in terms of balls remaining (127) while defending a score of 200 or more runs in a 50-over ODI.
16 runs were scored by the last six Sri Lankan batsmen which is their lowest against India where all six batted.
Shikhar Dhawan became the first to scores 50 or more in his six consecutive innings against Sri Lanka (94, 113, 79, 91, 125 and 128*) and also the first Indian cricketer to do so against any opponent.
Dhawan took 71 Balls to reach his hundred, which is the second fastest for India while playing against Sri Lanka in ODI after Virender Sehwag's 66-ball century in Rajkot in 2009.
86 Innings taken by Dhawan to reach his 11th ODI century, the joint fourth fastest by any player as David Warner also reached there in his 86th innings. Hashim Amla (64), Quinton de Kock (65) and Virat Kohli (82) are the top three in this tally.
The unbeaten 132-runs knock by Dhawan is the third highest score by any Indian batsman in an ODI in Sri Lanka and also the highest in a run chase. The openers managed to go past the unbeaten 128-runs knock by Kohli at Colombo (RPS) in 2012.
Virat Kohli now has 4001 Runs in successful ODI chases, the third most by any player, Sachin Tendulkar's 5490 runs in 124 innings as well as Ricky Ponting's 4186 runs in 104 innings being the top two.
The stand of unbeaten 197 runs by Shikhar Dhawan and Virat Kohli is the highest second wicket stand by a pair in ODIs in Sri Lanka. Previously, the record was held by Gautam Gambhir and MS Dhoni for their 188-run partnership at Colombo (RPS) in 2009.
3/34 is Axar Patel's best career figures eclipsing 3/39 against South Africa in Indore in 2015.
After the India vs Sri Lanka, 1st ODI, the action now moves to Pallekele for 2nd limited overs clash, which takes place on Thursday, and we hope that the hosts put up a better fight to make this series a little more interesting.