He can be aggressive as a player, demanding as a captain and fierce with his words, but Virat Kohli has channelized everything shred of his personality into his on-field prowess. While his choice of expressions can be too much on the field, there is now no question over his cricketing greatness, especially after Virat Kohli smashed two ODI centuries during the India vs South Africa series.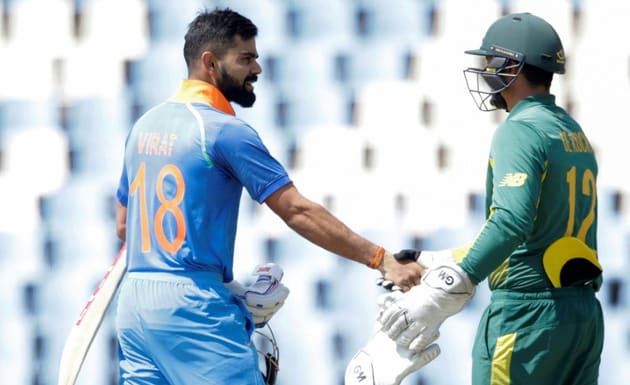 Virat Kohli has been at the front of Men In Blue's revival in the India vs South Africa fixture following two straight defeats in the Test series and starting with scores of 54 and 41 at Wanderers in the final Test which India invariably won. What has followed can easily be termed as an all-out assault on the hostess with the skipper leading the batting order with a tally of 112, 46* and 160* which has taken the visitors to a 3-0 lead in the best-of-six-On Day International series.
While his India vs South Africa, 1st ODI hundred was a special achievement for Virat Kohli as it was his first ever century in limited-overs cricket in the Rainbow nation, the unbeaten 160-run knock in Cape Town has added even more feathers to his tally of achievement. Other than being his 34th ODI century, the knock helped him becoming the first Indian captain to have 12 ODI hundreds, leaving Sourav Ganguly (11) behind.
After the India vs South Africa, 3rd ODI, Sourav Ganguly was all praises for the current skipper whose 160* laid the foundation of a huge 124-run victory. The former Indian captain, in his column in TOI, compared Virat Kohli to the likes of Sachin Tendulkar, Ricky Ponting, Rahul Dravid and Brian Lara, while saying that he is one of the greatest players to ever feature in the game of cricket.
Here is what Sourav Ganguly wrote in his column.
"It has been a superb performance from team India. To see them with a 3-0 lead in the ODI series in South Africa and that too after losing the Test series, itself speaks volumes of the character displayed by Virat Kohli and his boys."
"What is there to say about Virat Kohli? I have been fortunate to play with and against the names like Sachin Tendulkar, Rahul Dravid, Virender Sehwag, VVS Laxman, Ricky Ponting, and Brian Lara, and Kohli is right up there with all of them. What makes him stand out for me is the energy and intensity which he brings to the field in each and every innings and not just his amazing control as well his ability to adjust."
"To get to 34 ODI centuries so early in his career is just out of the world and the fact that no other Indian cricketer has touched a three-figure mark on this tour, so far shows what quality of batsmanship Virat Kohli has displayed during the India vs South Africa series. And we still have a while to go", Sourav Ganguly added.
That said, the wrist spinner duo of Yuzvendra Chahal and Kuldeep Yadav also deserves credit for team India leading the series by 3-0 and Sourav Ganguly also put stress on this fact as the duo has claimed 21 out of the 30 wickets in the first three matches of India vs South Africa ODI series.
"Yuzvendra Chahal and Kuldeep Yadav have been equally commendable and to get 21 out of 30 wickets in says much. It is not just about the number but also the psychological effect they have on the Proteas' batting line-up. What is even more exceptional is the fact these performances came on pitches which have not offered much turn."
Everything said and done, leaving the No.1 ODI side devastated in its own backyard is a huge achievement for team India in itself and as far as Virat Kohli's current form, as well as the number of records, is concerned, the Indian skipper is definitely destined for greatness before he hangs his boots.
Moreover, if Virat Kohli & Co. continuous to carry this momentum in the limited overs cricket before the 2019 World Cup, we might see Men In Blue entering the ICC tournament as hot favorites.