They never came as underdogs, they had all the momentum to re-create history but a reeling performance in the longest format once again brought them on the verge of a whitewash. However, never with an approach of never backing down, Virat Kohli & Co. is back to winning ways and after taking a 4-1 lead in the India vs South Africa ODI series, the Men In Blue have now won nine consecutive bilateral ODI series.
Thanks to Rohit Sharma's 17th ODI century, Virat Kohli and his men were able to put a total of 274 runs in the first innings of the India vs South Africa, 5th ODI, with multiple cameos from Shikhar Dhawan (34), Virat Kohli (36) and Shreyas Iyer (30).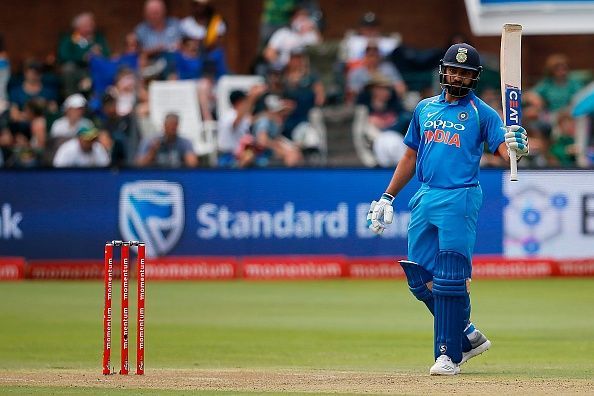 While the Proteas seemed highly likely to easily chase the target with Hashim Amla (71) continuing to push the scoreboard, it was Hardik Pandya who went on to put his name on the turning point of the India vs South Africa, 5th ODI with a direct hit to send Amla back to the pavilion when the hosts were looking great at 166/4 in the 35th over.
From there on, South Africa didn't get a chance to settle as the wrist spinner-duo of Yuzvendra Chahal (9.2-43-2) and Kuldeep Yadav (10-57-4) dominated the pitch with their disciplined bowling attack.
India vs South Africa, 5th ODI ended with the visitors winning the match by 73 runs as the whole South African was bowled out for 201 in 42.2 overs. This also means that by the end of this series, India will dethrone South Africa to become the No.1 ODI squad in the world.
Here are some of the statistical highlights from the India vs South Africa, 5th ODI.
Rohit Sharma now has 57 sixes in the 2017-18 season, the most by any player in a single season, beating Martin Guptill's record of 56 which was set during the 2015/16 season.
India vs South Africa ODI series is team India's first ever ODI series victory in the Rainbow nation.
This was India's ninth consecutive bilateral ODI series victory. Only West Indies have more consecutive victories in the format.
Team India is now the only second Asian team which has won an ODI fixture in South Africa, Pakistan being the first to do so in 2013.
Virat Kohli crossed the 400 runs-mark in the India vs South Africa ODI series, which is only the third time when that an Indian batsman has scored 400 or more runs in a bilateral ODI series.
Virat Kohli has already scored 429 runs in the series and only 10 players have scored more runs than the Indian skipper in a bilateral ODI series.
Virat Kohli and Rohit Sharma have now been involved in 7 ODI run outs. Only the pair of Ganguly-Tendulkar (9) has been involved in more ODI run-outs.
Virat Kohli and Rohit Sharma now have 13 ODI century partnerships in just 62 stands together. With 26 ODI century partnerships, Sachin Tendulkar and Sourav Ganguly is the only pair to have more such partnerships for India in the format.
MS Dhoni, with 500 dismissals, is now at the eighth position on the list of most dismissals by a wicketkeeper in List A cricket.
This was Rohit Sharma's 15th century as an opener. Only Sachin Tendulkar (45) and Sourav Ganguly (19) have more centuries as ODI openers.
Having a total of 28 wickets between them in the India vs South Africa ODI series Yuzvendra Chahal and Kuldeep Yadav now hold the biggest tally as Indian spinners playing in a bilateral ODI series. The previous record was of 27 wickets against England in 2006.
Rohit Sharma has now struck 265 international sixes for India. He left Sachin (264) behind in the tally and MS Dhoni (338) is the only other Indian to have more sixes.
Watching history being created is always the best a cricket fan can ever witness and after seeing team India finally putting an end to a long drought in South Africa, Virat Kohli & Co. have sounded a loud holler for England and Australia, who will host the Men In Blue, later this year.