India Vs Pakistan, there is something about this whole phrase that gives our adrenaline a kick start and gets to a new level of high. Well, we all know that the rivalry between India and Pakistan is no less than "Harry Potter and Voldemort" and that makes them one of the most arch-rivals in the cricketing history. India will be playing against Pakistan after almost two years and that means it will be an epic clash. Thanks to ICC Champions Trophy, everyone has already saved the date, 4th June 2017.
Now, the history has it that when India clashes with Pakistan, the cricket fans from both the countries go downright crazy over the match. While our men in blue have always performed well in ICC tournaments, the green flag holders also have decent records to their name, which means it's gonna be a nerve cracking game.
The fact that both the countries haven't played against each other since 2015, has taken the level of excitement to the 9th cloud among the fans and we are pretty sure that regardless of whatever records both the teams have made since 2015, the love for their country will motivate players to kick their best game on the field. After all, it's more than just a match.
Since the zest among the people has already become intense than ever, we have some of the best 'India vs Pakistan' moments here for you that would add some more zing to your already existing thrill meter.
Back in the days, Aamir Sohail was trying to be "too cool to give shit" (remember I said "trying")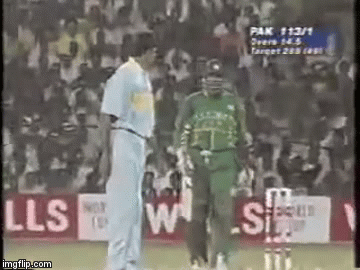 But later it turns out that his cool has hit a new low!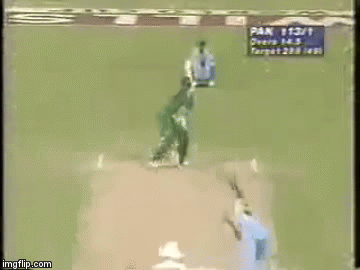 Well, nothing could stop Javed from behaving like "Mah Life Mah Rules"
Why? Well, this one explains a lot.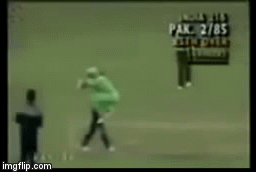 Although, Saqlain Mushtaq was a kickass spinner, (he was) and it wasn't easy to thrash his domination on the field but our Virender Sehwag being his natural #MultanKaSultan did it as he smashed a thundering six like it was a piece of cake.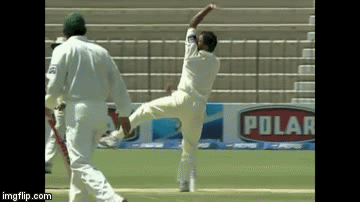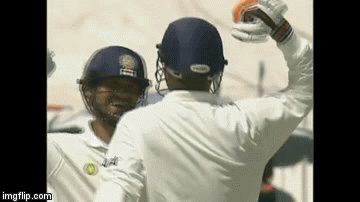 Well, while we are still at best memorable clash moments, how can we forget all the verbal brawl between Gautam Gambhir and Shahid Afridi as it has always been in news. Here are some of the Gifs that explain that these two were actually hate-hearts on the field.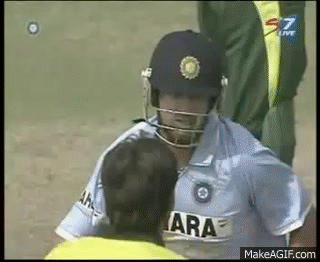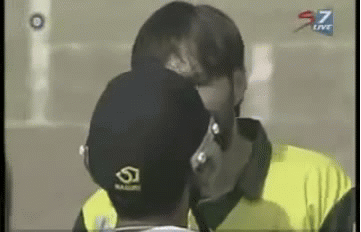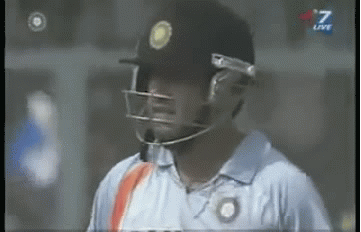 Gautam Gambhir is known as one hot headed player and it wasn't Afridi who has to face the fire. This one time it was Kamran who was the target and guess what, even Kamran was ready to pick the fight.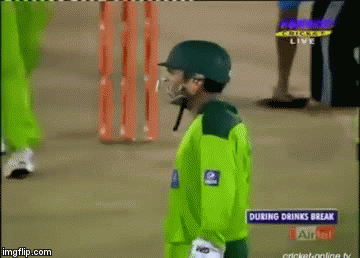 We are sure you have had your thrill watching those Gifs, so how about we make it a bit more electrifying? Here are some of the most exciting finishes between India and Pakistan.
While Indians were hoping for an epic win, Javed Miandad smashed a six on the last ball and broke all the hopes.
Pakistan cricket fans literally over-crowded the ground just because the amount of happiness was unexplainable!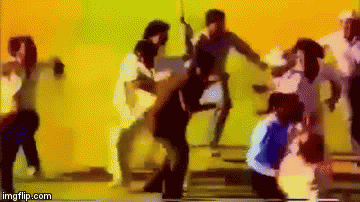 In 2007, Misbah made a wrong move on Joginder Sharma's bowl and got himself out which was overwhelming for Indian fans as Indian team became the World T20 Champions.
Shahid Afridi's six off Ravichandran Ashwin's bowling gave Pakistan a glorious win and not to mention it was a finish that kept all the fans on their toes.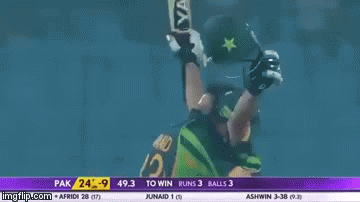 Well, do we need to mention that Afridi was overjoyed to win that match.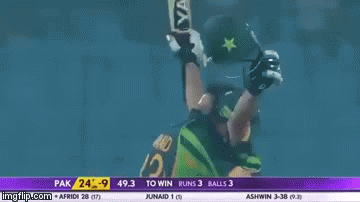 Well, the last one is our favorite, it was Harbhajan Singh who has thrashed the hopes of Pakistan and the snobby attitude of Shoaib Akhtar aka 'The Rawalpindi Express'.
They both had angry glances exchanged.
After which Bhajji Paaji knocked the hopes of Pakistan.
And later Shoaib was left with no choice other than making " I don't care" gesture!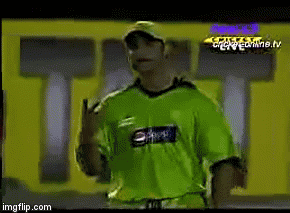 So these were the kick doses for the upcoming clash and we know that you want to scream INDIA INDIA out loud right now but hold your horses and save your throat for the main event which is scheduled for 4th June 2017.