India had a spectacular win last night with 7 wickets in the bag and chasing a massive target of 286, all thanks to Virat Kohli, Mahendra Singh Dhoni and Manish Pandey's mind-blowing performance. India is now in lead with 2-1 against New Zealand in this 5 match series. Kohli was felicitated with Man of the Match award while Mahendra Singh Dhoni was awarded Player of the Match, due to their incredible partnership of 151 runs.
Records, facts and figures after yesterday's match:
1. Kohli and Dhoni's partnership of 151 runs were second highest partnership against New Zealand for the 3rd wicket, after Navjot Singh Sidhu and Mohinder Amarnath's partnership of 158 runs on 27 March 1988 at Sharjah.
2. Kohli's 154* innings is his second highest in ODI, behind his all time high of 183 against Pakistan on 18 March 2012 in Dhaka.
3. Kohli became the first batsman ever to score a sum of 154* runs in his ODI innings at Mohali.
4. Dhoni exceeded Sachin Tendulkar's record of most number of sixes in ODI with 196 sixes.
5. Kohli won his 22nd Man-of-the-Match award in ODIs and his second while playing against New Zealand.
6. Kohli became the fourth batsman to have the most number of 100s with his 26th hundred in ODI after Sachin Tendulkar (49), Ricky Ponting (30) and Sanath Jayasuriya (28).
7. Dhoni's last innings (80) is his second highest score against New Zealand, while first being of 84*.
8. Mahendra Singh Dhoni is the 3rd wicketkeeper to surpass 9000 runs in ODI with his tally of 9058. The first two being Adam Gilchrist (9410) and Kumar Sangakkara (13341). However, Dhoni is the quickest to reach the spot with just 244 innings.
9. Kohli is now second to Tendulkar with 16 hundreds while chasing in ODI, Tendulkar's record is of 17 hundreds. He has also equalled to Tendulkar's record of successful chasing with 14 hundreds.
10. Last night's century was also Kohli's 26th century, being the quickest to reach this milestone with just 166 innings.
All these records and figures were a great outcome, however, it also revealed a lot about team India's positioning on the grounds. Here are some of our observations:
In our last article of 2nd ODI match between the two teams, we said about how Virat Kohli's failed performances result in India's loss which means our team is over-dependent on a player with skills and talent and lot of luck by his side (in Kohli's own words).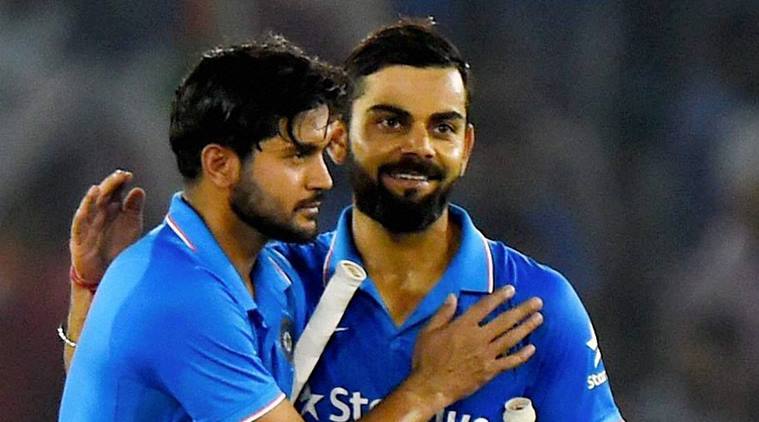 The target being of 286 runs and Indian team chasing the target, tells us that the bowlers of our team are on a weaker side in comparison to the batsmen of the team. India can chase under pressure but somehow fail to perform in such situations, possibly the reason why the captain (Dhoni) has majorly opted to bowl first.
On the brighter note, Kohli has been playing his master game, time and again, which has been beneficial for Indian team. Yesterday's match was also some sort of Deja-vu in Mohali, as the similar partners, last year ran their way to the win and to the semi-final of World T20 World Cup against Australia. Both Dhoni and Kohli's partnership was as exceptional as ever, they manipulated the gaps and took every single or double possible.
The entire focus of the series now shifts to the fourth ODI, which New Zealand needs to win, in order to stay alive in the series. Plus, it would be much more entertaining for the viewers to see who wins the deciding match of the series.
Follow us on Facebook, Twitter and Instagram for more updates. Don't forget to like and share. Do tell us your views in the comment box below.
24 October 2016
Jyotsna Amla