India gave a felicitous answer to England's 537 runs on the third day of the 1st test match between them. India scored 319 runs with the loss of 4 wickets and the Indian Captain, Virat Kohli was still at the crease after stumps and the match is definitely going towards a draw, if not in favour of India.
Also Read: India vs England 2016, 1st Test, Day 2: India Off to a Steady Start
England tried to take advantage of the cracks on the pitch but it didn't prove resourceful as the Indian team took the score to 228 with a loss of one wicket before lunch. It was the wicket of the inform Gautam Gambhir who would be disappointed on his misjudgment of a delivery by Stuart Broad.
The loss of Gambhir's wicket didn't hamper the performance of Indian Batting order as Murali Vijay and Cheteshwar Pujara lashed out on England bowlers, especially Adil Rashid. The bowler was giving some loose deliveries and the batsmen took advantage of those deliveries. The man who was keeping the Indian batsmen in check, turned out as the least economical bowlers against the batting duo.
England got a chance to send Vijay (at 66) back to the pavilion but debutant Haseeb Hameed dropped the catch, much to the relief of Indian side. After this, both the batsmen opted defence and made only 20 runs in the next 11 overs.
DRS proved to be a relief for the home crowd as Pujara was given leg before on Ansari's delivery. Pujara took the review and HawkEye overruled the on-field umpire's decision. Pujara then took his innings to 99* runs before tea.
The crowd was anxious to see Pujara score the remaining one run to record his century and the batsman took his own time as he faced 10 balls before completing his century.
The wait made the crowd more excited and the stadium erupted to congratulate the local player. This was his second consecutive test ton and this one came with an impressive strike rate of 60 runs.
Soon Vijay, who was given a lifeline while batting on 66 also completed his seventh test century, giving the Indian dressing room another reason of joy. After partnering for 209 runs the stand finally came to an end when Pujara (124) guided a short-wide delivery straight into the hands of gully.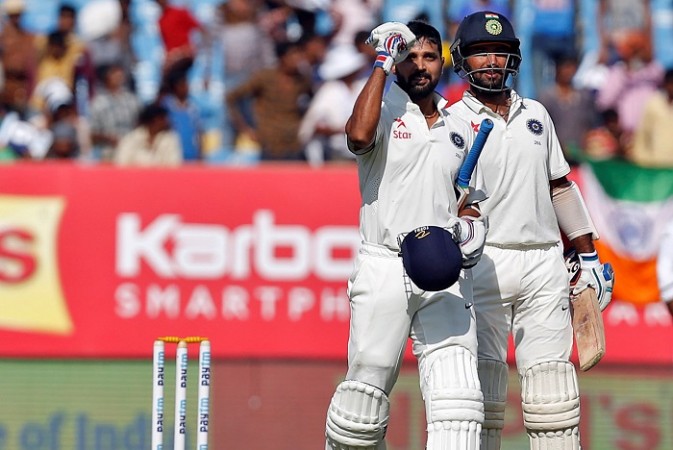 Murali Vijay, who got a cramp on a Chris Woakes throw, added another 41 runs to the score with Virat Kohli before departing at the personal score of 126 runs, on an Adil Rashid delivery.
Amit Mishra came to bat after Vijay's departure but he was also sent home after facing a couple of balls.
The home side is looking good as of now and Virat Kohli will have the responsibility to take the innings forward with Ajinkya Rahane on the fourth day of the match.
11 November 2016
Rohan Jaitly