In the context of cricket, one of the most popular sports around, this is no ordinary contest; it's fire vs wind. In other words, it could be said that this is a pure slugfest. Call it a tug of war between two powerhouses of world cricket. It's flair versus class, it's sun versus the moon. More like a clash between a sword and a mace. It's a contest between brawns and brains between ability and agility. Soon, what one might have expected to remain buried in the unknown future- India vs Australia day-night Test- is to be a reality.
As it is, it had been a while since one had begun discussing India vs Australia day-night Test, an outcome that, Tim Paine had jokingly shared, was perhaps dependent on the realm of Virat Kohli's decision-making not so much the unknown or the future as one might say.
But now, here it is. Word is already spread across the cricketing circles that the much-awaited contest in the form of India vs Australia day-night Test could soon be a reality, and that too in Australia.
Where it stands right now, then it's common knowledge that Australia is so central to live cricketing action, the biggest of them all about to begin in less than a week's time: the Women's T20 World Cup.
But before that, there was tremendous excitement surrounding what was a closely-fought women's tri-series (T20) involving three of the game's most dangerous sides, including- India, England, and Australia.
But more on India vs Australia day-night Test and a little birdie close to the revered BCCI suggests that one among the Tests slated to take place later in the year (in Australia) will likely involve a day-nighter!
As it is, India and Australia aren't just any normal sides; they are utterly competitive and ever dynamic cricketing outfits that boast of several world-class names that not only dominate the rankings and charts but are also top-of-the-mind in the fans' psyche.
As seen earlier this year, during Australia's rather one-sided tour to India, (that only featured 3 ODIs, no Tests and no T20s either), there was hardly any dearth of excitement as some of the fiercest bowlers in the likes of Mitchell Starc, Mohammad Shami, Pat Cummins, Kuldeep Yadav as well as some breathtaking batsmen featured two of the most respected batsmen in the current context, involving Steve Smith and Virat Kohli.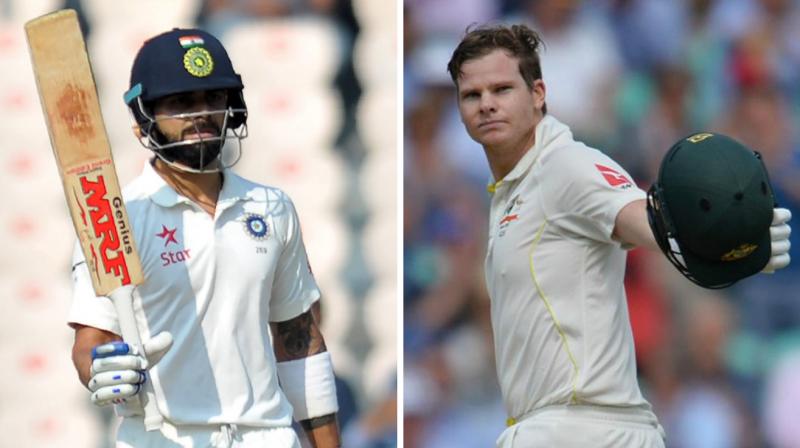 But in the course of the future, India are to tour Australia, an outfit they were able to edge past and quite comprehensively in the longest format of the game. Back then, a few months in the past, the likes of Cheteshwar Pujara, Mayank Aggarwal rose to the fore.
But now that India vs Australia day-night Test is to feature later in the year, who might, one wonders, shine for the respective sides?
Australia, one would think, would be keen to hit back at India, who beat them fair and square in the 3-match ODIs, despite the visitors hammering the hosts at the Wankhede contest (the series opener)!
Apparently, Saurav Ganguly shared that an official statement regarding India vs Australia day-night Test Down Under is to be made soon.