India vs Australia 2017 Border-Gavaskar Trophy is just around the corner and BCCI has named an unchanged squad for first two games of the four-match series. Amit Mishra and Mohammed Shami has been ruled out from the team due to injury and selecters remained uncertain about Rohit Sharma's fitness to include him in the squad.
Kuldeep Yadav, who was picked as Amit Mishra's replacement again found a berth as the later failed to recover in time. Abhinav Mukund, the third opener, also retained his spot in the 16-man squad.
Here is the full list of players: Virat Kohli (Captain), Murali Vijay, KL Rahul, Cheteshwar Pujara, Ajinkya Rahane, Wriddhiman Saha (wk), Ravichandran Ashwin, Ravindra Jadeja, Ishant Sharma, Bhuvneshwar Kumar, Umesh Yadav, Karun Nair, Jayant Yadav, Kuldeep Yadav, Abhinav Mukund & Hardik Pandya.
India is in for another challenge after defeating West Indies and forcing New Zealand(3-0), England (4-0) and Bangladesh, to taste the dust. This will be their last rubber of the hot season and Virat Kohli-led Indian team will looking to end it with the same momentum.
However, Australians stand next to the hosts in ICC Rankings and rightly so, as they too have had one of the best Test seasons so far. For them to defeat India at their own turf would mean all out dominance and to defeat Australia in the 13th edition of Border-Gavaskar Trophy would take much more than just a winning streak.
First, lets see the head-to-head India vs Australia stats in Border Gavaskar Trophy.
Out of the 12 Border Gavaskar tournament, India have won six while Australia stands with 5 under their belt, only one being drawn. Seven times, the tournament has been played in India and the home team has tasted dust only once, giving India an advantage this time.
However, the 2014/15 edition was dominated by Australia as they visitors were not allowed to taste a victory even once, Australia winning the series by 2-0. It tournament has been a back and forth one and India should not let their 'Chariot Of Victory' have the better of them.
What to Expect?
The dynamic duo of Ravichandran Ashwin and Ravindra Jadeja is going through their time with both the spinners shattering record after record during the home season. They have been able to get get some inputs from the pitch and that is their biggest advantage on home turf. However, Australian team have evolved drastically and have performed exceptionally well against spin and this will by far be the biggest challenge for the duo.
Hardik Pandya is expected in the playing 11, if India plans to go with three seamers and the too have performed throughout every format in India, giving an advantage to be aware of the pitch either while batting at the death or even bowling in tensed situations.
Umesh Yadav and Ishant Sharma are the answer to selectors worry of dependable seamers that came bowl in death overs and even slow down the run rate. During the one-off against Bangladesh, both took some important wickets and took their team to an historic win.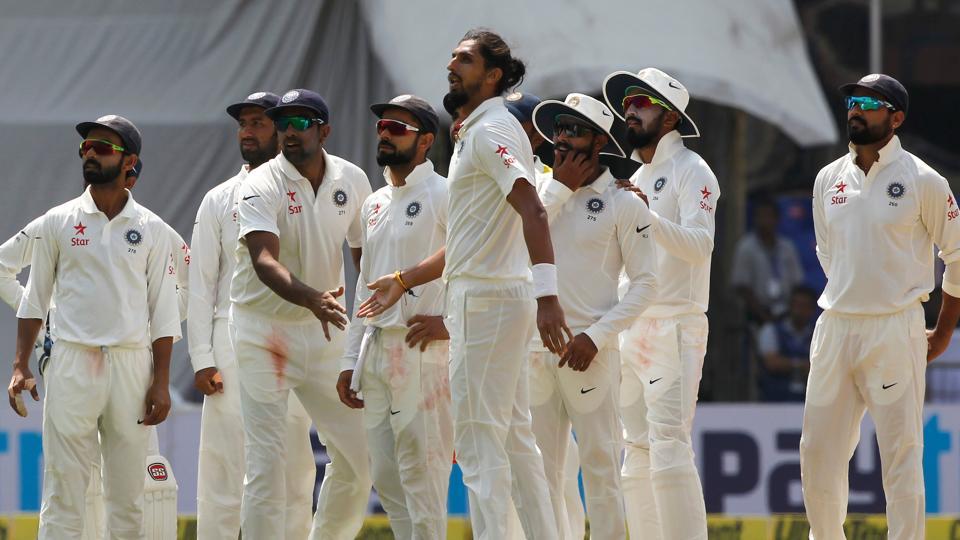 Ishant Sharma, specifically, will have the spotlight due his past performances against Australia. Since Sharma has the capabilities to pick up the spots either for the bounce or a lower delivery, Australians may suffer to pick is line and length. As for Umesh Yadav, his consistent and discipline bowling will play a substantial role in controlling the run rate.
Bhuvneshwar Kumar is also present as a backup and India may rip the visitors in their own game of pace.
Coming to the batting department, Murali Vijay will need to bestow the his team with another classic stand as was seen against Bangladesh and Karun Nair is expected to open with him due to the 'less seen' capabilities of KL Rahul.
Backed by Virat Kohli's presence at No.3, the lineup will just need to be patient and play the traditional cricket rather than going berserk with experiments.
Wriddhiman Saha (wk) will also play a pivotal role at the lower end and coupled with allrounders like Ravichandran Ashwin and Ravindra Jadeja, the tail of the batting lineup looks good.
The series is set for a take-off on 23rd Feb at Maharashtra Cricket Association Stadium and Virat Kohli-led squad will be looking towards registering themselves with golden words in Cricketing history during the India vs Australia 2017 Border-Gavaskar Trophy.
Stay Tuned for In-Depth Preview and Statistical Highlights of the India vs Australia 2017.
Follow us on Facebook, Twitter and Instagram for more updates. Don't forget to like and share. Do tell us your views in the comment box below.