Indian bowlers fought back hard and made Australia work for every run in a low scoring turnout after the visitors struggled to put only a paltry 103 on the board.
You did wonder whether what India managed in the end would've even been possible had Smriti Mandhana with 35 and Harmanpreet Kaur with 28 gotten out cheaply.
63 of the runs scored by India's famous batting duo were as important to the total as the critical reminder that the rest – Jemimah, Shafali (albeit her inexperience), and Bhatia simply couldn't put the much-needed runs that would've perhaps pushed the Australians even close to the edge.
Talking points India v Australia women's tri-series 2020:
Australia huff and puff in their run chase
The hosts won in the end but the win didn't come any easy, an indication of why India v Australia women's tri-series 2020 was a close game.
Even as Australia did emerge victorious courtesy a vital if not utterly dominant 4-wicket win in the end, it wasn't before a flurry of wickets at the top and middle overs made what should've been an easy chase a close one in the end.
By the time, the 10 overs were bowled, Australia women were 4 for 56.
Perry and Jonassen were at the crease. Mooney, Gardner, Haynes, and the dangerous Healy had all departed by then.
This was an indication of India's powerful spin attack that can hold onto its own at the back of defending a small score.
Among the key wickets were Rajeshwari Gayakwad's wicket of the dangerous Gardner(22), Deepti Sharma's peach of a delivery to stump the dangerous Beth Mooney(6), and Reddy's big wicket of Rachael Haynes(9) that gave Australia a jolt.
But early momentum was set for India by none other than Shikha Pandey who struck a vital breakthrough in getting the better of the ballsy Alyssa Healy in the very first over.
Gayakwad got Gardner out- clean bowling- the ever-capable right-hander off a slightly quicker ball than the tossed up ones the left-arm spinner foxes batswomen with.
The wicket was a much-needed one from India's perspective, Gardner striking at 157.
By the time the 11th over of the run chase had been bowled, Reddy, who would later step out of the field thanks to a powerful blow by Perry (while grassing a difficult return catch opportunity) had bowled a fine spell.
Until such time she had collected 6 dot balls in her 2 overs from which she'd removed the experienced Haynes.
Although, the required run rate by then was under 5 by the time 12th over was in play.
A close finish in the end
The last two overs asked Australia only 5 but by then they had lost 6 wickets. You know there's always a chance when Shikha Pandey is attacking with the white ball.
Even as she couldn't manage a wicket which did prompt a question whether Australia would've been further pressed, there were some close thrills.
Every dot ball was being cheered by then. But any chance of Australia's lower order feeling nerves Carey and Sutherland in at a crunch time was dislodged by a strong mid-wicket boundary executed by the left-handed Carey, brought in for Lanning.
Though Pandey's over did have not one or two but 3 dot balls in it, it wasn't enough to stop Australia to chase down the 104. 
The relief, in the end, coming with an over and a ball to spare, the close finish making for one of the key moments of India v Australia women's tri-series 2020.
Perry's knock and exceptional bowling display
Is there anything that Perry cannot do? I'm giving another fine example of just why she's so highly rated, Ellyse Perry guided India home and formed among the key moments during India v Australia women's tri-series 2020.
Her 49 off 47 formed the backbone of Australia's successful run chase.
This, it ought to be said, was at the back of a special 4-for in her bowling turnout that resulted in key wickets of Shafali, Harmanpreet, Bhatia, and Deepti Sharma.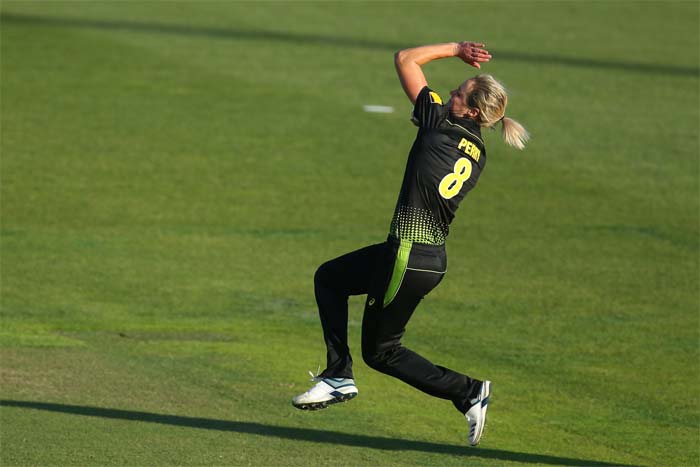 By the time the 14th over was in play- Perry had already stuck 6 boundaries, batting on 36 then. 
There was little irony in seeing a former footballer, who's played regularly as a defender defending Australia, putting to excellent use her redoubtable skills with the bat in hand.
An indication of how important Perry was for the Chase was served by the stats she defined Of the 70 made by Australia Women in the 13 overs, 27 alone were made by Perry, who had already stuck to an end.
The dramatic 14th over
It was Perry and Reddy against one other in the 14th over as the domineering Australian carved a beautiful off drive off Reddy, not the toughest shot to execute off a length delivery. Then, Perry would capitalise a short one guiding it to the mid-wicket boundary. Two back-to-back shots. The Australian had already jumped to 35. 
On the fourth ball of the over, which perhaps didn't offer the easiest of chances for a return catch, saw Reddy put down Perry.
You thought for a second whether Arundhati, who came in as an injury replacement could've perhaps been the one injured. It was exactly meant to be.
But by then only 26 were needed off 38 balls.
Soon after, Jonassen would hold out to the deep mid-wicket boundary, Rodrigues making no mistake.
This meant Carey, who was brought in for Lanning, would be on the crease, who'd fire the winning runs and make for one of the talking points from India v Australia women's tri-series 2020.