India wrapped up their Test year with a comprehensive rout of Bangladesh in Kolkata by an innings and 46 runs. Virat Kohli's men have had a phenomenal run in Test cricket this year and India's 2019 Test records will certainly elucidate that point. They have blown oppositions away and have played remarkably well as a unit. 2019 will certainly go down as a landmark year in Indian Test cricket history.
Since India won't be playing anymore Tests this year, it will be a good time to look back at some of the key stats and numbers from their record-breaking year where fast bowlers dominated and batsmen made merry. Here is a look, then, at the best of India's 2019 Test records.
India's 2019 Test records – A clean sweep by India: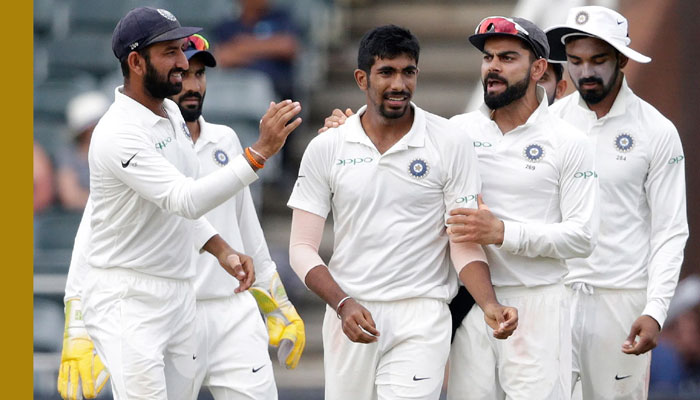 Team India was the most dominant Test side in 2019 for a reason. They played 8 Tests, won 7 and drew one. Apart from drawing a Test in Sydney against Australia earlier in the year, India registered Test victories against the West Indies at North Sound and Kingston, won against South Africa in Visakhapatnam, Pune and Ranchi and then defeated Bangladesh comfortably in Indore and Kolkata. India are now firmly placed at the top of the ICC World Test Championship Table with 360 points in 7 games. It will be interesting to see if India can maintain that lead next year when they play all their Tests overseas.
India's 2019 Test records – India's fast bowlers dominate:
2019 was the year when India's fast bowlers became the dominant force for the team in Test cricket. The combined pace quartet of Jasprit Bumrah, Ishant Sharma, Mohammad Shami and Umesh Yadav picked 95 wickets for India this year at a sensational average of 15.16. This is the second-best average ever for a team's fast bowlers in a calendar year in Test cricket while taking more than 50 wickets. What's more, their strike-rate in 2019 was 31.06 which is the best ever for a team's quicks in the same guideline.
This is unprecedented and unheard of in Indian cricket. And through India's 2019 Test records, the team's fast bowlers have set a benchmark for future generations to follow.
Most runs – Mayank Agarwal finally gets his moment to shine: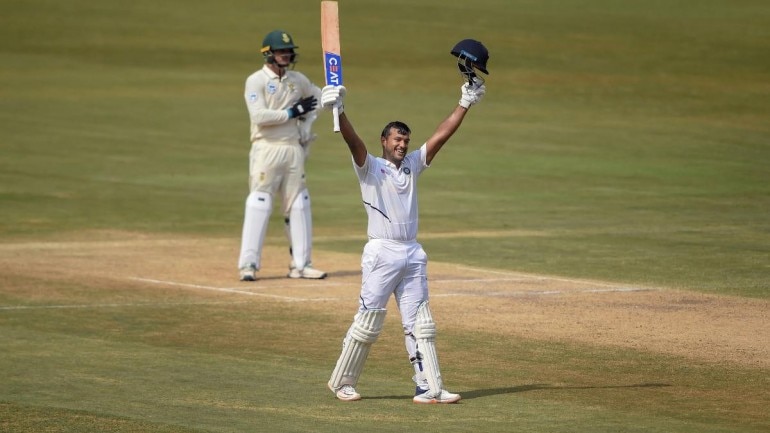 2019 was a year that Mayank Agarwal will remember very fondly. It was the year that brought the opener in the spotlight and established him as India's new reliable Test opener. Mayank ended 2019 as India's highest run-getter in Test cricket with 754 runs in 8 Tests at a superb average of 59.04 along with 3 centuries and 2 fifties. Out of those 3 centuries, two were double hundreds, including a career-best of 243 against Bangladesh at Indore.
After years and years of grinding it out in domestic cricket with solid performances, Mayank has finally got to prove his mettle and he has done it in some style.
Most wickets – Mohammad Shami is in beast mode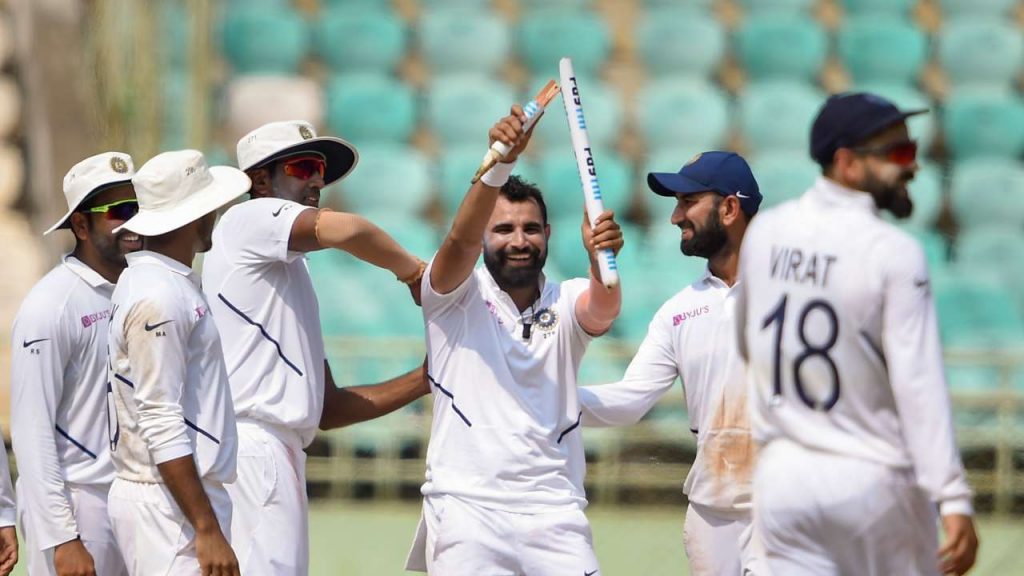 With 33 wickets in 8 Tests at a spectacular average of 16.66, Mohammad Shami made his mark in India's 2019 Test records by being the highest wicket-taker for the team. His best performance was 5-35 v South Africa in Visakhapatnam. The numbers, however, don't do justice to the kind of impact Shami had in Tests, especially at home. He was fast and furious; he was mean and lethal. Shami broke many bones and ruffled many batsmen on Indian pitches, generating great bounce and movement. He was unplayable at times and always looked like getting a wicket. Shami looks to be in the pink of his health and form and the next year could be even better for the spirited fast bowler.
The next on the list of India's leading wicket-takers is Ishant Sharma who had 25 wickets in 6 Tests at an average of 15.66.
Highest individual score – Virat Kohli's classy 254*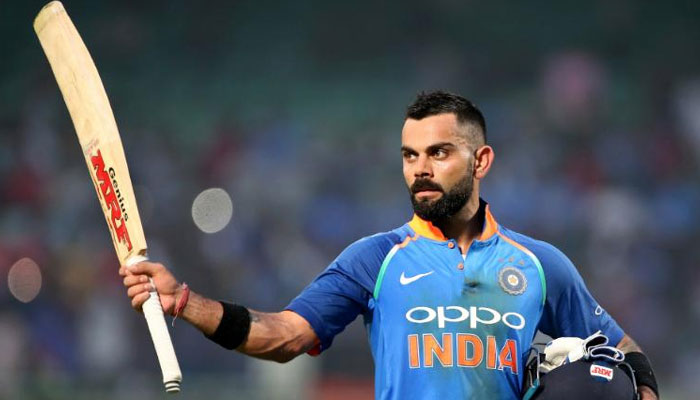 While Virat Kohli didn't have the greatest year in Test cricket, he certainly had his say in India's 2019 Test records as a batsman. His classy unbeaten 254 against South Africa at Pune remained the highest individual score by an Indian batsman in 2019. That knock was also Virat's career-best performance and the first time he crossed the 250-run mark in an innings in Test cricket.
Mayank Agarwal's 243 against Bangladesh at Indore is the second-highest score by a batsman for India in Tests.
India's 2019 Test records – Mayank and Rohit set new Indian opening partnership record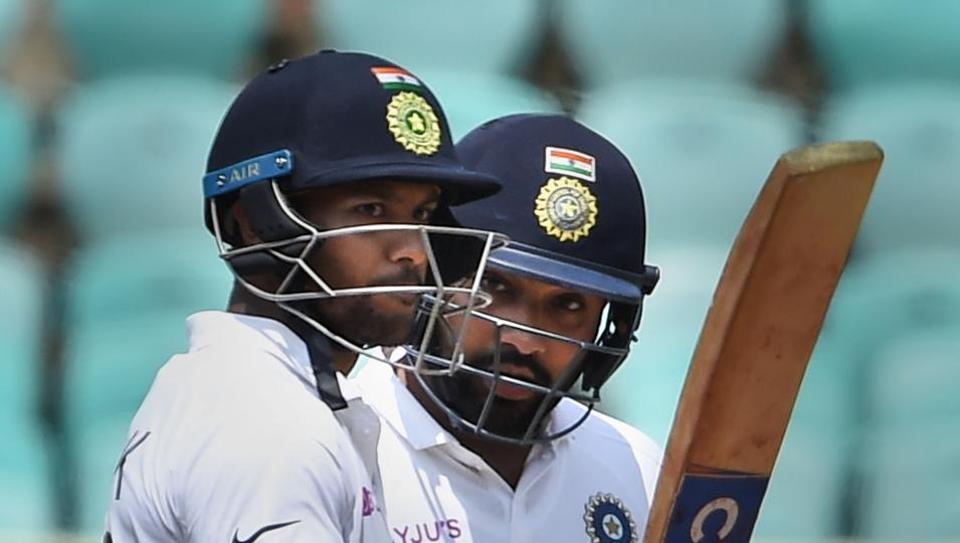 Rohit Sharma and Mayank Agarwal weren't supposed to be India's openers in Test cricket. But after their performance in 2019, it will be almost impossible to overlook this opening pair. Rohit and Agarwal shared an opening stand of 317 runs in the first Test against South Africa at Visakhapatnam. With that feat, they became only the third Indian opening pair to share a 300-run partnership in the history of Test cricket. Vinoo Mankad and Pankaj Roy (413 runs against New Zealand in 1956) and Virender Sehwag and Rahul Dravid (410 runs against Pakistan in 2006) are the other two Indian opening pairs who have shared a 300-plus partnership.
Rohit and Mayank are thus in esteemed company and their 317-run opening partnership is certainly the standout feature of India's 2019 Test records.
India's 2019 Test records – The highest team total:
India had a good year with the bat in Tests and they managed to score healthy totals on the board frequently. India scored totals of 500-plus on three occasions and of 400-plus on three occasions. The highest team total by India in 2019 was 622-7 (dec.) against Australia at Sydney. The total was achieved through brilliant hundreds by Cheteshwar Pujara (193) and Rishabh Pant (159*). The match ended in a draw.
India's second-best team total in 2019 was 601-5 (dec.) against South Africa at Pune.
India's 2019 Test records – Rohit Sharma leads the way with most sixes :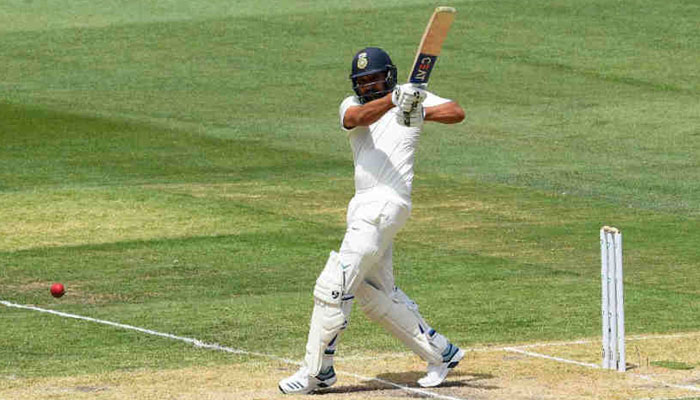 In India's 2019 Test records, one very unique and fascinating list is the most sixes one where the team has done wonderfully well. Rohit Sharma, India's new Test opener owned this record by smashing 20 sixes in just 5 Tests this year. Following him closely is fellow opener Mayank Agarwal who biffed 18 sixes in 8 Tests in 2019.
Interestingly, Rohit's 20 sixes are also the most by any batsman in Test cricket in 2019 till now. The only ones close to him are England's Ben Stokes (15 sixes) and New Zealand's Colin de Grandhomme. It will be interesting to see if Rohit manages to hold on to his record by the end of the year.
India's 2019 Test records – India's fast bowlers with sub-20 average:
It has already been mentioned the kind of impact India's fast bowlers had in Test cricket this year. However, in India's 2019 Test records, there is another incredible stat that is worth noticing. Three of India's fast bowlers – Umesh Yadav, Ishant Sharma and Mohammad Shami – had an average of less than 20 this year (with 20-plus wickets). While Ishant averaged 15.56 in 6 Tests, Umesh averaged 13.65 in 4 Tests and Shami averaged 16.66 in 8 Tests. This is only the second instance of three fast bowlers from the same team having a sub-20 average (with 20-plus wickets). The first time this happened with in 1978 by England's pace trio of Ian Botham, Chris Old and Bob Willis created this unique record.
Before 2019, no Indian fast bowler had ever taken 20-plus wickets at at average of less than 20. This is indeed a landmark moment in Indian cricket history.
So what is your favourite part from the list of India's 2019 Test records? Do share your view below.