There are spinners, there are leg spinners, and then there's a certain Imran Tahir. Born in Pakistan but having played for South Africa did little to curtail his worldwide fame. For he was a bowler much liked for his spirited performances in the game and as much for his wild but cute celebrations. Perhaps, and no fanboy speak, if there were ever to be an essay written about the most interesting cricket celebrations, then Imran Tahir would certainly be on that piece of cricketing literature.
Moreover, he wasn't just any leg spinner, he was a widely successful one. One look at his stats reveal that with 293 wickets, Imran Tahir, who's now happily retired but still participates in freelancing T20 leagues around the world, was a top notch performer.
Even in his final world cup for South Africa, in 2019, a time when there was no AB de Villiers with Amla in poor form and Faf doing the bulk of the scoring, it was Imran Tahir whose leg spinners didn't disappoint.
But all of that said, Imran Tahir also often makes news for his interesting takes about the game. Originally from Pakistan, the fun-loving right arm spinner recently shared an endearing statement concerning Pakistan cricket. For starters, let there be no misconception about the fact that Pakistan happens to be one of the best breeding grounds of cricketers blessed with raw talent. And perhaps ditto for a West Indies or South Africa.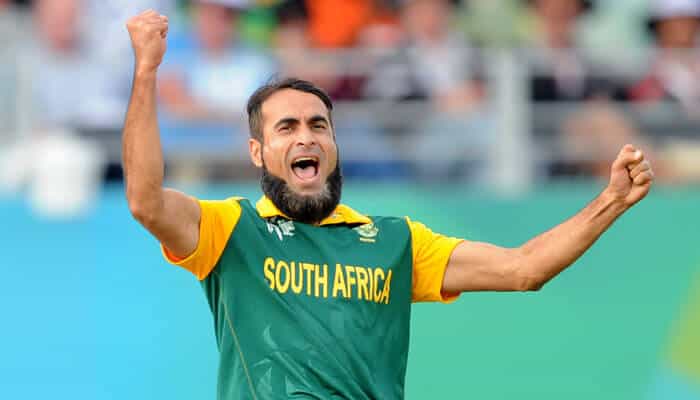 Yet, what did Imran Tahir say that might have struck a chord with so many in this part of the sub-continent?
Interacting with a portal called Cricast, Imran Tahir, who wears his heart on his sleeve, happened to share-
"There is not a single kid who doesn't want to play for Pakistan. I have learned all my cricket in Pakistan. I have played first-class cricket in many countries including England and South Africa, but playing in Pakistan has helped me overcome all my fears!"
That being said, part of a very strong Proteas line up that attacked opponents with daring and might at their prime, featuring a line-up including pure greats- Morne Morkel, AB de Villiers, Dale Steyn, Vernon Philander- all of whom are today retired and pursuing something or the other related to cricket, for instance, De Villiers making himself available for the RCB, the presence of Imran Tahir lifted the hopes of a South Africa that today finds itself in a phase of rebuilding.
Also Read: India's Tour Of Sri Lanka To Be Played Between July 13-25!
There's a new test leader at the helm in the form of Dean Elgar, with there being handy and exciting talents around including- Rassie van der Dussen, Kyle Verrynne, Jon-Jon Smuts, Keshav Maharaj, Temba Bavuma.
And one of the finest series that is soon to begin, and actually in the next few hours, as a matter of fact, is the keenly-awaited Proteas tour of the West Indies.
Surely, we know who Imran Tahir would be rooting for as also millions of fans for whom the Proteas are still about the quintessential fire- right? No love lost for West Indies though, it must be noted with kind consideration.