ICC Champions Trophy 2017 has turned out to be a tournament that has resulted in one of the biggest upsets in modern day cricket. From Bangladesh entering into the semifinals to Pakistan beating the No. 1 ODI team after facing a humiliating loss against India, fans are finding it hard to come up with a certain favorite of the ICC Champions Trophy 2017 title.
However, the defending Champions, India came up will all aces against South Africa and registered an 8-wickets win against South Africa, letting the opposition hold onto their chokers tag. Shikhar Dhawan became Mr. ICC Tournaments with his 83 balls 78 and Virat Kohli played a captain's knock of 76 runs off 101 balls, making it a successful chase and leading the Indian team into the semi-finals.
Watch Dhawan and Virat Kohli's Partnership here
🇮🇳 Watch some of the best shots from India's innings as they chased down 191 with ease to book their place in the semi-finals of #CT17 pic.twitter.com/YKPrAOpeiK

— ICC (@ICC) June 12, 2017
During the first innings, on a pitch that finally had something for the bowlers, India dominated the game with a bowling attack that seemed unbeatable and while everybody is talking about Ab de Villiers (16) and David Miller's (1) run out, we would like to mention the cause behind it.
140-2 ➡️ 191 all out

Watch how India managed to restrict South Africa at The Oval to book their place in the semi-finals of #CT17 pic.twitter.com/1DU0QSDZoP

— ICC (@ICC) June 12, 2017
It was the economical bowling of Jasprit Bumrah (8-28-2) and Bhuvneshwar Kumar (7.3-23-2) in the first eight overs, that helped India restrict South Africa to a minimalistic total of 191 runs. Both the bowlers were not giving room to Quinton De Kock (53) and Hashim Amla (35), which made them go for untimely shots in order to move the scoreboard and they ended up giving their wickets.
When Ab de Villiers, who was expected to made amends, came to the crease, the pressure was already high on the batting team and while attempting to steal some singles, he ended up giving away his wicket.
But that is not what we are going to talk about here neither about the controversial decision to keep Umesh Yadav out of the game nor how good India was in the fielding department. However, we would like to highlight the fact that since the Kennington Oval had 'grip' to offer to the bowlers, Ravichandran Ashwin (9-43-1) and Ravindra Jadeja (10-39-1) seemed like a perfect spinner duo.
However, there was a moment that made us question ourselves that, Is Virat Kohli ready to lead India in all the formats?
You might be confused as Kohli is already doing the same and leading the side to dominating victories but there were a couple of moments where we thought that the former Indian captain, MS Dhoni still is the 'leading figure' in the Indian dressing room.
1. The first ball of the 41st over.
Andile Phehlukwayo was given LBW on Jasprit Bumrah's delivery as a yorker landed on his back foot, right in front of the leg stump. However, the decision was not that easy. The on-field umpire had refused to mark it as LBW and India resorted to the 'Decision Reviewing System'.
Virat Kohli, since he is the captain, was asking the bowler as well as the fielders inside the 30-yard circle about the call and meanwhile, there came a comment from the commentator's box. Virat Kohli Should ask MS Dhoni about the call.
Now there are two reasons for that. First, being the wicketkeeper, MS Dhoni has a clear voice of the delivery and second, 'DRS Is Something Which MS Dhoni Has Mastered'.
There is nothing wrong in this but when Virat Kohli asked every other player who had a clear view, why was his inquiry went unheard?
2. The 43rd Over
Jasprit Bumrah was about to start the over but then after a chat with MS Dhoni, Virat Kohli brought in Bhuvneshwar Kumar and the Indian swing sensation took two wickets in succession.
Now, this forced us to question, 'What if this was a close match, what if Jasprit Bumrah had bowled the 43rd over and what if it turned out to be a decider?'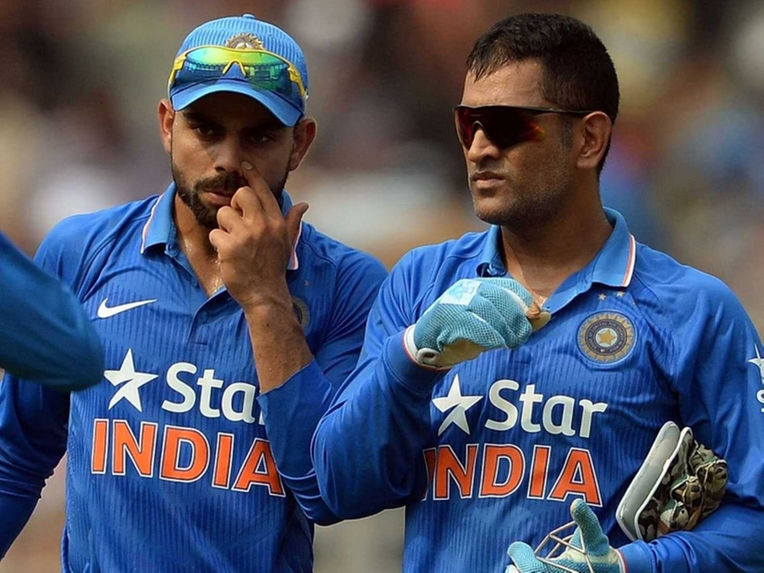 We are not questioning Virat Kohli's abilities here, but what we want to know is, 'Could India have managed to win all the last ODIs played under Virat Kohli if MS Dhoni would have retired?'
Does MS Dhoni's regular inclusion in the playing XI has anything to do with the fact that Virat Kohli is learning the traits from him?
And the most important question, 'Will Virat Kohli ever come out from MS Dhoni's shadow until the latter retires?'
What are your views on this? Share them in the comments section below.
12th June 2017
Rohan Jailty