ICC Champions Trophy 2017 could have had a better finale and you now need to strap yourselves in and fasten your seatbelts because it's going to be a wild ride on Sunday. India will face Pakistan in the ICC Champions Trophy 2017 finale, a match made in heaven and a dream come true for marketers and fans. A clash that nobody could have expected after the two sides met to kick off their respective campaigns.
The dream match turned into reality after India beat Bangladesh by 9 wickets at Edgbaston and by all means, it was a dominant victory for the Virat Kohli-led team but still not an easy one as it seemed during the initial stages.
Yes, Indian managed to restrict Bangladesh at 264 runs and despite it being a competitive total, there were moments when they looked like they could make much more. After the early dismissal of Soumya Sarkar (0) and Sabbir Rahman (19), Tamim Iqbal (70) and Mushfiqur Rahim(70) and Mushfiqur Rahim (61) had a partnership of 123 runs and were punishing every bowler that Virat Kohli introduced to the attack.
Failing to make an impact, MS Dhoni had a few words with the skipper and Kedar Jadhav was given the ball for the 26th over. Any self-respecting batsman would have probably wouldn't think of much and the same happened. Nothing much happened for the first two over to change Tamim Iqbal and Mushfiqur Rahim's approach towards Jadhav, thanks to some short as well as wide balls.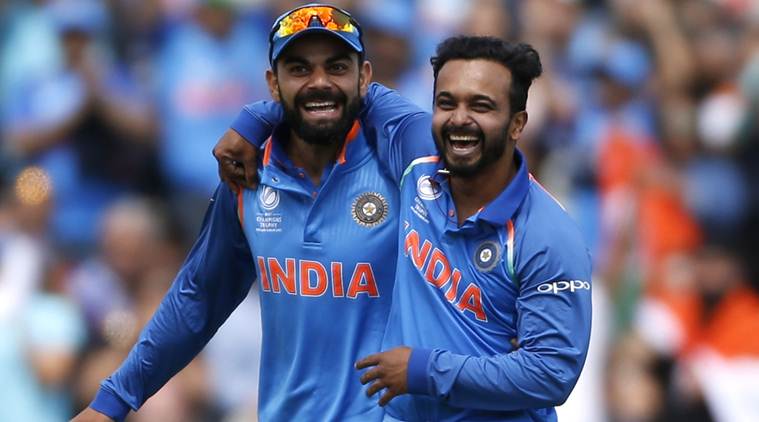 But then the magic happened. On the last ball of Kedar Jadhav's second over, India got the first, much needed, breakthrough in form of Iqbal followed by Rahim's wicket in his second over. Kedar Jadhav (6-22-2) ended up claiming two of the most important wickets followed by Jasprit Bumrah's dominance that helped India restrict Bangladesh at 264 runs.
What followed next was a complete performance from the top three Indian batsmen, Shikhar Dhawan (46), Rohit Sharma (123) and Virat Kohli (96) that was enough for the team to enter the ICC Champions Trophy 2017's dream finale against Pakistan. Virat Kohli also became the fastest to make 8000 ODI runs in World Cricket.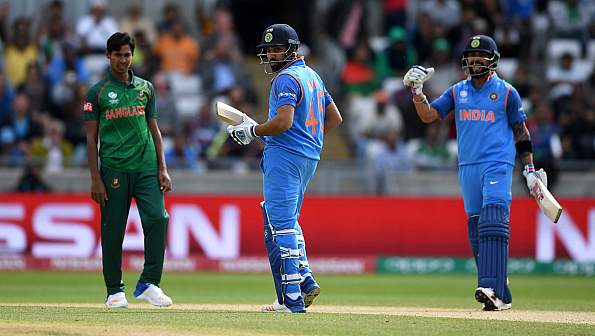 Talking about the India vs Pakistan ICC Champions Trophy Final, this will be the fourth time that these teams will face each other in a knock out stages of an ICC tournament.
Here is what happened in the last three encounters
1996 World Cup Quarter Final
India defeated Pakistan by 39 runs in 1996 World Cup second quarter-final M.Chinnaswamy Stadium in Bengaluru. Navjot Singh Sidhu's 93 off 155 balls and a quickfire 45 runs on 25 balls from Ajay Jadeja helped Indian team post 287/8 in 50 overs. Although, Pakistan gave a good start by Aamer Sohail as well as Saeed Anwar but failed to capitalize on it as the team kept losing wickets.
Ultimately India registered a victory with the help of three wickets from Venkatesh Prasad and Anil Kumble each.
2007 T20 World Cup Final
MS Dhoni-led India became the first ever World T20 champions as they defeated Pakistan by five runs in Johannesburg at the New Wanderers Stadium. Gautam Gambhir knock of 75 off 76 balls helped India post 157 runs in 20 overs. Pakistan failed to build up partnerships and that is where they lost the match.
2011 World Cup Semi Finals
India defeated Pakistan by 29 runs at Mohali in the 2011 World Cup semi-finals. Sachin Tendulkar's 85 took India to the score of 260/9 in 50 overs. Wahab Riaz took 5/46 from his 10 overs and was the best bowlers from the Pakistani side. Pakistan was off to a steady start but despite having an easy to achieve the target, they lost the plot before eventually ending up on the losing.
If previous stats are anything to go by, India will give Pakistan a run for their money for clinching their first-ever ICC Champions Trophy title. Moreover, if India wins, it will be the first time a team would successfully defend the title.
In short, both teams have everything to lose and we are in for a formidable clash that will define ICC Champions Trophy 2017 at the Oval, London.