ICC Champions Trophy 2017 has turned out be one hell of a tournament as we have seen some of the biggest upsets in modern day cricket, the recent one being Pakistan;s thumping victory over England by eight wickets at Cardiff.
With this victory, Pakistan has become the first team to enter ICC Champions Trophy 2017 final and the spotlight has now been shifted towards the England vs Bangladesh semis. While India will enter the match as the favorites, Bangladesh too is expected to have moments of its own and the statement is backed by their performance against New Zealand.
However, after India registered a comprehensive victory over South Africa, last Sunday, fans are expecting India to emerge as the clear winners and face Pakistan in the ICC Champions Trophy 2017 finale, which by all means, will be the best clash of the season.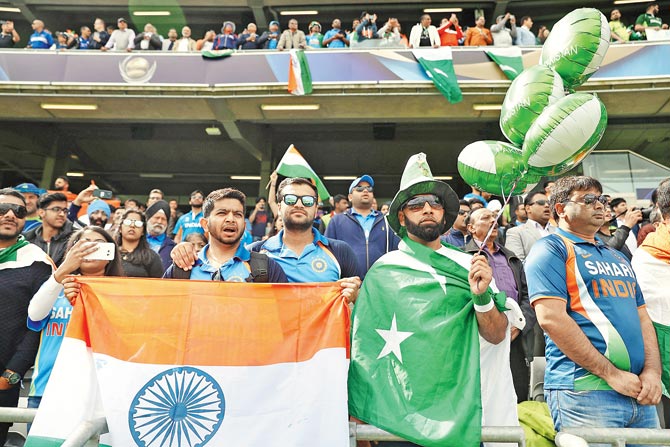 Again, when it comes to cricket, you should expect the unexpected, at least in limited overs cricket. Be it Pakistan defeating South Africa in group stages or Bangladesh chasing down 266 at Sophia Gardens, nothing has been certain in ICC Champions Trophy 2017 and the same cloud of uncertainty hovers above India vs Bangladesh match.
A dropped catch, a wrong decision by the umpires or a shower, any of these things can bite India during the match and when India meets Bangladesh today, they will have to win from the very first minute to the last ball of the game.
However, fans seem way too confident about India's victory and the moment Pakistan defeated England, a team that didn't lose a single match during the ICC Champions Trophy 2017 before yesterday, they stated predicting an India vs Pakistan final, which would also be the first one in the history of this tournament.
1947 reloaded 😂 #ENGvPAK #IndVsPak pic.twitter.com/XBvrQ3Jtu5

— Shiv (@ShivrajKumaawat) June 14, 2017
get ready to loose in finals Again 😎😎 #PAKvENG #ENGvPAK #CT17 #IndVsPak pic.twitter.com/YLYxuCyy1Y

— MOHIT VYAS (@vmohit0906) June 14, 2017
https://twitter.com/Ssaniya25/status/875029335698059264
https://twitter.com/KarshanBhadra/status/875026990553640962
Pic1:Indian cricket fans during normal days.
Pic2: Indian cricket fans during #IndVsPak pic.twitter.com/H1Bpbvkcva

— Arvind Kumar🇮🇳 (@ArvindMishraIND) June 14, 2017
If Pakistan somehow reach
the Finals against India,
remember 18th June is
Father's day. 😂 #IndVsPak #ENGvPAK

— Arun Sharma (@iarunsharma3) June 14, 2017
Nalayak Beta #Pakistan🇵🇰 Has Decided To Gift Us🇮🇳 #ChampionsTrophy On #FathersDay. 🤘🏾#ENGvPAK #INDvsPak #INDvPAK #INDvBAN #PAKvENG #CT17 pic.twitter.com/kCNTNNTghO

— Sir Jadeja fan (@SirJadeja) June 14, 2017
The last time India played against Pakistan, the defending champions won the game by 124 runs by DLS Method and it turned out to be a one-sided game. Talking about one-sided games, expect the match against Sri Lanka, no other team has given a challenge to the Virat Kohli-led side in the ICC Champions Trophy 2017 as even South Africa failed on the Big Day.
This might be the same reason for concern for many Indian fans because after seeing Pakistani players perform at Cardiff, be it bowling, batting or in the fielding department, if India wins today, the road to ICC Champions Trophy 2017 is not going to be a walk in the park.
However, when it comes to ICC Tournaments, India and Pakistan have clashed 15 times and the defending Champions have a clear upper hand with 13 wins, but when we talk about ICC Champions Trophy, the tally is tied with 2-2.
As we said earlier, Expect The Unexpected!!