Before she arrived for the series, Hayley Matthews was asked one question, "What was her ambition for the tournament against the mighty South Africans?" In an earnest but enthusiastic reply, the 20-year-old batswoman said, "I'd love to get a hundred."
And guess what, that is exactly what happened in the deciding ODI between Stafanie Taylor's West Indies and Dane Van Niekerk's South Africa.
Under the bright Caribbean sun with the gentle evening breeze blowing, one wondered could there have been a better inspiration for Bob Marley to sing his epic, "Sun is Shining?"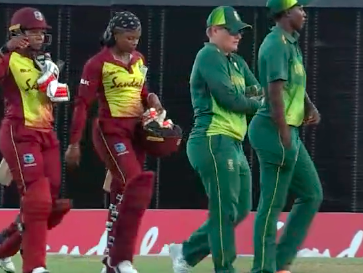 And truth to be told, it did seem, after all, that the sun and breeze inspired one of Barbados' very own. To master the game of cricket, they say, one requires the fine art of timing. And who better than West Indies Women's Hayley Matthews to have represented a core truth of the game?
With the Proteas Women having clinched the maiden ODI with the second contest running into heavy rains, it was up to Barbados' Kensington Oval to produce the decider. And thus arose one of Barbados' own daughters- Hayley Mathews- to lift her West Indies to an imposing first inning total.
In scoring a fantastic 292 at 4, the highest score posted by the Windies Women at the famous Kensington Oval, the Proteas Women's bowlers were found panting. Only Marizanne Kapp, despite going for over 5-an-over could collect something worth savoring: a vital 4-for, her best bowling performance in over a year and a half against the West Indies.
But in taking her side to its highest ODI total against the Proteas at Barbados, one of Barbados' special talents produced a headline-scorching effort: Hayley Matthews scores maiden ODI century! Isn't that what every news headline covering the often unsung women's game be interested to print?
A powerful knock from the very top drawer and also from the top of the order saw Matthews score 117- her first century in a four-year run, thus far- from 145 balls. Her vital assortment of a precious hundred was checkered by 17 boundaries and came at a strike rate of 80.
In a contest where none other than Niekerk and Kapp stood up to muster a fight against the belligerent Windies women, wickets fell at regular intervals but only from the onset of the 36th over, with the first having fallen in the 3rd over itself as Kapp, picked yet another four-for and trapped Kycia Knight for just 4. At that point in time, the West Indies Women were struggling at 12-1.
In came captain Stafanie Taylor and given the powerful Hayley Mathews at the other end, the entire context of the Barbadian decider would change.
In accumulating a record 177-run stand, the duo's highest against South Africa, Stafanie Taylor and Hayley Matthews plundered both good and bad deliveries, safeguarded their wickets, regularly rotated the strike, took the Mickey out of newcomers like Sekhukhune and even charged at the experienced Niekerk as if to say that the final contest wasn't going away from their grasp.
Any fan aware of her special World T 20, 2016's final effort- a player of the match special- would have wanted that Hayley Matthews scores her maiden ODI century but a question remains to be asked: just who would've thought that her special achievement would've come against the South Africans?
Each of her 17 boundaries had a signature of grit and firm determination. In between establishing a fine contribution toward what looked a mighty score, Hayley did, in fact, incur some physical toll to the extent of experiencing a fierce elbow pain but she continued undeterred. At the other end, Taylor, the experienced sorcerer who can turn things magically on her own contributed through a patient 47 off 81, a knock that only had 4 boundaries.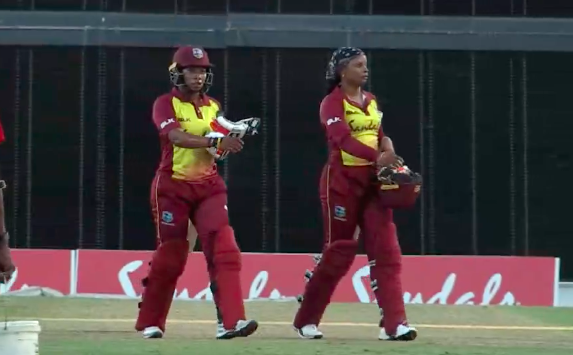 But while Taylor was cautious, supporting her young collaborator at the other end, the next batswoman in- Deandra Dottin's- approach was carefree and ebullient in ferrying the Windies. Records tumbled at Sir Garfield Sobers' land as not only did the West Indies women scored their highest ODI total at the ground but in so doing, Dottin reached a great milestone: that of scoring the fastest-ever ODI fifty for any Windies batswoman, eventually compiling 59 off just 44 balls.
As it is, when Deandra gets going, the format of the game doesn't matter. And at Barbados, each of the 3 sixes plundered by the West Indians came from the right-hander's bat. But the top honors for the day would belong to Hayley Matthews. Would she had backed herself to read the most catchy headline as far as her individual game is concerned in the 3rd ODI: Hayley Matthews scores maiden ODI century? It's up to the Windies Women's bowlers to defend a challenging total that South Africans will be anxious to chase down.