Hardik Pandya, for all what he has done in the recent months, has been the talk of the town and since India loves its Cricket, anything that is even slightly related to the players who feature in this game, fans desperately want to know about it. And if it is an unspoken relationship, the hype is taken to a whole new level.
That being said, the recent one to receive all the spotlight is Indian Cricket team's all-rounder sensation, Hardik Pandya, who after his recent endeavors in the India vs Australia 2017 series, has been named as one of the greatest finds by the country in the recent history of Cricket.
In the first ODI at Chennai, Hardik Pandya registered a 66-ball 83 runs knock at a time when India was looking week at 87-5 but the all-rounder exhibited a great deal of patience and played a wide range of strokes. Then chasing a 294-run target at Indore, he was promoted to a crucial No. 4 position, however, the 23-year-old lived up to the expectations and smashed a 72-ball 78 which led India to a comprehensive 5-wicket victory over Australia.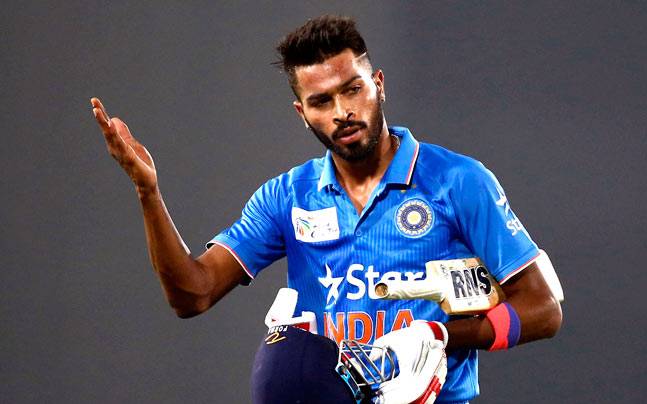 The Gujarat born all-rounder was awarded the Man of the Series trophy for his stellar performances as he smashed 222 runs while also scalping 6 wickets, the third highest tally with both the ball as well as the bat.
Thanks to his rapid rise to stardom, Hardik Pandya has become one of the most followed Indian cricketers and when he was spotted posing with a 'mystery girl' in a tweet from a fan account, all hell broke loose on social media.
Since Hardik Pandya has been linked to Bollywood Actress Parineeti Chopra and there is a Shibani Dandekar angle in the story too despite Lisha Sharma being the one to stay in his life, fans were left haywire as to what the all-rounder is upto, now. That being said, it seems like, just like his on-field performance, Hardik Pandya has also matured as a person and knows how to tackle these type of situations.
It all started with a Tweet by DNA India asking Hardik Pandya about who exactly was within him in the picture and since Pandya is not the one to let speculations play their natural game, within a few hours, he clean bowled all doubts any of us had.
'Who's that girl?' Hardik Pandya's picture with this mystery lady is going viral https://t.co/BgrVA0fsKi pic.twitter.com/9y0dbVefIk

— DNA (@dna) October 2, 2017
Here is what Hardik Pandya had to say.
'Who's that girl?' Hardik Pandya's picture with this mystery lady is going viral https://t.co/BgrVA0fsKi pic.twitter.com/9y0dbVefIk

— DNA (@dna) October 2, 2017
Just like the way his go-getting persona is celebrated on the field, Twitterati were quick to react on the recent happening and this time they went on using some interesting cricket puns after the amusing response.
https://twitter.com/aneja_honey/status/914885252207673344
https://twitter.com/ananya_vk_18/status/914893808499695617
https://twitter.com/Punofgod/status/914893465015717893
https://twitter.com/SemperFiUnited/status/914894559183695872
However, there were also some who took this opportunity to highlight the fact that the selfie was not even newsworthy in the first place.
Moral of the story, give up this kind of chomu journalism. Waste of print and webspace.

— North Stand Gang – Wankhede (@NorthStandGang) October 2, 2017
And insult to the intelligence of sports fans across the country. We expect better standards in sports journalism.

— Vipul (@Sporty_Baba) October 2, 2017
😀😀😀 reporters ki 2-4 din ki masala news ki waat lag gai…

— SKY (@The_Welkin) October 2, 2017
Everything said and done, we have seen many stars being made on the field who have failed to digest the stardom they are endowed with but the same has not been the case with Hardik Pandya and the players seem to know a great deal about what to say when.
As for the India vs Australia 2017 series, while the hosts have won the ODI leg with a 4-1 lead and have also retained the No.1 spot in ICC rankings in the format, Virat Kohli & Co. will be looking to cover all the lost ground in the T20I as they currently sit on the No. 5th position in the tally.
Considering the type of cricket that is expected to be plated in the shortest format, Hardik Pandya, once again, will be a key player to lead the Indian side to more victories against the visitors.