Finally, that sign of normalcy for Indian cricket arrived in England but no sooner than the Third Test, currently being played at Trent Bridge, Nottingham.
At a time where Jimmy Anderson is bowling his heart out, Stuart Broad is bowling with the nagging pace of a debutant in his very first series, Joe Root is devising new ways to underscore India and India's batting woes highlight the worst concerns for the star-studded side, Virat Kohli has just savoured his latest high.
This, mind you, is a feat that will soothe the constant teething problems of those who undermine his abilities as a captain. Following his much-needed gusty knock of 97 in the first inning at the Nottingham Test, Virat Kohli has become the highest-scoring Indian captain overseas.
In so doing, he not only topped the list of the highest-scoring Indian batsmen on the current away tour to England but also found himself topping a list of most runs scored by Indian batsmen, going past former captain Saurav Ganguly.
Ganguly's aggregate as a skipper on overseas tours was a fighting tally of 1693 Test runs. It was courtesy Kohli's immensely valuable score, three shy of another hundred, that his India reached a respectable tally of 329. This, incredibly, is the highest aggregate that India have managed thus far on a rather sedate outing with the bat on the current English tour.
That Virat Kohli has gone past former skipper Ganguly's overseas runs tally is in no ways any less commendable an achievement when compared to his own ability to usher the side to safer shoes when facing hostility from the bowling end.
Whether Kohli's 97, a less flashy, elegant but quintessentially gritty knock goes on to fetch his team a much-needed Test victory, thus avoiding the ignominy of facing a hat-trick of defeats in England is something that only time can tell.
But what one knows quite well, after all, is that Virat Kohli's looked in sensational form all throughout. It wasn't a long time ago that he outperformed all his compatriots in the side to once again top-score for India in the series-opening First Test.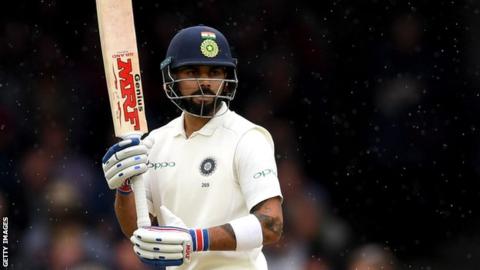 That belligerent knock of 149 was able to guide India to a respectable score, if not a behemoth of a team total, the kinds you would expect on a lush green outfield with there being grass on the 22 yards, as seen at Birmingham.
But that being told, one's not sure if the Indian captain would be willing to take much note of the latest feather in his hat especially at a time where his side is trying to do all it can to avoid a series loss at Nottingham.
With another inning to go and India had posted a fairly decent 329 runs, the list of positives emerging from Nottingham's Trent Bridge isn't any less encouraging for Virat Kohli than the sight of a farmer staring at dark black clouds over his fields having braved a season of a dry patch (one that led to no harvest). 
Not only did the Indian fan get to see a compilation of 81 enormously important runs from Ajinkya Rahane's bat, the vice-captain finally scoring upon 4 back-to-back failures, there were other failures as well.
What has been heartening so far, from two concluded Tests has been the return of Jasprit Bumrah into the fray. Add to that the enormously-welcoming spectacle of seeing newbie Rishabh Pant into the Test colours. Apart from the dim lights of the ongoing series, one of the memories that shall always enliven the Indian fan would be recalling the spectacle of the left-hander dancing down the patch to carve Rashid for a huge six, thus opening his account with a valuable half a dozen.
With 3 more days to go and the Test contest hanging in balance, lest not succumb to the overly optimistic assessment of it tilting into India's favour, there's a lot riding on Virat Kohli. Of course, what will be most satisfying, especially for the fan of batting over the domination of the ball would be to note if the famous captain can come out with another special knock in the all-important fourth innings. But that said, Kohli's remarkable feat is something that he should savour as should his country.