Often, we don't realise that cricketers become caged by the images fans present them. No cricketer ever self-designs an image. He is gifted one by a fan. Even though his job is to be there in midst of a contest and to play the best he possibly can, he becomes imprisoned in the way the public sees him.
There's no demand for an image but an instant presentation of one. So clever and absorbing is this process that we don't even realise when we begin viewing our cricketers from the lens of popular perception. The nickname then appears, resounding and clear. The body of work, the painstaking effort, the aches and pains, the injuries and comebacks all follow later. It's as if they became secondary.
So when a Sachin falls early, it's not him falling. It's the god who is humbled. When an Alan Donald crashes into an opposition, tearing it down, we announce bold and clear: White- lightning has struck. Cricket becomes a lair of geography not sweat and grind; not technique.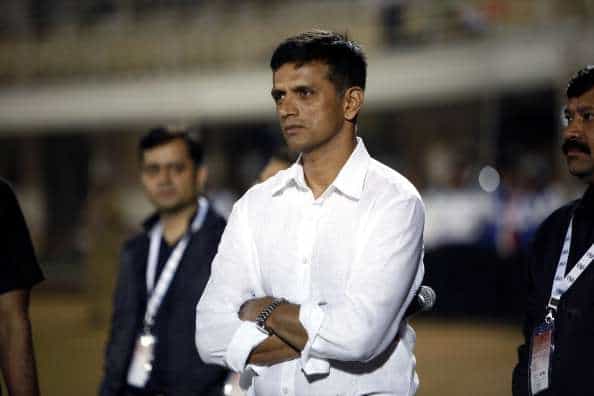 In this maddening pursuit to anoint an adjective to our players- legends that they might've been- we didn't pardon Rahul Dravid either. We called him the Wall, restricting the very fluidity in his game by a heavy, concrete measure.
There mustn't be doubt about Dravid's fluidity or adaptability. There have been few in the game, who, despite being criticized for scoring slowly, with lamentations going as far as calling him an unfit for the ODI game, ended up with nearly 11000 ODI runs.
Had Dravid actually been a Wall as the public calls him- regardless of him being hailed through the sobriquet- he would've remained where he was when he began: a youngster who didn't seem like he would reach anywhere close to those eventual 10889 runs.
A wall is a nasty strand of concrete, unwilling to move, alien to the concept of flexibility. Though for real, Dravid was more than that. He moved from one failure to another with great mental fortitude and self-belief. Dravid took the blows but stood up undefeated. A Wall takes the blows but no affirmative, responsive action.
There's a difference.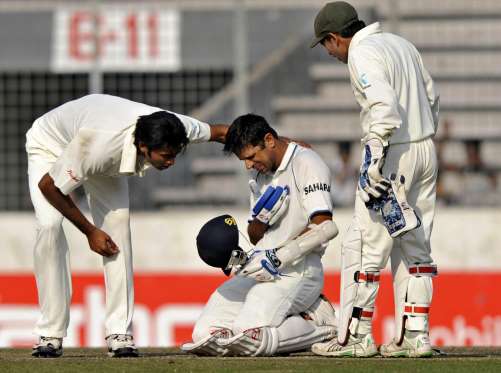 Brett Lee damaged an ear. Rubel Hossain bled him. Waqar fell him. Each time, Dravid got up to fight. A wall- tough as it might be- seems unwilling to move. Dravid, was receptive of what his team needed. He went behind the wickets throughout the 2003 World Cup.
In the aftermath of Ganguly's departure from captaincy, he was asked to lead. He didn't retract. Most of all, when India seemed the greatest paper tigers upon their unraveling in England, during 2011, Dravid was asked to open the innings. Then asked to keep again. Only for MS Dhoni to have a go with the ball. Each time, Dravid smilingly complied.
A wall would've been hesitant.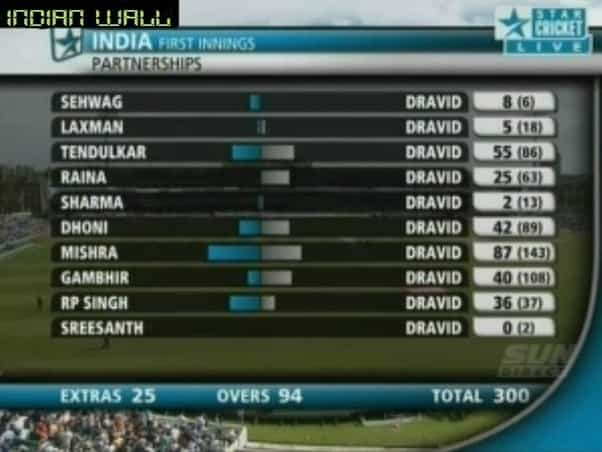 Being a wall would've seemingly implied Dravid's unwillingness to move from his checkered, usual no. 3 spot. But he was anything but a stuck-up like a concrete fortification.
Dravid was flexible, understanding of what the team needed and acted accordingly.
Even today, a few years into retirement, he has stood up again. He is amongst youngsters, attempting to guide India's future talent. In the case of a wall, you go to it, you retreat toward it. The wall doesn't move toward you. That Dravid is approachable and ever willing to support Cricket in any way he possibly can defies the histrionics we've lent him.
Therefore, it is little surprise that he doesn't support his own nickname, revered that it might be. Therefore, in the mid-nineties, as the world was becoming familiar with that watertight technique and studiousness in this humble servant of Indian cricket, he repeated what he'd said in his final press conference on March 9, 2012.
"I don't think of myself as a wall, I don't move around thinking am this wall." So does this mean we shouldn't celebrate Dravid?
Why shouldn't we? But the real lesson in Dravid, above his humility and character is the painstaking effort he put into producing those mind-boggling numbers. It took Kallis some time to go past his 13228 Test runs.
How many of us had thought that once sacked from the ODI team in 2007, he would go as far as playing his final game in September, 2011? We must regard the man lurking behind the wall- persona.
Would Dravid have become this great brand ambassador of Cricket in the absence of his focus and dedicated spirit? One reckons, that is what is to be savored, not histrionics anointed by fans who are presiding over an era of retweets, memes and trolls.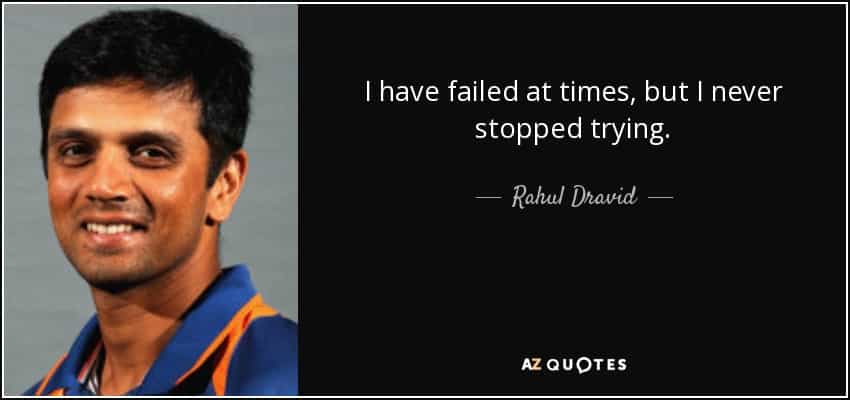 We must free Dravid from the enormous weight of theatrics we've romantically associated with him, going as far as wanting to see a biopic on him. Gilchrist, Sanga, Lara don't have one. Kallis doesn't have one either. Why should we inflate personas and forget the real grind that went in to give fans something worth constructing the persona around?