Before the start of the IPL weekend starter that eventually became a show-reel for Delhi Daredevils' excellence, had someone told you that Delhi would win, you may have laughed off the conjecture. In fact, you might have even felt insulted at having being told a 'joke'. A joke of a fashion that newly-made captain Shreyas Iyer made KKR bowlers to be.
Iyer rises, KKR fall
In scoring a match-wining, match-dominating and, KKR-smashing unbeaten 93 off 40, Iyer ensured that it was to be a night of youthful extravagance at a Kotla that had begun looking aged hoping for a Daredevils win. And when it came, Shreyas Iyer's second knock in the 90s (in IPL) stood out with top honours on an evening where KKR's Shivam Mavi demonstrated great pace, Shubhman Gill threatened to take the game away from Delhi and Shaw co-scripted the show with a fluent 62.
But the top honours for taking Delhi to one of their highest ever scores in a miserable IPL journey- 220- as also their highest score against KKR this season, went to captain Shreyas Iyer. Every shot dashed from his whirring blade bursted with ambition. Every stroke launched with free-will spoke of enterprise. In the process of remaining unbeaten having come one down as Munro finally collected some runs- 33 of them- Shreyas Iyer bullied the trinity of Kuldeep Yadav, Narine and Russell.
The scenes at Kotla on April 27 were unreal. 
So central were Shreyas Iyer's boisterous heaves, majority of them over mid-on and long-on that you forget there was someone like Glenn Maxwell in his side. He didn't need him. He seemed to require no support even as Shaw, contributed magnificently with a 66, rightly winning the stylish player of the year award. His shot off Mitch Johnson- a powerful whip over deep mid wicket- clearly the shot of the game. As KKR were ridiculed by poor bowling and forced into submission exacted by a new captain in the opposition, their fans would've wondered that a Russell show possibly aided by Uthappa would somehow do.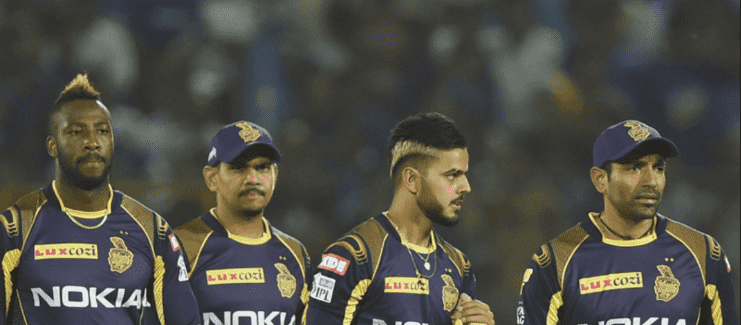 But that wasn't to be. It was never going to be when their top three contributed only 32. 26 of those runs came off another Narine job at pinch hitting as Lynn and Uthappa offered no spine in aiding a vulnerable KKR. It was hardly surprising that captain Dinesh Karthik, correctly admitted, at the post match presentation that "221 is a huge ask", his own contribution a run a ball 18.
It could be argued that Delhi who now seem a balanced attack with Liam Plunkett and Avesh Khan, ably supporting Boult can finally flex muscles against other pace attacks. Perhaps seeming ready to clash with Mumbai, Hyderabad, the former having tasted defeat at the hands of Delhi. But even as on Friday, Andre Russell and Shubhman Gill tried to fend off Delhi's subversion, in gathering 91 runs off the collective 164 managed by the team, it wasn't hard to tell they were playing for a lost cause. Baffling KKR with big-strokes- resulting in 16 sixes and blasting KKR at the back of a Boult-special, Delhi Daredevils were on fire. Actually the kinds they had needed all this while. Seemingly carrying a spark that had been missing all this while.
Is a revival on the cards?