If you were to rewind the clocks back to 2018 and 2019, then it won't be such a task to recount that these were perhaps the most challenging, emotionally gutted and yet, exasperatingly dramatic times in the life of David Warner. From being found guilty of ball-tampering, in fact, having been one of the masterminds of the unfortunate incident that shamed the bastion that is Australian Cricket, David Warner, who was found guilty during Australia's tour of South Africa in 2018, went from being a batting star to a culprit beyond repair.
He was called names, shamed, and was stripped of his place in the national side, which led to an extensive ban that meant that the mighty Australian team were contesting for nearly twelve months in the absence of their star batsman, alongside Steve Smith.
Yet, if you were to just run past some inspiring numbers David Warner accumulated in both formats of the game, in 2019, you'd realize that it isn't a farce when we use the phrase- from hero-to-zero-to-becoming-a-hero-again!
For someone who had made scoring runs, lots of them, both away and on home a regular feature, to being shown the door for an action that was reviled world-over to rising once more as someone who could score runs in both formats- David Warner has risen akin to the phoenix bird from the ashes.
So even when this bird endured a torrid run in "The Ashes," often struggling to get into the rhythm, David Warner made up beautifully in the limited-overs contests for much of 2019 and springing with a world record score against the touring Pakistanis in the long-form.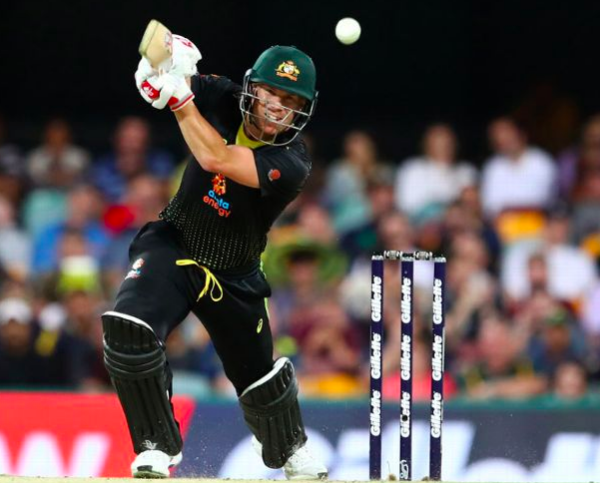 Any doubts whatsoever about the belligerent leftie's form upon cricketing comeback were dispelled by realizing that he went on to score 647 runs from just 10 ODI innings. A highest score of 166, laden with 3 centuries and as many fifties in the premier ODI event, held once in every 4 years- the ICC 50-over Cricket World Cup- saw peak performance by Australia's demolition man.
On top of that, despite a dismal Ashes outing, Warner came out all guns blazing, scoring 335 of his 725 Test runs from 9 matches (16 innings) during 2019. Most batsmen dream of churning out a few vital knocks upon their comeback. That Warner struck a magnificent triple ton in Tests and remained unbeaten in doing so further raised the graph of a cricketer who was embattled but also raring to go, to right the wrongs and right some records as well.
And perhaps the mighty comeback of a big-scorer in international cricket became all too unsung a story, amplified by the fact that while we were aware that Warner scored lots of runs in both formats, that he did so at a strike rate of 62 in Tests and over 89 in ODIs didn't perhaps make the headlines that the feat deserved.
Instead, what has now risen as a headline material is the fact that the man who recently became a triple Allan Border medal- the single-most dominant and recognized individual cricketing honor in Australian firmament- has dropped a bombshell regarding his immediate future.
But there's no need to go breathless; David Warner isn't retiring from international cricket. He is, instead, contemplating truncating his T20 journey.
It appears that at 33, David Warner wants to make the most of his career and that curtailing back from the expansive and often demanding T20 rigors might just be the way to go about things if he's to secure a wholesome career with respect to the future.
"I don't have a BBL team; I took a break during this period, and that was about my body and my mind, making sure I'm getting ready for the next series that comes up," Warner said. "If you look at T20 internationals, we've got back-to-back World Cups as well, that's probably a format that could be one I'd probably drop in a few years.
"I have to look at the schedule; it's going to be very difficult [for me] to play all three forms, and good luck to all the guys who want to keep playing that. You talk to guys like AB de Villiers and Virender Sehwag, these guys who've done it for a long time, it does become challenging. Having three young kids and my wife at home all the time, constant traveling becomes very difficult. If it was to come down to [leaving out] one format, it would probably be the international T20s."