In cricketing lexicon, April 4 is commonly regarded for being the birth anniversary of two distinguished Englishmen; one Jonathan Agnew, who happens to be a renowned commentator we famously hear from during peak contests such as The Ashes, and the other, Steven Finn, the promising English seamer of unignorable height, but one who suddenly fell apart with the international game.
But for times to come, given he has the makings of being a true cricketing great, albeit these being the yearly years, April 4 will always be noted as a key date with regards to Irish cricket.
Why so?
It'll be hailed as the date when Curtis Campher, one of Ireland's most promising and talented of modern cricketers marked his Test debut.
And though, April 4, 2023 didn't really go his team's way, Ireland bundled out for just a paltry 214 and that too upon their return to the Test fold, one young man seemed determined to forge his own destiny whilst wielding the bat.
On a challenging Mirpur wicket where the ball was turning about as much as an owl's twisty neck, Curtis Campher, the young 24-year-old all rounder, hung out in the middle for 106 odd minutes.
That is when the likes of Taijul Islam and Ebadot Hossain were challenging the visiting Irish side endlessly so, troubling an already troubled line up with pace and spin; by the time Curtis Campher got his eye in, his Ireland had stumbled to 48 for the loss of three wickets.
While the good news was that two of Ireland's most promising current generation batters were still in the middle in the form of Harry Tector and Curtis Campher, what was not so bright was that the captain, the most experienced marksman with the bat had departed much too cheaply.
In the end, Curtis Campher struck 34 vital runs. Vital since the collective Irish total couldn't even touch 220. And while he missed out in the second inning, he would mark his most important moment yet in Test match cricket just hours ago.
He wasn't confronting a heavy duty spin attack of Bangladesh and nor was he anywhere whether Dhakar or Mirpur.
On April 25, 2023 Curtis Campher registered his maiden Test ton for Ireland whilst only playing his second ever Test match. That his maiden three figure score came against an opponent he had previously never played, whether in ODI's or T20I's was rather impressive.
It showed pure intent on the part of a young cricketer. It carried the evidence that there were other capable batters in the glowing Irish line-up besides the seasoned campaigner Andy Balbirnie, who had the capability of standing up to an opponent on their own.
As one eventually noted, at the Galle international cricket stadium, just as Prabath Jayasuriya and Vishwa Fernando were trying to undermine and challenge the authority of the Ireland team, Curtis Campher ushered a riveting challenge with the bat, refusing to buckle down under pressure.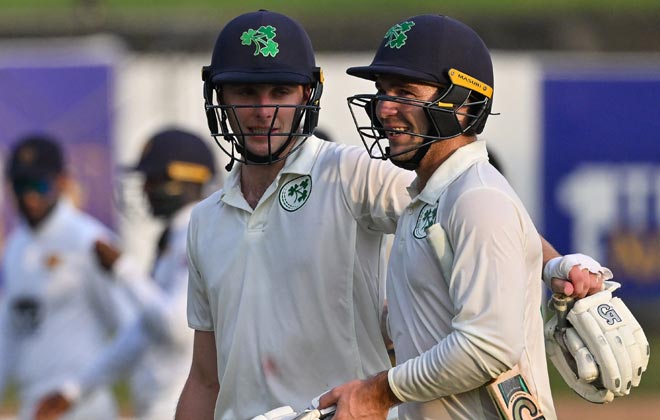 To many a 111 off 229 deliveries, may have been just one of those centuries that every youngster hits every once in a while, statistically speaking, the three-figure-mark had its own charm; Curtis Campher actually succeeded in overtaking not only Balbirnie but even the returning Stirling by virtue of runs scored.
His doggedness with the bat and the style of minimal risk-taking allowed Ireland to pile on a mountain of runs. To a side that had been hammered left, right and centre not too long ago immediately upon its Test return, this was a glorious recovery of sorts.
This was the coming of age of sorts of a vastly capable cricket team that we often hear so very little of and find even lesser said about in mainstream media, whether through feature pieces, analytical articles or even critical updates.
As a middle order batsman, Curtis Campher, unless one is very much mistaken, appears to be in the mould of a thinking cricketer; during his partnership with Paul Stirling, he was seen quietly biding his time while the experienced Irish batsman was seen powering on with the strokeplay.
Interestingly, Campher can even change gears quickly and is unafraid to attack when the opportunity arrives; his brought up his fifty off Jayasuriya courtesy a towering six.
It was a sight to behold. It was sight that would've chuffed the Irish fan.
It's worthy to rewind to the year 2020, when Campher first made an impression albeit with the medium pace in his first ever series against England as a frontline Irish cricketer.
In the first ODI at Southampton, it was Curtis Campher's rather patient and watchful 59 off 118 deliveries that revived Ireland somewhat from a desperately woeful situation; it's important to note that the six batsmen before him could only make 49 runs collectively.
Later on in the English innings, Campher with his utility medium pace removed Tom Banton for 11.
The performance of the game went to Willey, but the boy who had turned a few heads around was Ireland's avid youngsters.
To speak in a typical tone of Protea bashing, Curtis Campher is yet another South Africa-born cricketer that the country has lost to another region. But for his Ireland side, he is a very much needed addition in the middle order now that the Balbirnie-captained unit do not have the likes of O'Brien, Porterfield and even Gary Wilson anymore.