In a format that naturally favours surprises and strange outcomes, IPL 2018 has stoked the element of surprises even further where table topping stands. And it seems, this season, no forecast can ever sufficiently predict the name of the side that will mark itself on the top rank. On April 21, Punjab were placed on top. Today, a game later, CSK are back to where they've seemingly belonged, ever since Dwayne Bravo turned Mumbai snubber in the opening game of IPL 2018 a fortnight ago.
In weathering an SRH storm powered by Kane Williamson- the most sedate challenger to Virat Kohli's dominance for the position of world's best batsman- CSK overcame a last over scare in clinching valuable points and usurping arguably their closest competitors in a season where despite undergoing a change of home ground, their performances haven't deteriorated. Their latest win earned at SRH's home in Hyderabad at the back of holding off one of IPL 2018's most beautiful and threatening innings so far.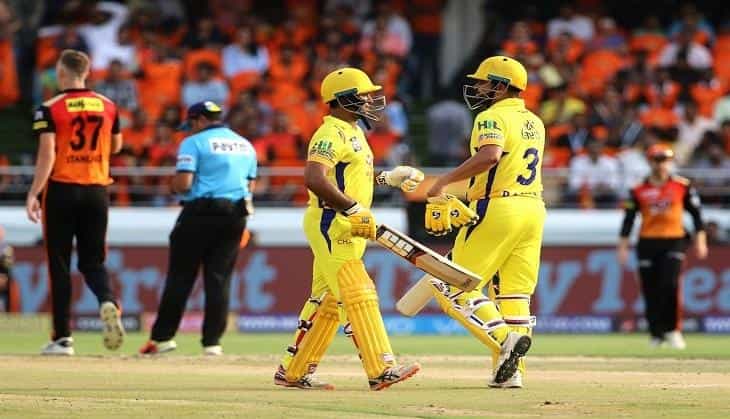 A 4-run victory marks all the thrills one craves for from a mouth-watering fest in T20s and when it's the sight of MS Dhoni's CSK's triumph, then even if it overcomes something as special as 84 off 51 by Kane Williamson, you ought to think most fans would take it. And with glee. But before Williamson's solo-heroics threatened to take the game away from CSK, with no other batsman save Pathan providing an outside chance to seal what may have been SRH's fourth win, the duo of Rayudu, Raina sealed the game comfortably in CSK's favour, before Deepak Chahar held his nerve to save Chennai the Williamson blues.
Being sent to bat in first, there were nerves in the Chennai camp when an in-form Shane Watson- star of previous game with a hundred- was sent for a paltry 9. Protean captain Faf and one of CSK's most resourceful names, often seen benching most games, could contribute 11. This meant that a vital middle order resistance had to be forged in order to get CSK's wheels in motion. And thankfully in overcoming early warnings of Bhuvaneshwar Kumar and Rashid Khan, responsible for eliminating Chennai's opening attack with ease, Raina and Rayudu joined forces in producing a vital 112 run-stand.
Where Rayudu- perhaps now knocking on selector's doors for an ODI spot- resorted to big heaves, typical of a crunch situation in an IPL game, Raina, in bringing up his second power score, this time 54*, his highest in IPL 2018, rotated the strike and set his eyes on staying there till the end. What this effectively did for CSK was that it resulted in a change in fortunes, a mighty one at that. Did SRH predict a 182 on board having had Faf and Watson back in the dugout before the 8th over was completed? But where Rashid Khan continued to experience a spike in his economy, having seen Gayle undo his brilliant leg spin striking four back to back sixes, this time, it seemed there was an new destructor in sight: the mild-mannered Ambati Rayudu, who unlike Gayle's "stand and deliver" mantra demonstrated that a lot of damage can be done by using the feet well against the leg spinner.
In asking to chase 183, SRH couldn't have begun with a pitiable start, seeing the inexperienced Ricky Bhui (from Madhya Pradesh, also playing his maiden IPL 2018 game) returning to the dug-out, Chahar doing it easily for his side. But from thereon, further troubles ensued for the hosts and CSK kept chipping in with wickets, with Hyderabad batsmen undoing themselves at the cost of poor and questionable shot selection. Pandey, Hooda contributed 0 and 1 respectively, not the kind of scores you expect from a sturdy middle order, of a team that until a couple of days back had been topping the table.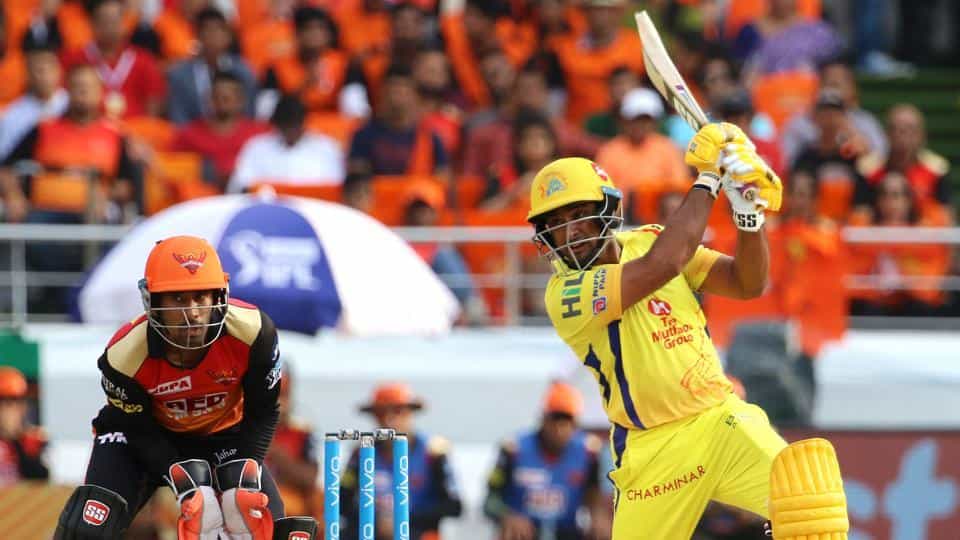 Although Williamson at one end, unleashed in a streak of marvellous stroke-play, using the depth of the crease to engage in agricultural creations especially of Watson and Jadeja, it wasn't too hard to see his greatest weakness at this time: SRH running out of support to provide a fillip as their captain turned rescuer and finally a valiant contributor. But nothing could demonstrate CSK's victory as much as the massive contribution of Deepak Chahar who in his 3-for stuck to a predetermined line and length, doing the basics right in a game where just about anything could've happened given the way Williamson was "Kanning" his opponents.