Do you know what was said by Rohit Sharma on MS Dhoni?
Leadership. Cricket is not just about the runs. It's not only about the wickets taken and the partnership stands made or broken. It's not also, at the end of the day, about the individual records too. It is about how you led your men and your side and what impact did you have on a sport that is famously known as a team-driven sport. We've heard that countlessly about Cricket right that it is a team game? So when it comes to leadership in the context of Indian cricket, it is important to uphold the key role played by one man who emerged as the captain cool. Someone in whom India has had so much trust that he's actually more than just the nickname ascribed to his personality.
And when one speaks about leadership in the context of Indian cricket, then one cannot possibly speak without reflecting upon the stellar career of MS Dhoni, the former captain of the Indian Cricket team. At this point in time, while Virat Kohli, among the greatest batsmen the game has ever seen, is in charge of the captaincy- across formats- it wasn't too long ago when the leadership reigns were in MS Dhoni's hands.
Apart from being the only player to win a Cricket World Cup- among other prized events- with a six, there are a string of achievements in Dhoni's career both as a captain and player that make him second to none in the spectrum of cricketing success or let's say one-of-a-kind.
On that count, it's worthwhile to mention just some of the captaincy records of MS Dhoni that ignite awe and unite fandom across the cricket-viewing continents.
Dhoni's stellar captaincy record is underlined by several achievements but none more telling than his leadership prowess or to put it simply, success rate, across different formats:
1) MS Dhoni has won the most number of limited-over finals in ODI cricket: playing 6 matches, he has won 4 while having lost out to 2.
2) As a captain, he's led the country in the most international appearances in the sport. From the period of 2007 to 2016, Dhoni's led India in 331 international appearances.
3) And that's not all. As a wicket-keeper-captain, Dhoni has led the country in way more than a hundred international matches. You understand the depth of Dhoni's consistency and abilities to lead- as he has over these years- by the sheer longevity of his leadership career. The next on the list, post-Dhoni's 331 appearances is Mushfiquer Rahim at 76 matches.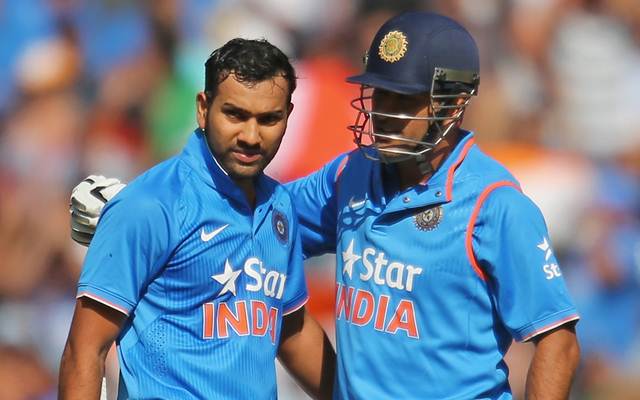 So maybe perhaps these stellar achievements that reflect the sheer respect shown by Rohit Sharma on MS Dhoni.
In fact, during the recently-concluded T20Is in New Zealand, it were the impressive comments made by Rohit Sharma on MS Dhoni that underlined the man's reputation.
Here's what Rohit actually had to say on the team's vastly-respected and also immensely-successful cricket captain: "MS Dhoni is the one who has been like that. It's in-born. It has helped him to make such good decisions on the field and now you see he is the most successful Indian captain with all three ICC trophies with him and many IPL titles as well."
And that's not all. In the period post-Dhoni's retirement where one has constantly heard the hues and cries about the absence of one of the country's most respected cricketers, one understands just why it's hard to imagine India minus its captain cool, perhaps a point that was reflected candidly by the following comment by Rohit Sharma on MS Dhoni:
"He is the best captain India has seen and there's a reason behind it – which is being calm and composed under a situation."
That said, nothing could be more telling about Dhoni's real success than the faith and energy he's put behind some of the younger stars in the current team for true success stems from the ability to lead from the front. It's when you form the backdrop and hand the charge to the youngsters that true success can be gauged for they're then capable to lead and take decisive steps.
Rohit shared, "I have seen him handle a lot of young bowlers. When they get under pressure, he just goes and puts his arm around them and talks to them about what needs to be done."