Approaching 38, almost at that junction where writers, critics, and even fans start painting the exit-picture for a Cricketer, the Chris Gayle legend refuses to die down. How could it? Ever?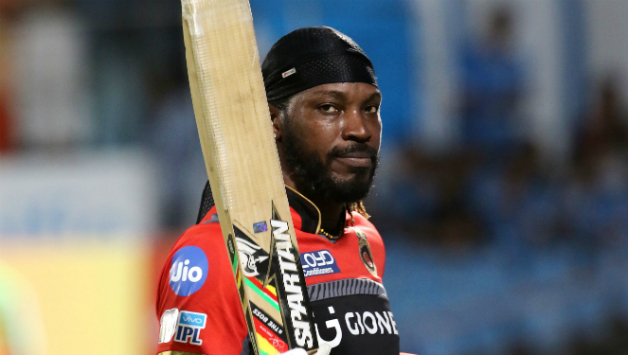 But when talking about Gayle- whose career is marked by more records than there are kangaroos in Australia- a thing stands out. No other batsman, regardless of team or appearances has hit as many sixes in the T20 format as the lanky Jamaican.
Cricket's shortest format, also arguably the current fan-favourite has more Chris Gayle on it than one would imagine. That said, since 2007, the year when the inaugural ICC World T20 went on the floors. So recently, just days before when the mighty West Indian unit took on England in a one-off T20 contest at Chester- le- Street, it was obvious that the 'Gayle' factor would play a role. And boy, did that happen or what.
Here's 5 ecstatic reasons why Chris Gayle is the Universe Boss of T20 Cricket

1. He took England, among the current best sides utterly by surprise in England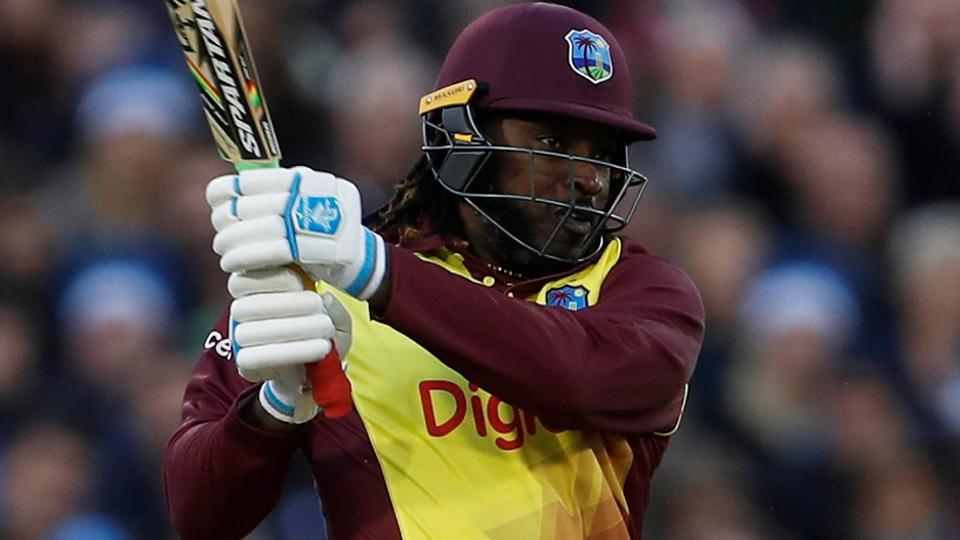 Chris Gayle hasn't particularly wrecked havoc in England of late, truth be told. But that could also be owing to the Jamaican focusing predominantly on freelancing T20 duties around the world.

But on September 16, 2017 as the West Indies, currently in Her Majesty's Kingdom took to the field against England in a one-off T20 at Durham, there were fireworks.
Most of them came from Christopher Henry Gayle's bat, who not only made a well-compiled 21 ball 40, but struck 4 towering sixes to different parts of the ground.
In giving his West Indies a fiery start along with Evin Lewis, Chris Gayle struck a thundering world record; that of becoming T20 cricket's first and only batsman, thus far to leap past 100 sixes.
Huge hitting from Gayle to become the first player to hit 100 IT20 sixes!

WI 40/0 #ENGvWI

Follow: https://t.co/Y5NV0iqvZd pic.twitter.com/pWD34esZtZ

— England Cricket (@englandcricket) September 16, 2017
Gayle's current tally of 103 T 20 sixes are many mighty hits ahead of contemporary big-hitters like Martin Guptill and David Warner.
2. A big-scoring, globetrotting freelancing marshal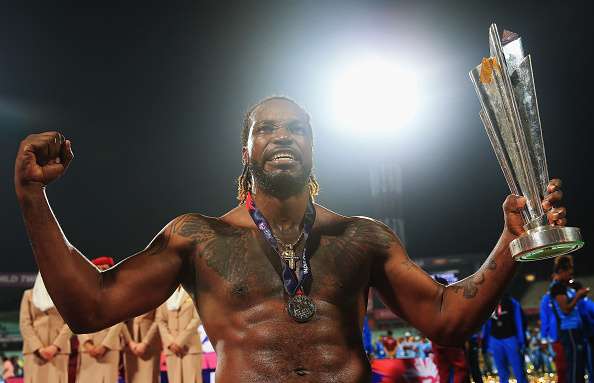 He might seem like the Michael Jordan of T 20 cricket or the Ayrton Senna of big hitting, but Chris Gayle, with 10500 plus T20 runs from 303 innings (as of September 18, 2017) is the big boss of the game's shortest format.
In an elaborate career that has seen Gayle travel to more parts of the world than there are rivers in Europe, it is thanks to a laidback and fun-loving persona that Gayle attributes to his playing style that's made cricket popular even in the Americas.
Thus far, the name of Chris Gayle features in some of the high ranking T20 sides and leagues mushrooming in different parts of the world. Among the prominent sides are Jamaica Tallawahs, Worcestershire, Kolkata Knight Riders, Karachi Kings, Lahore Qalandars, Sydney Thunder, Dhaka Gladiator and many more to quote.
3. Climbing the top in the IPL stage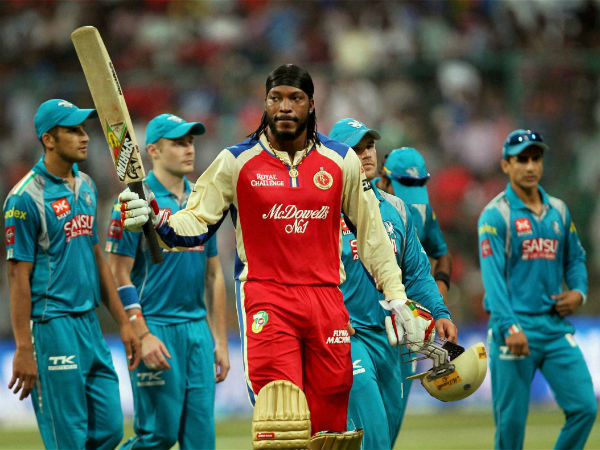 It could be said that over the years, IPL's popularity has dipped a tad bit when compared to the earlier seasons, but back in its heydays, Chris Gayle brought the famous Indian Premier League to a standstill with his magnificent 175, struck off just 66 deliveries against Pune in 2013.

In giving his Royal Challengers Bangalore a sensational victory, that too on Pune's home turf, Gayle, who has since then become an integral member of the Kohli-led side presented a showpiece example of his big hitting powers and merciless mauling of bowlers.
Gayle's record, it seems will stay where it is- unmoved and unbent in the IPL trajectory unless someone really takes a dig at overcoming the mighty score.
4. Gayle's bat seems to have the same power it demonstrated a decade back; in 2007
2007 was an year that was intrinsic to shaping the landscape of the sport we love in myriad ways. It was the first time that Bangladesh caused a huge upset to a team like India, that too in the Caribbean during the ICC World Cup, 2007.
Jack Kallis played some sublime Test knocks in the year while the likes of Pakistan's Inzimam Ul Haq and West Indian legend and Gayle's compatriot, Brian Lara retired from the sport altogether.
But there was another reason why 2007 stood out. It was because of that man again- Christopher Henry Gayle, the Universe Boss. In stamping his authority on the then ICC World T20, 2007, the inaugural edition of one of Cricket's most closely-followed event, Gayle decided to run down South Africa. And pretty much removed everyone who came in his way- including the likes of the Morkel brothers- Albie and Morne, Shaun Pollock, Mkayah Ntini and, Vernon Philander. In decimating the Proteas pace battery, the muscular Jamaican cracked an impressive 117, then the tournament's first-ever hundred and also, a world record for being the highest individual score compiled by an opener.
Since then, a decade has passed but the historic events at Jo'burg have been continually told and retold and have become, one of T20 Cricket's finest folklores, albeit inspired from real events- no pun intended.
5. Chris Gayle is also a mentor- did you know?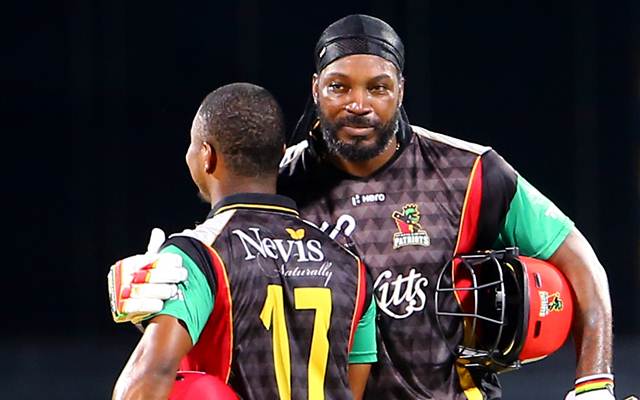 Currently he opens for the West Indies in T20 Cricket along with Evin Lewis, also a hard hitting batsman and someone who identifies in the experienced West Indian- a mentor.
Yeah, you read that right. In seemingly basing his batting on the powerful striking ways of the famous Jamaican bat, Lewis, a Trinidadian not only has the pleasure of opening for the West Indies with his hero, but has also learnt some vital tricks of the trade; an aspect of the game that most want to succeed in today, wanting to leave a lasting impression on the sports' surface.