It was back in 2012. The occasion was that of the world cricket's most eagerly awaited and keenly followed cricketing extravaganza. The ICC World T20 had taken everyone by storm. How could Gayle had lagged behind. The big shots were coming from the bat and the fans were pushed to the edge of their seats by each rasp sound the Universe Boss' blade made. Then suddenly, the cricket grounds in Sri Lanka-host to the World T20- burst into a new rhythm that had caught the attention of the world. Gangnam Style was everywhere. The beats were maddening, the vibe was electric. And then suddenly something even whackier happened.
Chris Gayle mastered the dance step- yeah, that very familiar, crazy hand and feet co-ordinated masterstroke from Psy's psychically captivating number- and began unfurling it on the middle of the cricket pitch. An entire West Indian camp would follow the beats of its Pied Piper. Soon, other teams followed and next up, social media went into a tizzy. But that was then. Close to 6 years have passed since Gayle's swashbuckling ebullience.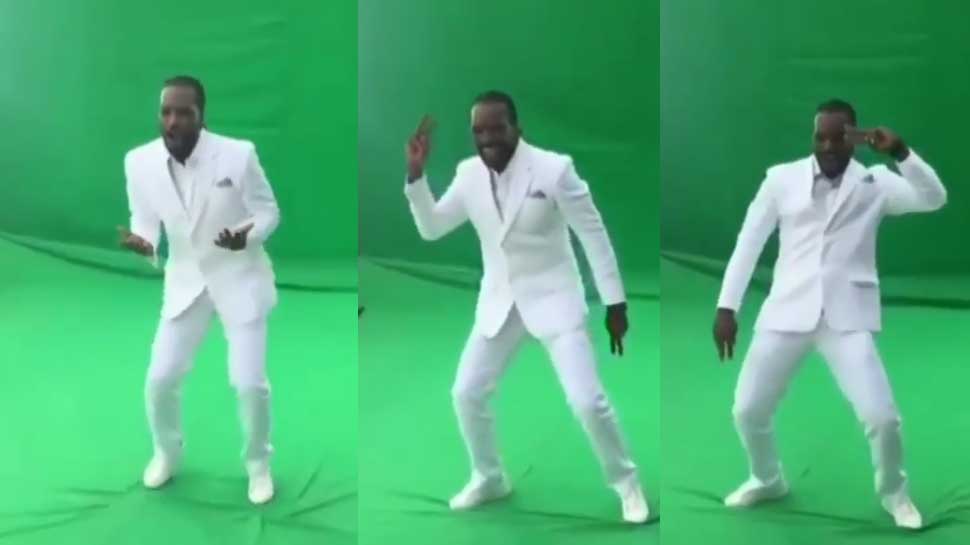 Now, there's something else that has caught the attention of the big hitting West Indian Universe Boss. And believe it or not, it's an item number from one of the hinterland's crooning voices: Sapna Choudhury, formerly, a contestant on popular reality TV show- Big Boss in India. When Chris Gayle- now very much a King's XI "Punjabi" decked in shinning white matching jacket and pants took to what seemed like a makeshift dance-floor, the familiar gyrating movements and pulsating rhythm returned. And this time sending music fans, music aficionado's, cricket fans, social media sycophants and just about anyone who sees fun in the marriage of music and cricket into an unstoppable groove.
https://www.instagram.com/p/Bh5zhwgj8pW/
Despite actually nearing 38, where some of Gayle's previous contemporaries have jolly-well retired and are perhaps watching cricket from the armchair comfort of their recliners, the mighty Jamaican is uniting the world on the dance floor. Whatever Gayle does, become a viral sensation. It doesn't matter to him whether he is in his serene green Jamaica or in Virat-Kohli land. The constant smile and the enthusiasm to celebrate the sport in his own very "Universe Boss" way cuts him in a league of his own. That way, it ought to be said, cricket becomes more enjoyable and more entertaining. Little wonder then Gayle choses his delectable moves in midst of T20 contests. From Gangnam to champion to Sapna Choudhury's dance moves- you'll take it any day coming from Christopher Henry Gayle, won't you?