India's Cheteshwar Pujara began his journey in international Test Cricket on October 9, 2010, to be precise. If you reflect on it, then you realize that it's so far back in time that the likes of Shai Hope, Nicholas Pooran, Rishabh Pant, Suryakumar Yadav, Cameron Green and Shaheen Shah Afridi weren't even cricketers of their respective countries yet.
As February 17, 2023 arrives albeit not without the Indian cricket team heading into the soon-to-begin Delhi Test with a 1-nil lead over Australia, Cheteshwar Pujara is about to enter another three figure mark.
Those around him when he debuted, such as Sachin Tendulkar and Rahul Dravid have long walked into the sunset. All that remains of Tendulkar in the stadium are the mega chants that can be heard in stadia from time to time while 'The Wall' is now 'Sir' Dravid being the coach of the Indian team.
There's a plethora of new faces that have emerged with much gusto and provided renewed interest in the Indian cricket team. Think Mohd. Siraj, Prithvi Shaw, Shubman Gill, Washington Sundar and Suryakumar Yadav himself.
But India's solid number three is still going strong.
He's akin to the gentle, unwavering and comforting tale that the grandma recites the young kid almost every night; Pujara is much like that unfaltering ritual that seems to complete the day.
A special century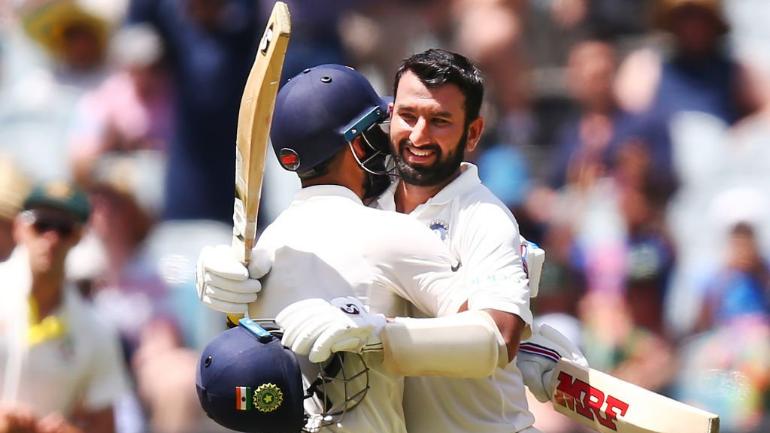 As the Test cricket romantic prepares to witness Test match number two of the four-game series, Cheteshwar Pujara is ready to hit a century.
But this one is a rather special one; it's an incredible feat in itself. The Rajkot-born batter is about to enter Test match #100.
In so doing, Cheteshwar Pujara is just about to become only the thirteenth Indian cricketer ever to do so at the Test match level. But with the bat, the wonderful runs are keenly awaited.
For he's playing against an opponent that's rather familiar.
Lest it is forgotten, it was Australia against whom Cheteshwar Pujara marked his debut way back in time. And it is Australia against whom he plays that big hundredth Test.
Circle of life as some would say!
Though for Pujara, who by self-admission likes to keep things simple, the rapidly approaching Test would be akin to another five dayer where he's got to simply do his job.
And while critics who certainly like to lament the familiar trait of eating up deliveries, at Pujara's end, the job is to soak up the pressure that's on India whilst turning the tables.
If that means playing 20 overs or 40 to 50 on his own, then so be it.
It's all fine for as long as the runs come.
And truth be told, during such time, they have. And handsomely so!
Pujara's name stands valiantly across some 7,021 Test runs and 19 odd centuries. More specifically, his standing in the firmament of current Indian cricket is that of the last of his kind: a batsman in the classical fold, a representation of doggedness in front of the wham-bam culture of batting.
More perseverance than power, passive aggression, truth be told, instead of in-your-face cricketing expression!
When he began, it ought to be remembered, he was up against the likes of Morkel and Steyn. Then came the Roach's and the Gabriel's. Today, he's still adept at defying the best in the business; whether it's Starc, Cummins or Hazlewood or Nortje, Alzarri or Jamieson.
There's actually a great chance that with some keenly demonstrated patience and quintessential grit, Pujara's tally of the number of deliveries faced (15,797 in Tests) may reach 16,000 overall. And that's talking about this series. Though for that to happen, the right-hander needs to bat for 203 more deliveries.
The number cruncher obsessed with specifics would consider it batting for almost 34 overs.
How Cheteshwar Pujara's often mounted a comeback
Though to make interesting, what will matter just as much as overs consumed would be the runs scored. But again, Pujara will know what's expected from him; he's a cool-headed bloke who never countered-but listened- to all that talk about upping the run-rate.
He's been in situations where he's been rubished aside, been a subject of mean talk, pretty much even been castigated and he's not done yet.
Each time where they talk about a cheap dismissal as seen in the Nagpur Test, he's somehow dwelled within and found the power to hit something like that famous 102, which came recently at Chattogram in Bangladesh.
For as said earlier, it's all too common. It's a circle of life. Our man is an intrepid traveller who's walked a long mile. And gladly, he's not done yet.