Knock-knock: Who?
Respondent: Karun Nair!
Asker: Karun Nair? Karun Nair Who?
Respondent: Karun who was brought into Tests to score runs and left out, without giving him a clue!
Few times are as polarised as Team India, apparently ICC's number 1 side in Tests. On the one hand, it's a team that gave the cricket world, a god. On the other hand, it's a team that's produced a fine brand of cricketers, some of whom, disregarded their pure skills and rested on corrupt ways, adding to the list of world's list of match-fixers.
Then there's a third way.
Team India, as it stands nowadays, happens to be a youth-loving cricketing outfit that's recruited new names, some of whom are bench-warming for inexplicable reasons.
Among the many youngsters who were brought in, regardless of formats, there are some who, one doesn't even remember the batting stance of, if not the face. Nearly, half a decade has passed since one got to know in which part of God's mortal earth was Unmukt Chand residing.
Remember, there was this time where it was being said that he would be the new Virat Kohli?
Robin Utthapa was given a lot many chances and he did fail to make it count. But why could he not fit the ODI format, and happen to be on the flight to the Caribbean- where top notch names like Rohit and Kohli recently played ODIs, T20s as of last year- one will never know.
Even before, Rishabh Pant was inducted into Tests, there were a lot of things going around the young guy. He did make headlines opening his account with a massive six, finding a place in history, for time immemorial where cricket obsessives reside. In the very next inning, he failed to make it count.
Thankfully, he's going to be pardoned for the occasional failings. After all, he's a new creature as of now.
But there was also another youngster, who, truth be told, hasn't played a lot of Test innings vis-a-vis Rishabh Pant. But he's someone who, already seems to have become a thing of the past where Team India's selection policies stand.
The name's Nair, Karun Nair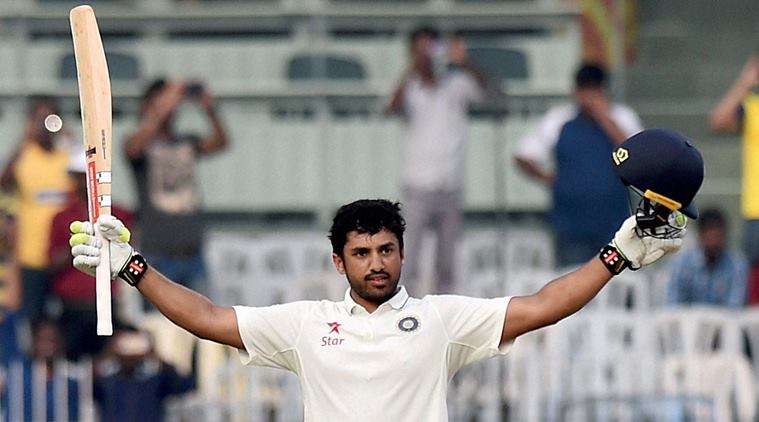 And guess what, only God Almighty knows when's the Jodhpur-born going to next play a Test?
If you were to, at this very point in time, look elsewhere toward the make-up of other teams you'd find even the West Indies- whose selectors and cricket administration are often described in cuss words- have remained intrinsically youth-driven.
In Shai Hope and Roston Chase, they have young Test batters who are establishing themselves. Then, in their bid to make the current side more hardwired in capabilities of the youth, promoting new talent, one finds the likes of Shimron Hetmyer- touted for big things- and, Keemo Paul- already a well-known face in the Caribbean- have made their ODI and Test debuts.
But then there's Team India in what it's doing to Karun Nair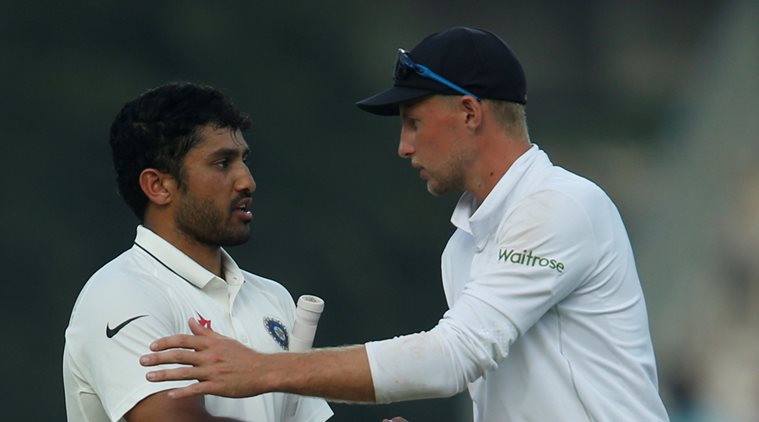 Even before the elite group of national cricket selectors decided to zero down on Karun Nair, the earnest youngster had shown his true potential.
Before the glory of Test cricket came calling- and this is if you fail to call Karun's feat a glorious one- Karun Nair owned the IPL stage back in the 2014-15 seasons.
Through an exhibition of brutal strokeplay, as seen during his stints for Rajasthan Royals, Karun Nair burst out on the T20 scene.
It was an explosive start at best where the Karnataka-batsman would plunder valuable runs, often coming into bat only in the 14th or the 16th over onward.
Next up, would be the mighty Test debut
Soon, playing his maiden Test series against England, the batsman struck gold when he crossed a figure scoring which mortals are touted immortals, mediocre batsmen become greats, and, talented men are labelled phenomenal.
When Karun Nair scored 303, thus becoming only the second-ever Indian, since Sehwag to score a triple ton, he not only became a darling of the media, but also reassured the selectors that hiring him for five-day duties wasn't a bluff.
All that he needed then was another opportunity to prove that his Chepauk effort was no flash in the pan was at least a couple of series, if not more.
And what do we see?
The last that Karun Nair wielded a bat in the topmost echelons of international cricket came over a year ago.
Here's what's most worrying about Karun Nair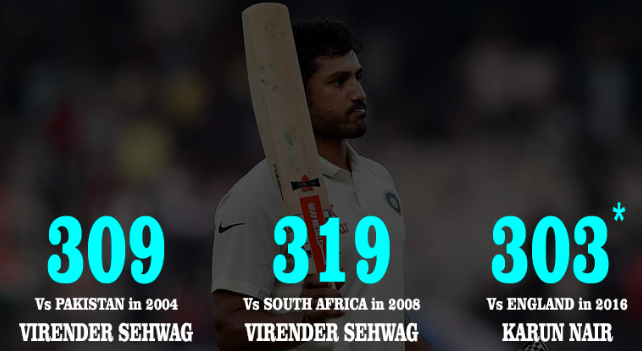 In a few months, Karun Nair would turn 27. He was only 25 when he'd fired that great Test triple. Lara was older when he pounded England on his way to 375.
That said, the last Test that Karun played came in March 2017.
A question remains at large.
Why was he even debuted if the idea behind getting him was to persist with batsmen who are constantly failing?
The other thing that only selectors can answer is that when are they planning to give a 7-inning old Karun Nair back? For despite social media's rise and the rise of other social media platforms, the Indian cricket fan hasn't yet become as empowered as to be selecting the team on the behalf of those who are actually entrusted with that task?
On a lighter note, two Jurrasic Park films, 2 Avenger Blockbusters have released since this talented Indian batsman last played a Test. Karun's triple-hundred, now seems to have in a Jurassic era; remember, it was during the times when demonitisation hadn't happened?
Does the country need to experience other silent states of emergency before bringing back this right-hander?