Fast bowlers bring an interesting element to the game. You'd never have enjoyed the batsmen's success, had they not been forced to work for their runs. It's the pacers that hunt in pairs and also recede into oblivion, on account of a taxing toll endured in the course of being steeplechase runners in cricket. Going the long mile is the first and eventual goal of every pacer who blasts out on the scene of international cricket.
Their journey is marked with success but also, as often seen, plagued with injury scares and concerns that pose a direct threat to their very existence. No great fast-bowler, whether you dive back into the past involving Marshall, Garner, Hall, Hadlee, Akram or visit the recent times- Bond, Akthar, Johnson, Anderson, Ishant, Lee, Styen- has achieved greatness minus withstanding a direct assault on physicality.
Still, one's got to feel for these pressers of batsmen's mental nerves. What we remember in the end are their five-fors and the series they won at the back of sheer, brutal pace bowling.
We hold less for understanding compassionately the rigours, withstanding which good fast bowlers became greats.
Typically, when you deep dive into the ocean of fast bowling that the Caribbean has produced you'd only witness one great name after the other. It's almost as if God's was playing chess with the fortunes of the great batsmen of the world when he began unbundling one epic batsman-mauler after the other. From Roberts to Holding, Hall to Marshall, Ambrose to Walsh, Patterson to Bishop and, lately, Fidel Edwards to Jerome Taylor, the West Indies have enamoured, terrorised and decapitated world cricket thanks to the prowess of its pacers.
They were fiery then. They were hard to score off and, they were renowned for cutting no corners. But truth be told, come the time of the retirements of their last-henchmen, keepers of their pride, so to speak- a league to which there's little doubt – belong Lara and Chanderpaul, the Caribbean cricket in the last decade and a half has been kept alive not so much by the feet of their fast bowlers. But been extended a longer stint of survival- if at all, on situations that have drawn comparisons with a bedridden patient awaiting life support- thanks to the ebullience of big-striking men like Gayle and Samuels, Pollard and Russell.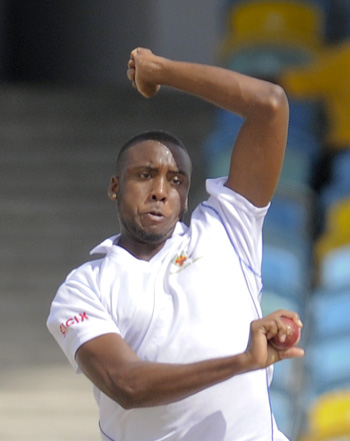 But that said, even their most worried fans, a rare breed that despises the advent of a T20-style batsmanship that often fails to hold on to its own in longer formats, cannot deny that of late, the team has birthed a spark of revival, whose talents, most noticeably, lay in the cauldron called pace bowling. It's not been utterly hard to spot the West Indians, once again competing in the longer formats- where their survival is at stake, their existence at nearly the bottom of the chain probing hard questions at their sport- fighting for a new breakthrough.
Truth be told, you cannot discount the realisation that if the current team, a unit based on the youth (to augment, develop and grow younger players) is the way ahead to forge a Caribbean revival, then young fast bowlers like Miguel Cummins are the answer.
While Shannon Gabriel and Kemar Roach have established themselves as the new ball pair, a lot depends on Miguel Cummins' and Jason Holder's abilities as the support group. The third name in this pace-list which, once removing Holder's medium pacers often withers away from violent streaks of pace, is an important one.
The 28-year-old Barbadian may not be a custodian of ruthless fast bowing. He may not submit batsmen to their worst fears either. But in a quick span of time, having scalped 27 wickets from 13 Tests, including a best mark of 6 for 48, Miguel Cummins has responded to the faith entrusted by selectors on a young brigade of forward-looking West Indian cricketers.
Combining a nice, rhythmic action with his keenness to exploit the best from his craft using shorter-balls, Miguel Cummins can be an effective antidote when it comes to halting a team's scoring rate. Moreover, with the ability to pitch the ball up to the batsmen and holding them on the backfoot through the usage of bouncers, Miguel Cummins has begun asking questions of batsmen.
In the past half-decade, no West Indian bowler has looked either ordinary or perfunctory to the requirements the Jason Holder unit needs. Their jobs seem clear and in great order to each of them. While Shanon Gabriel will assault batsmen using brute pace and his uncanny consistency and Kemar Roach will drive batsmen into shots that leave them gutted, Holder and Cummins have begun attacking in a pair as the second change.
Surely, it would be asking too much from a lot that's still inexperienced and unexposed to the menacing danger that could be facing an India in India (something that's due to occur later this year), but it seems, for now, blokes like Miguel Cummins aren't going to disappoint.
Surely, there will be days a Kohli and Pujara will sculpt them for runs. Surely, the English team visiting the Caribbean next year will have a Root, Buttler and probably Stokes and Woakes edging a Cummins beyond the precipice. But for a good measure, whatever Miguel Cummins has demonstrated thus far, seems to speak well for his abilities as a young, brooding pace bowler.
Quicker than Holder but not faster than Gabriel, his stock delivery is the one that he brings inside to the left-hander and the one that moves away from the edge, possibly angling away to the second slip. An important strength emanates from that ability to chip in with wickets, as one saw in his 6 he scalped in his first tour to New Zealand and the vital 3-for he clinched against Bangladesh. Roach was the hero of the contest at Antigua, but it was Cummins who impressed as the next-best, in Sir Vivian Richards' land. One wonders what might've been had he not removed Liton Das early?
He may not seem the kind of bowler who can consistently nag batsmen, chipping at them with express pace. But Miguel Cummins' uses to good measure, that wonderful bouncer and has a rattler of good-length delivery that can limit batsmen's scoring areas.
While an interesting string of challenges still awaits the Bajan, it looks, he's up for them. The onus, as always, will rest on Holder and his experienced bowlers to guide this avid young man to find himself fully.