Sportsmen define eras and give rise to inspiring personalities. They are to motivation what religion is to the spiritually inclined. And when it comes to cricket, there's this wide pantheon of greats that has provided an abundance of pleasure to fans and admirers alike.
Few batsmen, truthfully speaking, have designed and redesigned cricketing record books quite like Brian Charles Lara. He is to world cricket what an Ayrton Senna is to F1 racing or Muhammad Ali is to boxing.
Lara's success owes itself partly his wizardry with the bat and partly to his mental strength. Implicit in Lara's construction of big individual scores- 375 and 400 not out in Test Cricket, 501 in First-Class cricket- is the role his mind played. Agile as an athlete and renowned for his unwavering focus, Lara was a resolute batsman who would back himself to do wonders with the bat.
And true to Lara's greatness were some inspirations he sought within and from life around.
Let's look at some of Brian Lara's mighty quotes that hold the key to understand the 'Prince of Trinidad' and inarguably one of the world's best batsmen.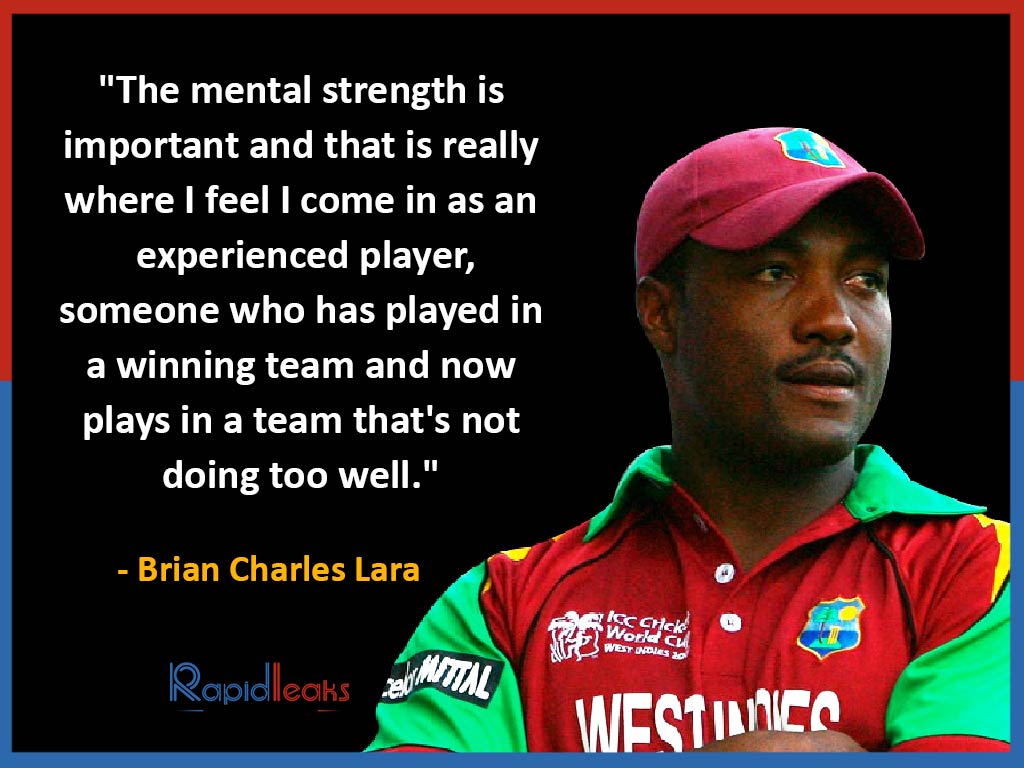 A quote as implicitly etched in Brian Lara, as is his presence in world record books. Lara's presence continued to be key in the haplessly changing vagaries of West Indies cricket. Sadly, he and Chanderpaul would be left alone in fighting for resuscitating their side's fortunes.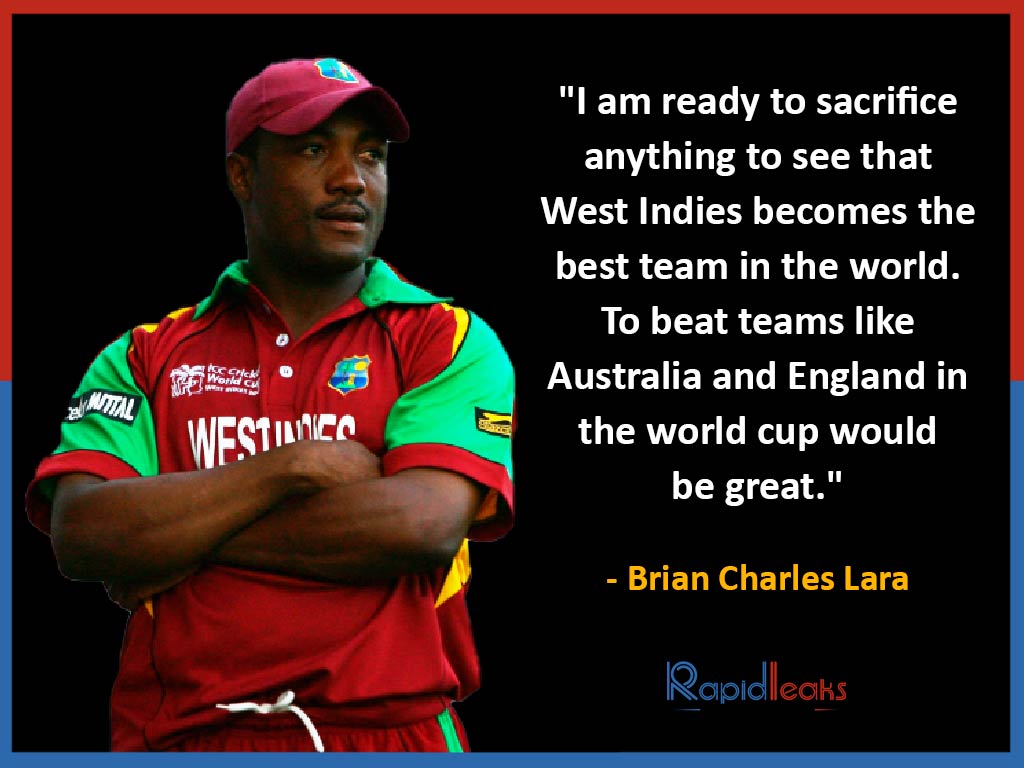 Seems like one of those quotes that may have been delivered around the late 1990s or early 2000s. As West Indies went from one tournament to another being spanked like slaughtered lambs, Lara's frustration grew but he didn't stop contributing with the bat.
In the aftermath of breaking Sir Gary Sobers record for the highest individual Test score, Lara was overjoyed having scored 375 versus England. The record would stand unbroken for a decade before Hayden broke it, only to have it reclaimed by Lara again.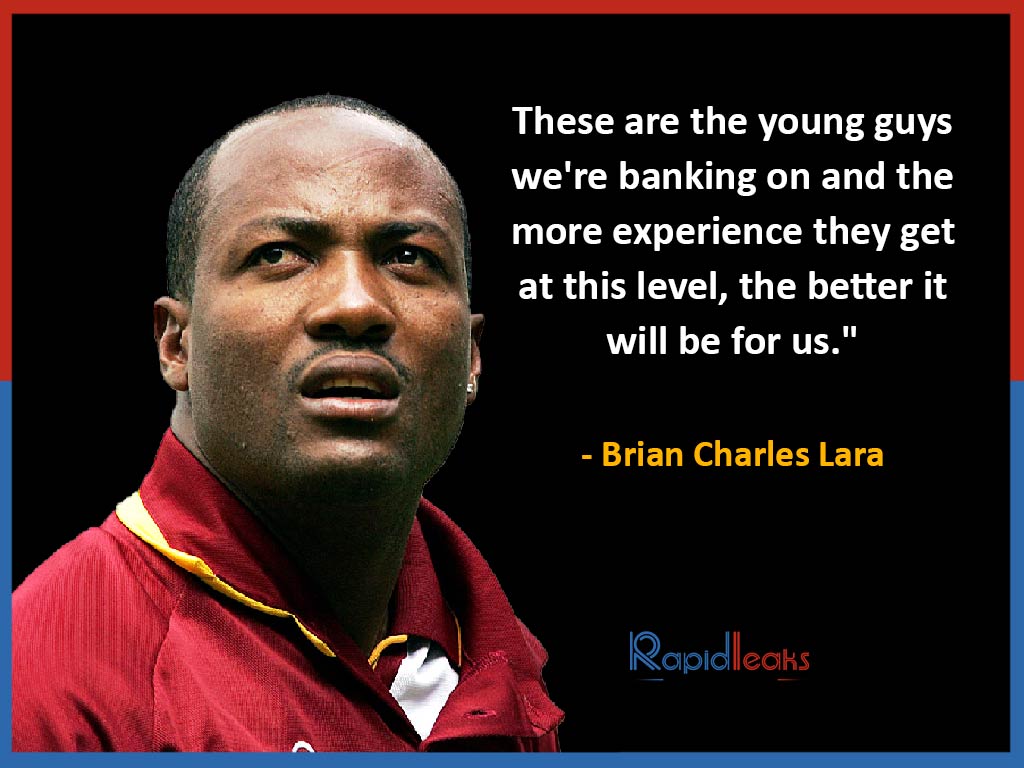 Lara, throughout his career was instrumental in shaping many a young players in the Test arena. The likes of Corey Collymore, Fidel Edwards and Pedro Collins became Test regulars under the left-hander's captaincy.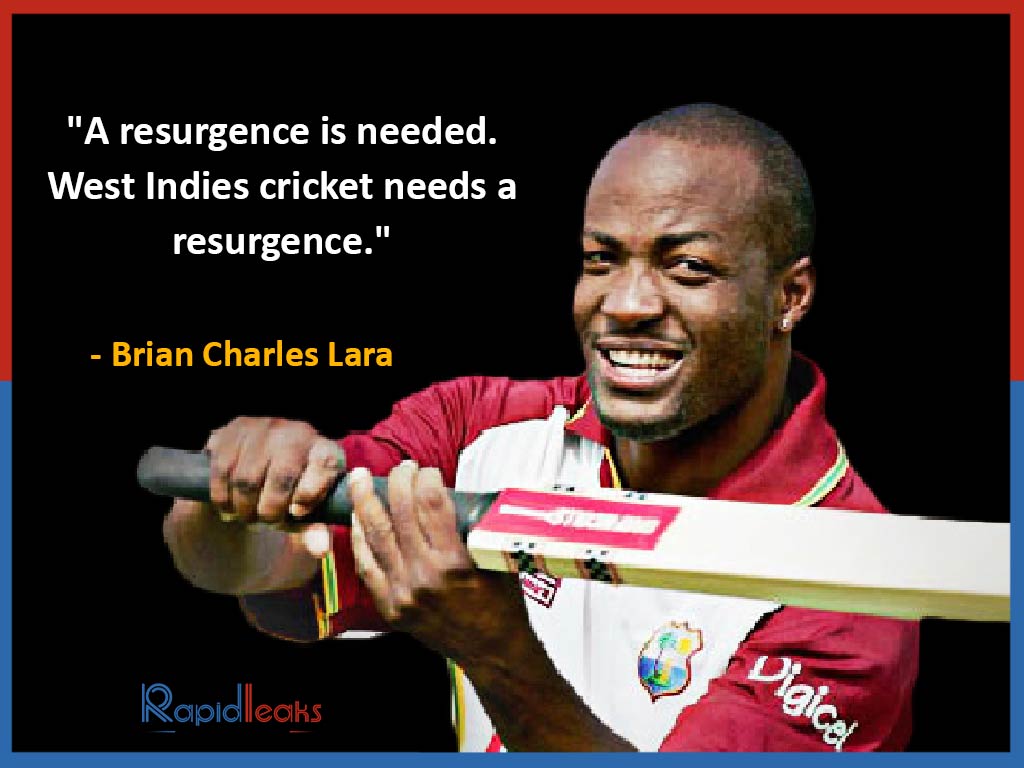 A quote that seems likely to have come along during one of the continuous harrowing experiences for West Indies during Test and ODI runs.
It's rather funny that the same man who has been blamed for being a tad bit selfish and indulgent given his penchant for marking himself for individual batting records also had the fearless honesty to admit his weaknesses.
During his career Lara was elected as the West Indies captain on multiple stints and in almost all occasions he had to savour individual highs against a time mired by torrid downfall of his side. This seems likely to have come at a time where he abdicated the captaincy and Chanderpaul took over the reins.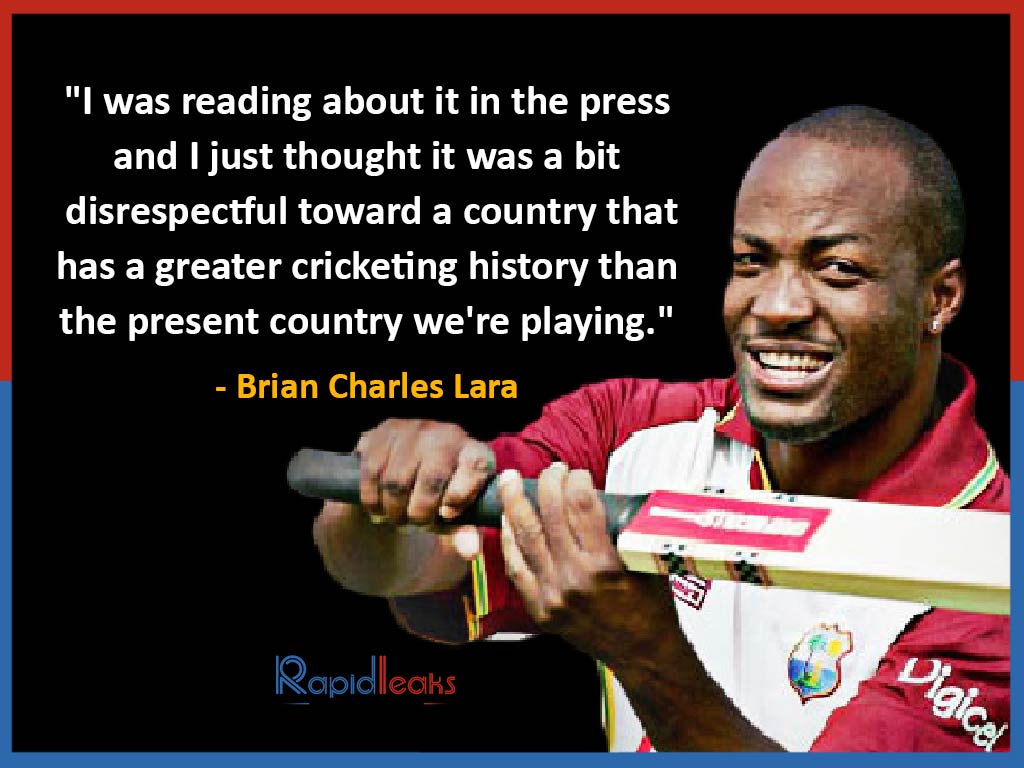 Throughout his career, Lara has dealt with both- bouquets and brickbats. And as much as a matter of pride it was for him to represent the West Indies and thrive in the highs of his geniuses, he also had to face the ire of the media that were unremitting in their criticism of the West Indies team.
Known as the Rock of South Africa, Jack Kallis earned the respect from both fans and critics alike and was also one of the favourites of Brian Lara.
Lara's famous parting words in the aftermath of West Indies' painful 1 run loss to England in Cricket World Cup 2007, left Lara with mixed feelings. In his interview, he wanted to ask fans if they enjoyed seeing him bat. Perhaps, this was the easiest for everyone to answer