You've admired Johnson for his furious pace and regarded McGrath for his uncanny consistency. You've hailed Nathan Lyon for his unmatched ability to get the maximum out of any surface and respected Hilfenhaus and Siddle for their dedication and focus. But in the period after McGrath, one where Australia continued its onslaught in being world-beaters, before blokes like Hazlewood and Starc arrived on the big scene, there was Brett Lee.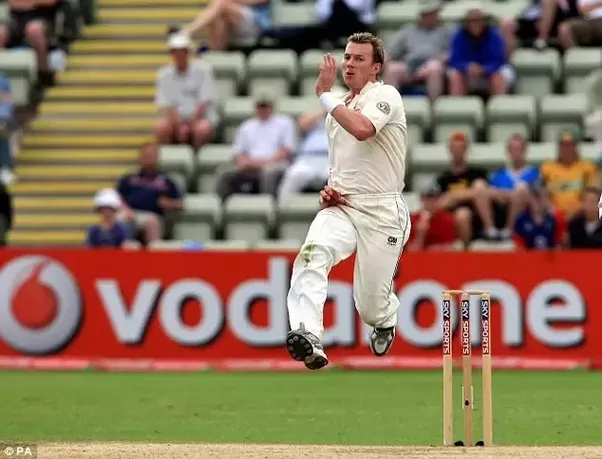 Brett Lee, batsman destructor, stump-smasher, yorker-deliverer, was clearly the dividing line between Australia's dominance in world cricket and their foes' inability to tackle them regardless of where they played them, whether at home or on overseas tours.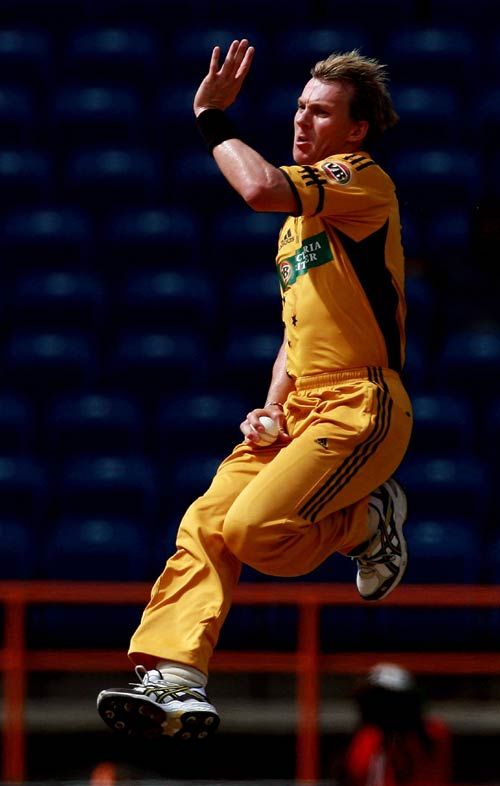 Lee would be most remembered for spearheading Australia's dominant pace attack of the late 1990s and mid 2000s where he went from being a blonde-haired pace rookie into becoming the fastest bowler of his generation, a tag he shared closely with Pakistan's Shoaib Akhtar.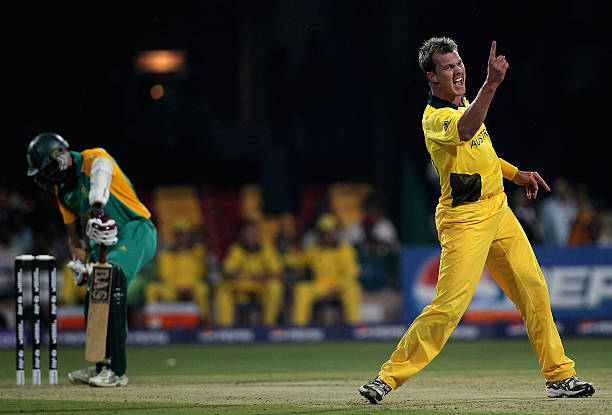 He would come hard at batsmen, would rely less on verbals and offer no respite from merciless pace and absolute assault. Not even greats- Sachin, Dravid, Kallis or Lara- were spared from hostile bowling spells, where sprang into action, session after session to disgruntle the focus of the best in business. Whether it was his hurried, hoppy action, the belters he fired from a 140, 150 k's or the fancy, wide-armed celebration that he indulged in upon shattering the batsmen's timber, there was an energy, a thrill in Brett Lee, previously unseen and hitherto, hardly ever witnessed on Cricket's enigmatic 22 yards.
But the Wollongong-born pacer, it has to be said, would be most remembered for the following 5 records
1. Sachin's arch-rival and nemesis
Over the years, many bowlers have mighty close in forging a great rivalry with the 'Master Blaster', picture Australia's Glenn McGrath and South Africa's Alan Donald. Even Shane Warne has held epic duels with arguably the world's best batsman of the modern era.
But it would be Brett Lee, who would manage to dismiss the legend with his furious pace and guile.
No other modern-age bowler has been able to get the better of Sachin on as many occasions as Brett Lee, who dismissed the master blaster 14 times, a world record that includes 9 ODI dismissals from 25 contests.
2. A match-winning effort in his debut Test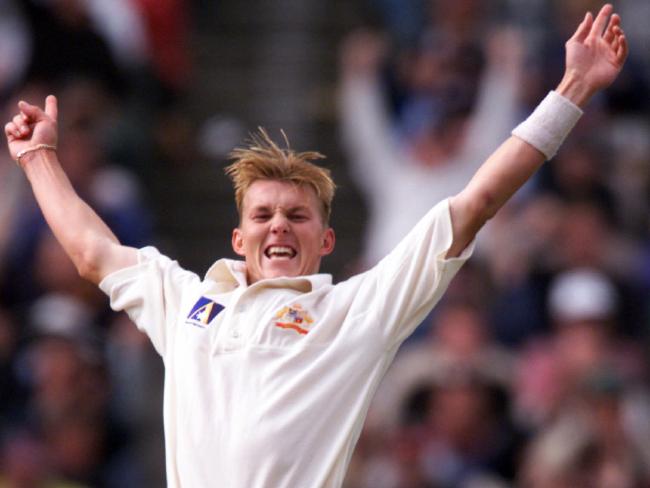 Life for fast bowlers, it is said, is tough, more than it can ever be for any other competitor in the game. Grappling with an enormity of challenge, being tasked to bowl long spells, game after game, the modern demands of the sport, one that extolls on a top-notch cricketer the challenge to be fit and ready for an year-round action, fast bowlers can wane out quicker than they can manifest their talent. But even when bowlers take care of their physical anomalies, it often takes them time before they actually get going.
This, however, would not be a problem with Brett Lee, who sprang into action in the very first Test he competed in.
If you rewind the clocks back to the Mecca of Cricket: the MCG during 1999, where a young, dove-eyed Lee debuted against a powerful Indian line up that featured Saurav, Sachin, Laxman and Dravid you'd find Lee's name featuring in an ecstatic 5-for in the first innings.
In taking the prized wickets of S. Ramesh and India's 'Wall', Lee dislodged India's top and lower order in breaking out on cricket's stage with a memorable 5 for 47 in the first innings. In so doing, Lee bettered the debut record when compared to his contemporaries, McGrath, Fleming and, Warne, none of who were able to grab a five wicket haul in their very first Test bowling effort, a record that still stays with Brett Lee.
3. The first ever bowler to take a hat-trick in a T20 contest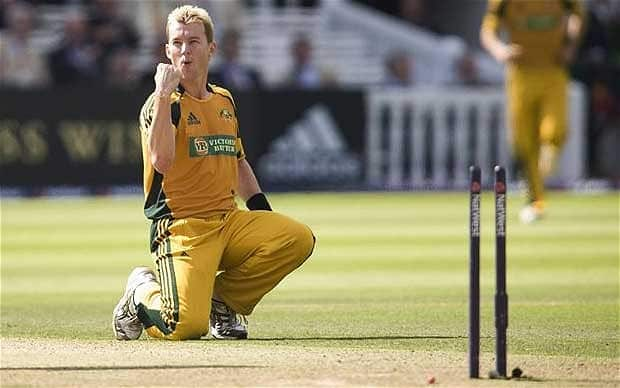 It was Cape Town, September 16, 2007, the inaugural World T20 that rests in the throes of the past as a jovial reminder of the beginning of modern cricket's grandiose global carnival. Bangladesh, sweating profusely on a hot sunny morning were up against an Aussie line-up that was powered by Stuart Clarke, Nathan Bracken and, Mitchell Johnson.
But even as Mitchell Johnson would draw first blood, Brett Lee would go for the kill, in delivering an outstanding spell of 27 for 3 from 4 overs where top-ranked talents of Shakib Al Hassan and Moshrafe Mortaza finding their blades blunted by the raw pace of the Aussie pacer who also clinched the wicket of Alok Kapali from the lower order.
In a terrific display of raw pace bowling, Lee would become the first bowler to scale a special: the first hat-trick of a World T20.
4. The only bowler to take two 5-five's at Lord's
In a career that spanned over a decade and resulted in 718 international wickets, including 310 scalps at the Test level, Lee exulted pressure on England at their own den.
While playing at the revered Lord's cricket ground would send any talent into a tizzy, evidently out of the immense pressure of contesting at the 'home of cricket', Brett Lee would regale at the challenge, as seen from his memorable exploits of 2005 and 2009 where Lee's unmatched pace and rabid consistency enabled Australia to edge out England in both occasions.
But first up, in 2005, Lee scuttled out a decorated English line up that featured Pietersen, Flintoff and Collingwood who had no answer to the gauntlet's Lee hurled up sending England comatose with an enthralling 5 for 41. While many would have thought that Lee's 2005 Lord's success was a one-time hurrah, the Aussie speed gun would return in 2009 to shatter more stumps, this time getting the better of a batting attack featuring Matt Prior, Luke Wright (also a close friend), Joe Denly, Stuart Broad and, Adil Rashid. In sending England out of the park, quite like their batsmen's uprooted stumps, Lee would wreck major damage with a 5-49 off 10 overs.
5. Most wickets for an Australian paceman in world cups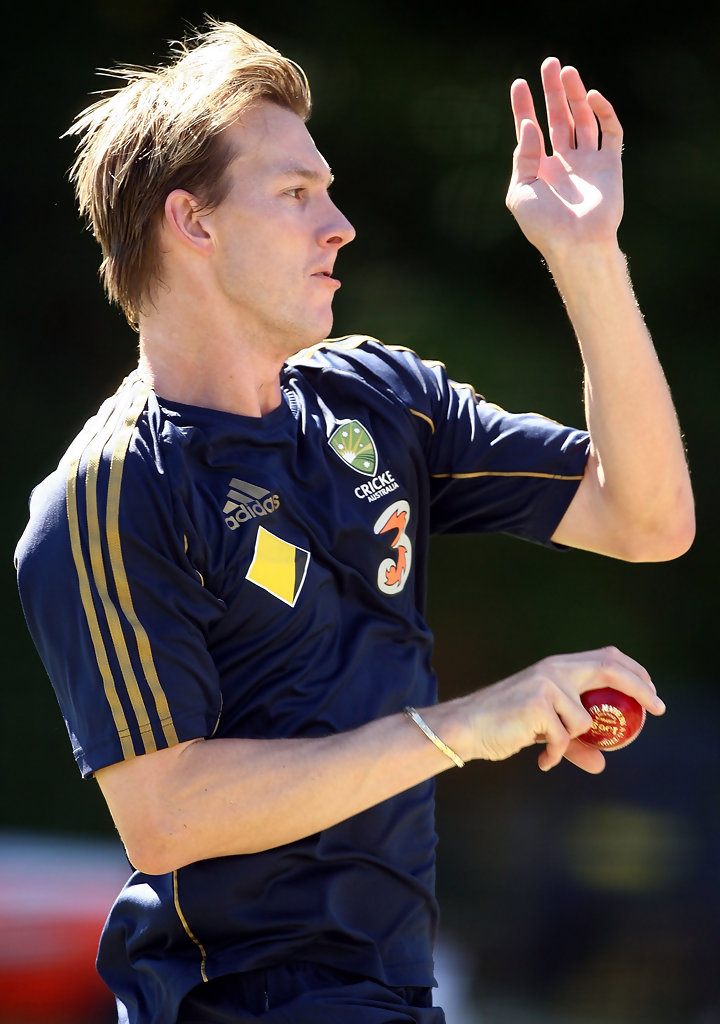 During his career, Lee was a striking adversary in a feisty line-up of Australians that were as respected as they were feared for their skill, including Ponting, Clarke, Johnson. In enabling Australia to lift not one but 3 world cup titles during his time, Brett Lee guided Australia to magnificent triumphs starting England, South Africa and the West Indies where his 35 wickets from 17 games unfurled nearly 2 wickets a world cup contest, a record any pace bowling marksman would be proud of.