The Asia Cup 2018 schedule aligns the excitement of watching cricket's powerhouses from Asia to an interesting destination of sorts where these nations will contest in a format of skill and daring. The continuity of tournaments like Asia Cup proves that despite the constant clamour about cutting short the 50-over format, the old template of cricket is still thriving. Above all, see the real positive.
The Asia Cup 2018 schedule is such that it provides equal opportunities to all Asia-based sides; whether it is playing against strong nations or contesting against developing teams. Surely to call the likes of Afghanistan and Hong Kong will be not only condescending but will also depict the allowance of the prevalence of overconfidence.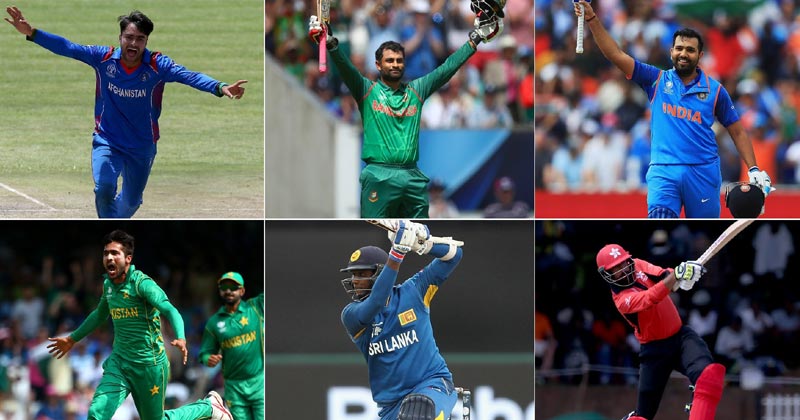 And, there's more.
Never has the Asia Cup been held in absolute entirety in the United Arab Emirates. Even as Hong Kong got the better of UAE, the actual hosts, one still cannot resist the temptation of watching the noted sides from Asia in what's slated to be an engaging series due to take place at Dubai and Abu Dhabi. In the contemporary times, the two destinations have emerged as standout venues for a plethora of sports. While Abu Dhabi has catapulted to the attention of the world thanks, largely to a staple fancy Formula 1 event: the Abu Dhabi Grand Prix, there's a lot of cricketing history in recent times in the ebb of a place revered for being the Ferrari theme-park base as well as Dubai.
Dubai hosted the first ever day-night Test for Pakistan and West Indies, back in 2016. It would also be the final Test series for Darren Bravo, since his ouster. Australia, South Africa, England have all played a lot of Test and ODI cricket with Pakistan at a venue the Sarfraz-side calls their second home.
That leaves us with possibly, with the most interesting perspective of them all. What can India do on September 19? As a riveting outfit, seemingly spurred by the leadership of Sarfraz Ahmed, Pakistan are only increasing in prowess. To take them lightly means to be entering the lion's cave thinking the king of the jungle isn't there inside. On the other hand, despite Kohli's absence, who, for reasons best known to him is resting for the series, it would be silly to take a team powered by Rohit Sharma lightly. As always, the India versus Pakistan contest will serve as a fitting highlight for the contest.
Amid this hype, can Afghanistan run-in with a surprise win leading to a catastrophic upset? Can Sri Lanka, with the reigns of captaincy returning to Angelo Mathews, the side being led by an intriguing bowling force scalp something of vital importance? There are questions running aplenty.
The last time a full-fledged ODI series involved all renowned Asiatic teams was 2014. Then, in 2016, there were T20s. With an almost endless streak of cricket going on rather continuously, it's not always that all top Asiatic teams get together to lock horns in an enthralling contest.
Of course, the 2018 Asia Cup Schedule ensures that cricket returns with rich fervour involving a continent that quite literally, eats, sleeps, and walks cricket.
But if you thought that this time around, the 2018 Asia Cup Schedule has only lined up the four usual forces from the sub-continent- involving- Bangladesh, India, Sri Lanka, and Pakistan, then think again.
There's going to be a lot of excitement to see the likes of Afghanistan and Hong Kong to this immensely-talented stable. They weren't even in the close whereabouts of playing a series as coveted and challenging as the Asia Cup the last time around. But, among other teams that are rising as formidable forces, Afghanistan's story is more than the rise of a force. It concerns the coming together of a talented lot that likes to disturb the established credentials of known teams.
Most eyes will be curiously fixated upon Rashid. But he may not be the only trump card this time around. To limit the potential of a talented outfit to just one player would be as myopic an idea as to be taking a capricious Bangladesh lightly in the absence of Shakib.
That told, here's the full Asia Cup 2018 schedule that beckons a lot of excitement from the onset of September 16:
| | | |
| --- | --- | --- |
| Date & Time | Match | Venue |
| | | |
| Sep 15, Sat, 5 PM | BAN vs SL | Dubai |
| | | |
| Sep 16, Sun, 5PM | PAK vs HK | Dubai |
| | | |
| Sep 17, Mon, 5 PM | SL vs AFG | Abu Dhabi |
| | | |
| Sep 18, Tue, 5 PM | IND vs HK | Dubai |
| | | |
| Sep 19, Wed, 5 PM | IND vs PAK | Dubai |
| | | |
| Sep 20, Thu, 5 PM | BAN vs AFG | Abu Dhabi |
| | | |
| Sep 21, Fri, 5 PM | TBC vs TBC, Super Four, Match 1 | Dubai |
| | TBC vs TBC, Super Four, Match 2 | Abu Dhabi |
| | | |
| Sep 23, Sun, 5 PM | TBC vs TBC, Super Four, Match 3 | Dubai |
| | TBC vs TBC, Super Four, Match 4 | Abu Dhabi |
| | | |
| Sep 25, Tue, 5 PM | TBC vs TBC, Super Four, Match 5 | Dubai |
| | | |
| Sep 26, Wed, 5 PM | TBC vs TBC, Super Four, Match 6 | Abu Dhabi |
| | | |
| Sep 28, Fri, 5 PM | TBC vs TBC, Final | Dubai |
Dev Tyagi