Ashish Nehra has been the talk of the town since the news about his comeback to the Indian T20I squad for Australia's tour surfaced. At a time when emphasis has been on the young as well as the fittest, Ashish Nehra's comeback has raised a few eyebrows, as well.
Being 38, the spearhead is said to have cleared the Yo-Yo Test in which, the likes of Suresh Raina and Yuvraj Singh have failed to match the parameters but for the lanky seamer, it is said that he is the best in business if 'fit'. Which, after seeing his 2011 World Cup endeavors, seems true to its very core.
He brings in pace as well as accuracy unlike any other Indian seamer and when not plagued with injuries, his exceptional talent to move the ball on a pitch has left cricket fans amazed around the world.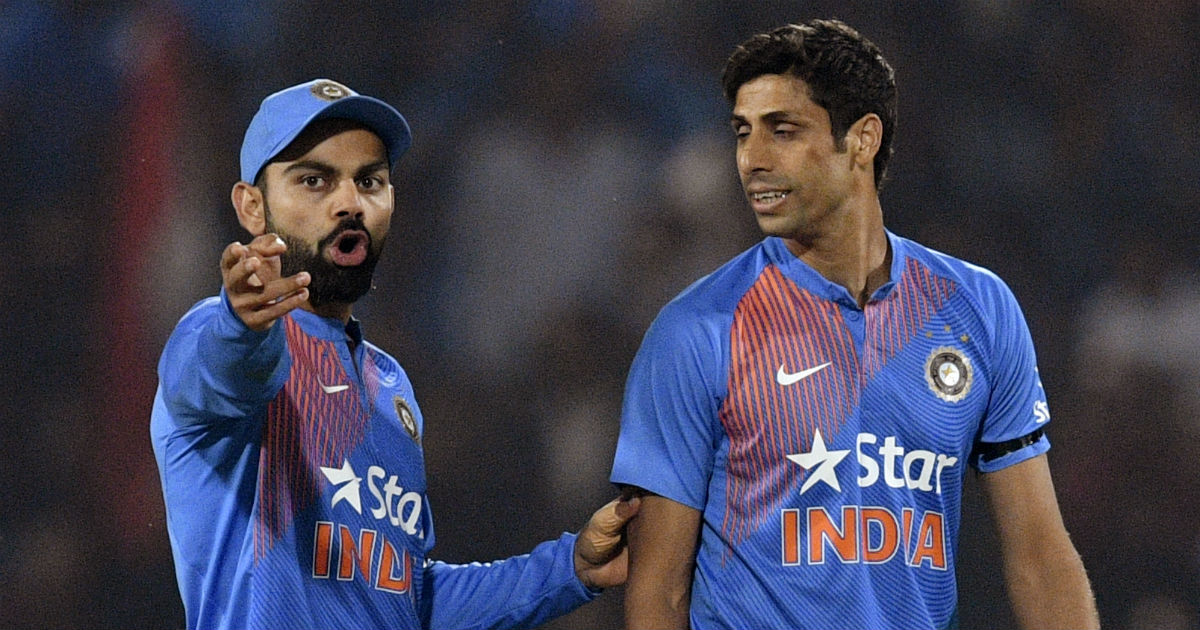 During his 18-year-old career, Ashish Nehra has had 12 surgeries and each time he has made a comeback, the Delhi-born has been lethal than ever with his bowling. Having played in 17 Tests, 120 ODIs and 26 T20Is for India, Ashish Nehra has picked 44, 157 and 34 wickets in all the three formats, respectively.
However, since Ashish Nehra will be retiring from all formats of cricket on 1st November 2017, at his home ground Feroz Shah Kotla, we wanted his fans to know the funny side of him that was recently revealed during an interview with Gaurav Kapoor in an episode of Breakfast with Champions.
Ashish Nehra: 5 Fun Facts About The Comeback King Of India
1. Just Introduced To WhatsApp
Ashish Nehra had been using a Nokia E51 before his wife gifted him an iPhone 7 recently. After struggling for a while, he has managed to get used to WhatsApp but other than that, he only uses the smartphone for picking up and dialing calls.
2. Virender Sehwag Used To Drink His Glass Of Milk
Everybody knows of Ashish Nehra's friendship with Virender Sehwag and the duo used to travel together to Feroz Shah Kotla during their youth. However, while recalling a memory from those days, Nehra Ji revealed that he was never fond of milk and Sehwag used to drink his glass without even telling his mother.
3. He Will Never Pose Nude Even For 50 Cr
The Indian pacer clearly said that even if offered 50 Cr for a nude photoshoot, he will never agree to it, however, when it comes to posing underclothing, he will do it for even a minimal (for him) amount of 1 crore.
4. He Once Ordered 40 American Omelets From Zaheer Khan's Room
After winning the 2011 World Cup, Zaheer Khan, Ashish Nehra and the latter's son Arush were in the same room with the WC Trophy as the mood of celebrations was all around the aura, they thought of doing a little party. It wasn't just a regular party as Nehra Ji ordered 40 American Omelets to the hotel room and ate around 15-20 servings by 8:30 in the morning. After this, he left the room with Zaheer Khan, The World Cup and the rest of Omelets.
5. He Was Planning To Get Married On 1st April
During the interview, he also revealed that his plan was to marry Rushma on 1st April but since the day is celebrated as Fool's day, they postponed the wedding to 2nd April. Moreover, his wedding was planned in a matter of little over a week's time.
6. He Prefers Not To Talk About Cricket With His Wife
Rushma and Ashish Nehra met for the first time at The Oval and the lady of the house was once a die-hard cricket lover so much so that she can set the whole field for a bowler. Ashish Nehra revealed that his wife has such great insights about the game that she can even tell when to bowl a slower one or yorker.
7. He Felt Shy After Hitting Andrew Flintoff For A Huge Six At Lords
While recalling his six off Andrew Flintoff in the year 2002 at Lord's, Ashish Nehra revealed that after Ajit Agarkar completed his Test century, he asked him to stay on the non-striker's end as they were already losing the match but Nehra Ji wanted to try his hand on some shots and to everybody's amusement, he sent Flintoff's delivery outside the ground becoming the only second player after Viv Richards to so at Lords. He also added that the whole dressing room cheered up after his six but since they were losing, he never lifted his bat as he felt shy.
Watch the full episode of Breakfast with Champions here:
( Video Courtesy: Breakfast With Champions )
As far as his contribution towards Indian cricket is concerned, he is definitely one of the most influential seamers despite his injury-prone career and is the only Indian to take 6 wickets in an ODI twice, against Sri Lanka and England. Also, Ashish Nehra played 15 T20Is in the year 2016, including the ICC World Twenty20 while claiming 17 scalps at an average of 20.66.
And now he has decided to end his career on a high note at his home ground Feroz Shah Kotla and that too in a format which marked his previous comeback to the International side with all the glory. These Ashish Nehra facts must have made you laugh.