It was graphic. It was brutal. It was Test cricket at its nastiest. But not necessarily at its best.
The 4th day of the second Ashes 2019 Test match between England and Australia at Lord's, which eventually ended in a draw, saw some rather grim scenes. Australia's Steve Smith, while batting on a resolute 80, was brutally hit by a sharp bouncer by fast bowler Jofra Archer on the neck forcing the batsman to collapse on the ground. Steve Smith's injury was eerily reminiscent of the one Phil Hughes had taken back in 2014 that eventually led to his extremely unfortunate death.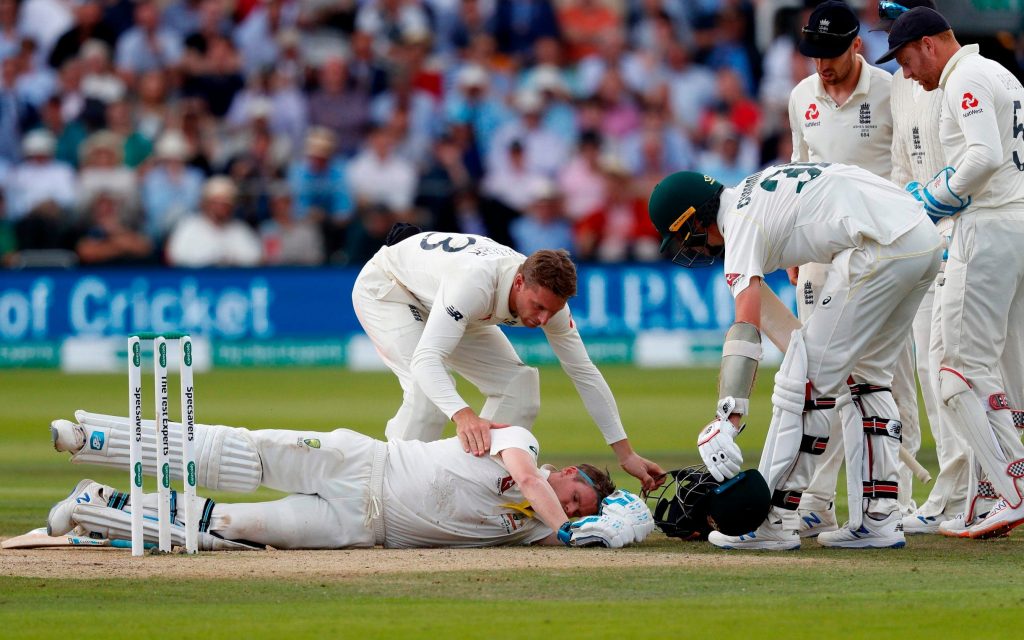 As Smith lay sprawled on the ground with physios tending to him, the hearts of the Australian fans were in their mouths. The replays kept showing the blow to Smith's neck in minute detail. And the closer the camera panned, the worse the blow looked.
Finally, Smith got up and was forced to retire hurt for a while after being diagnosed with a concussion. And while he returned to bat later on he could only add 12 runs to his total. Even after the end of the match, it was unclear whether Smith would return for the 3rd Test at Leeds – such was the viciousness of the blow.
Archer, who is known for his raw pace and ability to produce brutal bouncers, had won this round against Smith who had been the most difficult batsman for England to dislodge in this series so far. While the cricket was of high quality, the whole affair had shaken cricket fans all over the world.
Steve Smith injury: Lack of sportsman spirit by Archer?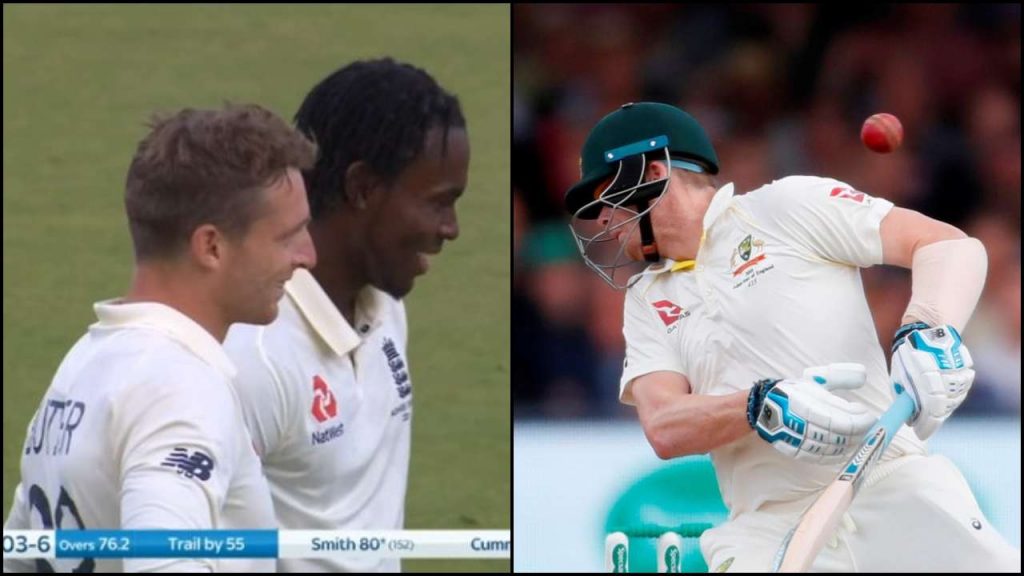 What made matters worse during the unfortunate incident was when the cameras showed Jofra Archer breaking into a little laugh along with wicket-keeper Jos Butler while looking down at something.
As the pictures of Archer's laugh went viral all over social media, fans were enraged. It was being assumed for obvious reasons that Archer was laughing at Smith.
"I know it's Test cricket and it's brutal but that was one of the nastier hits you'll see. Absolutely flush to the head. Archer laughing doesn't sit comfortably with me. Am I alone?" tweeted Neroli Meadows, of FoxSports.
Broadcaster Chris Skudder too had similar sentiments. "Pretty graphic, that, Steve Smith retching when he hit the floor. Archer and co wouldn't have known instantly how serious that could have been but could have done without the smiles in the circumstances. So similar to Phil Hughes tragedy."
Barring the devout English fans, a wide majority of cricket fans the world over lambasted Jofra Archer for his 'inexcusable' behaviour.
Some fans, though, attempted to defend Archer, saying that Archer wasn't laughing at Smith; that he was rattled himself and that smile was a reaction of being nervous.
That explanation didn't go too well with fans as pictures surfaced online showing Smith slumped at the batsman's end with people tending to him while Archer nonchalantly moving away from the scene at the bowler's end. Apparently, Archer didn't even check on Smith after he was hit with his bouncer.
This was reason enough to inflame even the neutral cricket fan. While Archer's skills as a fast bowler, so new to the Test arena, has excited the cricketing world, his actions after Smith's injury has been largely termed as unsportsmanlike. In the wake of the ugly Phil Hughes episode, even the most lethal and experienced fast bowlers these days tend to check on the batsmen after hitting them on the head area with a bouncer. Hence, it was surprising to see Archer remain so unempathetic, especially given how serious the situation looked then.
Whether Archer deliberately laughed and intentionally chose to ignore the injured Smith will perhaps be never known. But since this talented young bowler has so much potential and will always be in the public eye, a little bit of training in sportsmanship would go a long way in making him a better human too. After all, Test cricket, as a sport, might be unforgiving but a human should never be.
Time for batsmen to use neck guards in helmets permanently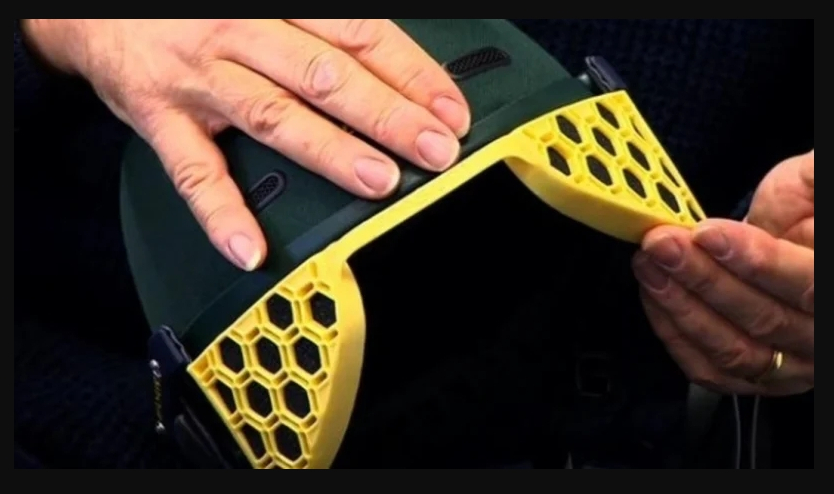 Meanwhile, Australian fans are keeping their fingers crossed on the Steve Smith injury and are hoping that he will recover in time for the 3rd Test.
This incident, however, renewed the issue of batsmen using protective gear on their helmets. After the Phil Hughes episode, the StemGuard neck protector was developed by British manufacturer Masuri. Made of foam and plastic, the safety guard can be clipped on the back of the helmet provides protection to the back of the head and the neck, in case the ball hits that area.
Many batsmen have used this gear in the past few years but a majority of them, including Steve Smith, find it uncomfortable to wear. However, safety is more important than some discomfort over wearing a safety gear. And if StemGuards can prevent nasty incidents like the Steve Smith injury, then every batsman must be made to wear it compulsorily.