Alastair Cook, the ex-England Captain, has always been lauded for his exceptional skills on the field, be it facing a 160 kmph delivery or being the best ever fielder at the slips. Cook has recently scored 11,000 Test runs for his country and has been part of England's dream team for over a decade now.
He is currently playing County cricket for Essex and has been scoring runs to sharpen his blade for the International side and during a chat with a reporter he made us realize why he is said to be the best ever fielder on the ground as well.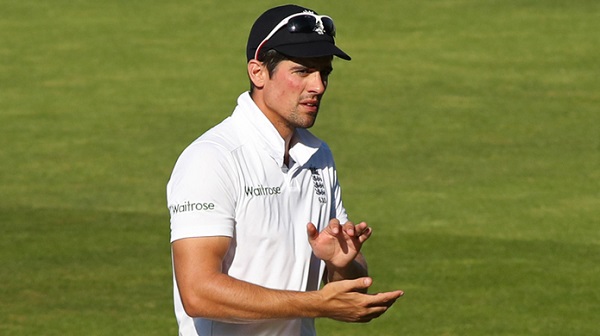 We have seen some of the most unbelievable fielding efforts in the game of cricket, be it fielders going airborne to save a six or showing great reflexes inside the 30-yards circle but what Alastair Cook have done in the video, will remain as the best that we have ever seen.
During the interview, his teammates could be seen practicing in the frame. During one of the deliveries, the batsman mistakenly hit the ball towards the reporter and what
Alastair Cook did next, have taken on the internet by storm.
Facing the reporter, Alastair Cook anticipated the ball coming right towards the reporter's head and nonchalantly plucks the ball out of the thin year even before the reporter realised that he could have lost all of his teeth. The whole incident took us back to the reel life experiences of Keanu Reeves in the movie Matrix that has always found a way to trigger curiosity inside the fans. It was that hard to believe.
For a split second, you wouldn't even realise what the hell happened until you see the replay in slow mo. Still seems unbelievable? Watch it to believe it.
( Video Courtesy: HowToBasic INDIAN )
Alastair Cook, is still taking the cricket world by storm in county cricket as he scored a century from 135 balls after resuming day three with 64 runs. This was Cook's third century of the season and 59th overall in first-class cricket.
As for the unbelievable save, the reporter will always be indebted to Alastair Cook because it could have resulted in a series injury otherwise. Despite getting down from the Captaincy, we believe that Cook has a lot of cricket left in him and we hope to see him rise to the ranks after giving away the post to Joe Root.
By The Way, It Still Seems Magical, Right?