Alastair Cook has resigned as the Test captain for England Cricket team after a record breaking tenure of four years and 59 Tests, paving way for the next in-line, Joe Root, to take over the Test side and lead them in the Ashes.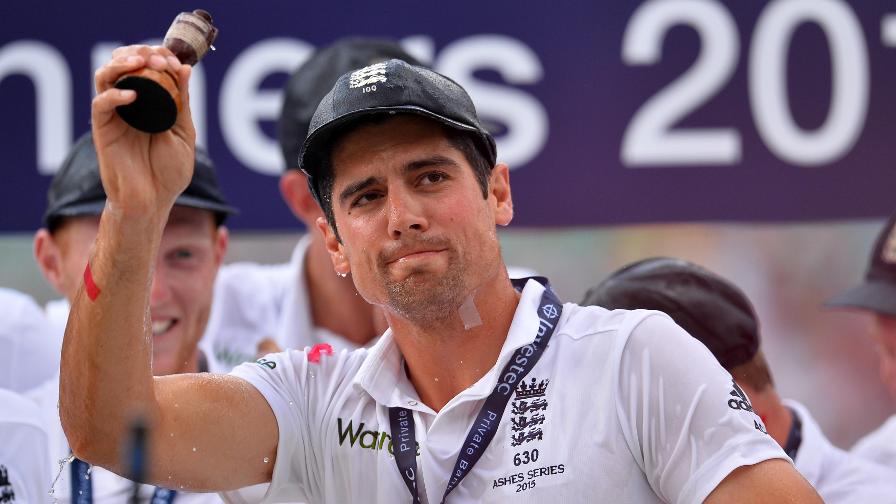 Alastair Cook conveyed his decision to the England and Wales Cricket Board (ECB) chairman, Colin Graves on Sunday, however, he further confirmed his availability for selection as a player, ECB announced on Monday (February 6).
Cook led England's Test team in 59 games, his high points being winning two Ashes series on home soil (2013 and 2015), winning a test series against India in 2012 while touring the subcontinent nation, and defeating South Africa in their own backyard in 2016. However, Alastair Cook has seen his share of lows, including the 5-0 Ashes whitewash leading to huge criticism and crisis among the selectors, losing to Bangladesh in 2016 and a complete whitewash against India in the same year.  
Here is Alastair Cook's record as England's Captain.
| | | |
| --- | --- | --- |
| 2010 | Bangladesh | Won 2-0 |
| 2012-13 | India | Won 2-1 |
| 2012-13 | New Zealand | Drew 0-0 |
| 2013 | New Zealand | Won 2-0 |
| 2013 | Australia | Won 3-1 |
| 2013-14 | Australia |  Lost 5-0 |
| 2014 | Sri Lanka | Lost 1-0 |
| 2014 | India | Won 3-1 |
| 2014-15 | West Indies | Drew 1-1 |
| 2015 | New Zealand | Drew 1-1 |
| 2015 | Australia |  Won 3-2 |
| 2015-16 | Pakistan | Lost 2-0 |
| 2015-16 | South Africa | Won 2-1 |
| 2016 | Sri Lanka | Won 2-0 |
| 2016 | Pakistan | Drew 2-2 |
| 2016-17 | Bangladesh | Drew 1-1 |
| 2016-17 | India | Lost 4-0 |

While Stepping Down From Test Captaincy, Alastair Cook said:
"It's been a huge honour to be England captain and to lead the Test team over the past five years. Stepping down has been an incredibly hard decision but I know this is the correct decision for me and at the right time for the team."
"I've had time to reflect after the India series and this weekend I spoke to Colin Graves, the Chairman, to explain and offer my resignation."
"It's a sad day personally in many ways but I want to thank everyone I've captained, all the coaches and support staff and, of course, the England supporters and the Barmy Army who follow us home and away and have given us unwavering support."
"Playing for England really is a privilege and I hope to carry on as a Test player, making a full contribution and helping the next England captain and the team however I can."
He further admitted being 'questioned' over his capabilities after a humiliating loss against India by 4-0.
Coming to who will lead the squad now, Joe Root is expected to become the new Test Skipper, who has been identified as the future captain, since the early days of his test career and Root will have all the time needed as England is scheduled to play a Test series against South Africa in July,2017 before clashing with West Indies. The mother of all clashes between Australia and England aka 'Ashes' will be next on the cards and Joe Root will have to go through a tough and tiring first six months as a skipper.
Alastair Cook, on the other hand, is the first ever England Player to have more than 10,000 test runs under his belt and considering that he is only 32 years of age, he is widely tipped of as the only batman to break Sachin Tendulkar's record of 15,921 runs.
Moreover, he now has less responsibility and all the time to focus on opening the batting lineup, and the exceptional Alastair Cook is, we may see him becoming the biggest and baddest Test player ever!!
Follow us on Facebook, Twitter and Instagram for more updates. Don't forget to like and share. Do tell us your views in the comment box below.