None can stop the changing vagaries of time. Today, Alastair Cook is an active player. Starting September 11, he will be addressed as an ex-English cricketer. Fans will miss him; English cricket would be in a state of permanent wonder as to what might've been had former Captain Cook not set foot outside the ship?
It wasn't a long ago when none other than Sir Sunny shared a candid Gavaskaresque quote: "Cook can easily reach 15000 runs and score up to 50 hundreds."
Probably few would've disagreed with the possibility. Not only because the observation came from an accomplished Test cricketer. But also because it was a forecast made on an achiever no less intriguing than the Little Master himself.
Interestingly, there was a serious context behind the prescient indication that, didn't come true.
After all, Cook had gathered 1249 runs in 2012 calendar year. A year before, he'd fired 927 runs. A year later, he'd fire 916 Test runs.
From 2011-12, he'd fire 8 of his 32 Test hundreds.
There are batsmen who relish purple patches. But from the onset of 2011, in a period of flourish that lasted till 2013, Cook seemed in a patch that was purpler.
Together in these 3 years, Alastair Cook compiled 3000 of his 12,200-plus Test tally.
This was an achievement that seldom found the weight of media coverage, especially when batting legends like De Villiers, Kallis, Chanderpaul, Sangakkara were all going strong. But for a batsman who compile hundreds everywhere- the SCG, The Gabba, The Oval, Lord's, Sher-e-Bangla, MCG, Nagpur, WACA- with a flourish and promise you'd only find in a blue-blooded prince, Cook hardly looked flustered even in testing times.
Arrogance, a phenomenon that can naturally reside in batsmen presiding over sky-rocketing numbers, didn't find in Alastair Cook, a gracious landlord.
But what makes Cook, a batsman responsible for striking over 1000 Test runs on 5 separate occasions, even more, commendable is how he held on to his own against mighties such as Dravid and Tendulkar.
During the period of Cook's colossus run, Sachin Tendulkar, having endured a disastrous final run at England, was inching closer to his retirement. And during the period of obscurity for a Team, currently ranked first, Sachin, along with, Gambhir, Laxman, Sehwag, and Dhoni witnessed carnage at Birmingham.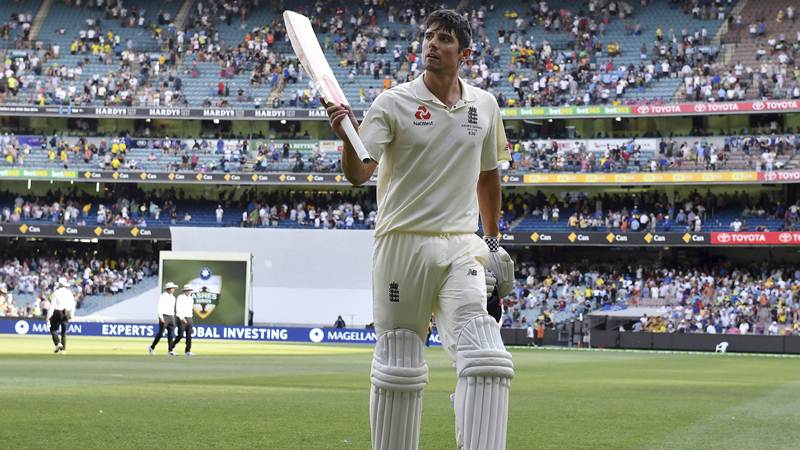 Not for the first time did it seem India were against England in their entirety. But where the mathematical output of the game stood, it seemed, it was India vs Alastair Cook. He'd fired 294 runs and lifted England to 700 plus in their first-inning. Needless to say, India lost the Test by an inning.
Any signs of his highest-individual Test score being a flash in the pan dissipated under quicksand when, exactly a year later, he struck a 190. This time, he was in Sachin Tendulkar-land. This time, Alastair had 'Cooked' the hosts at Indian Cricket's spiritual home; an amphitheatre called Eden Gardens. Before all of this, he had endured a rip-roaring media speculation, being doubted for Pietersen's ouster, reviled for his inabilities against the sharply turning deliveries and, he kept coming back, rising each time he fell.
For a batsman who debuted against India in Tests, a team against whom he's due to make his final appearance, it seemed, back in 2012, it was a homecoming for cricket's most-loved Chef.
There's more to the sense of the occasion than meets the eye.
For the better part of his career, some of Alastair Cook records have resulted in him being a tormentor of India. Of his 12000 plus Test runs, he's gathered 2284 against India, competing against everyone, including the holy trinity of Dravid-Laxman-Sachin, sweeping generations as the ball changed hands, going from Kumble to Harbhajan to Ashwin to finally, Kuldeep.
No mention of Alastair Cook's records can be rendered complete without taking into cognizance a feat that may give a cold-shoulder to even a Brian Lara, Saeed Anwar, Steve Waugh or Inzimam. 6 of 32 Test tons have come against India. That's more than what Lara ever managed, 4 more than Waugh's tally, 2 shy of Ponting and only 1 less than what Kallis managed against the same opponents.
But while the leftie, in his drubbing of India at Birmingham, missed out on a triple- by a dainty margin of 6 runs- left fans gutted, one possibly cannot be gutted to note what he's gone on to compile, since then.
Each of his 12300-run has been collected with immense skill, firm modesty, and rich focus. That could've only come from someone who regarded five-day games a litmus-test of gauging one's character.
Watching Alastair Cook compile a staggering 2500 Test runs against Australia, over 1700 against Pakistan and the Windies, and a 1000-plus aggregate against the likes of New Zealand, South Africa, and Sri Lanka has been nothing short of an ennobling experience.
Never cantankerous, seldom appearing whiny, Cook's humility and dislike for shenanigans on the crease lifted England's spirits as much as it gave fans a just reason to leave their chairs in being united through their standing ovation for the Englishman.
Not yet 34, there are many who feel he would've easily outlasted doubters, a fair share of which he gathered often eschewing foot-work and showing waning powers of concentration over the course of one whole year.
But even in desperate times, such as the Ashes of 2017, Cook provided evidence of his potential as a champion, when he mauled Australia through his 244 and remained unbeaten. It seemed he was making Australia pay for his downing in the entire series. In that effort, celebrated as the highest score by a visiting batsman at the MCG, Cook proved by champions aren't those who run after numbers but rather men of doggedness who prove it is possible to rise again.
But while Cook saved his fledgeling Test career at 32, where he was at his peak, he justified his legendary status as one of England's all-time greats, having already struck well over 10,000 runs even before he had turned 30. He wasn't a batsman who reserved much admiration for statistical anointments. But the voracious appetite this batsman presented would flummox even his harshest critics.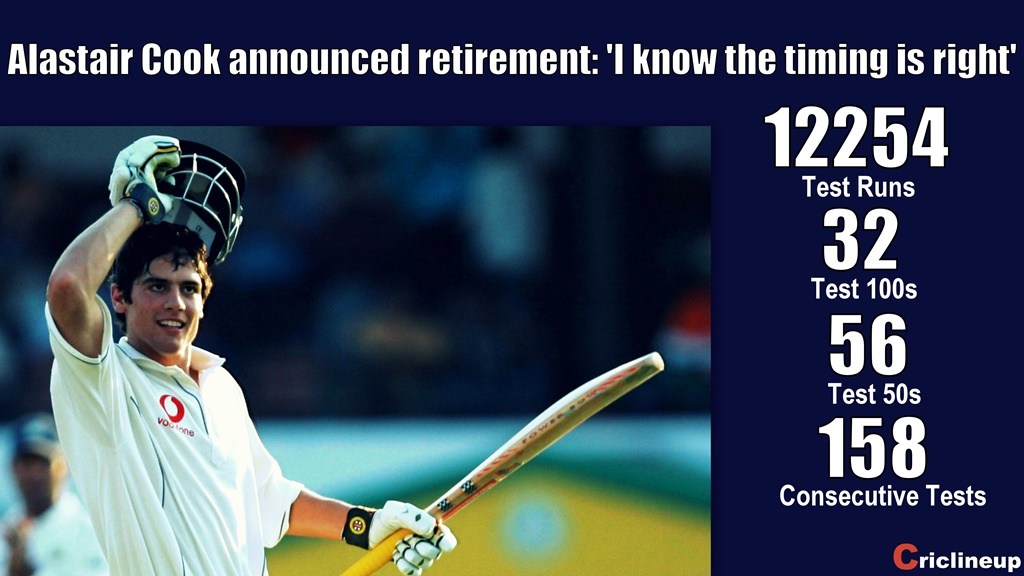 For someone who lasted for over 535 minutes on the crease in withering away all of India's energies in that 294 to lasting for over 26,000 deliveries in Cricket's most elite format, there's nothing that Cook's not done to prove why patience and persistence, in the end, win every battle.
In that earnest realisation rests his enigma as also some astonishing Alastair Cook records.