The Afghanistan vs Bangladesh Test in Chattogram will remain a historic one for Afghanistan cricket now. Playing only their 3rd Test match, the Aghani boys showed tremendous spirit to squash Bangladesh in their own backyard by 224 runs. This is great news for Test cricket and the ICC World Test Championship too. It is important to realize that a competitive Afghanistan team would ensure more exciting Test matches.
For now, it is time for the Rashid Khan and his men to savour this historic moment and look back at the best moments from the match. Meanwhile, Bangladesh would need to take a long and hard look at themselves. The Afghanistan vs Bangladesh had several key takeaways. Here is a look at the most significant ones.
Afghanistan vs Bangladesh Test – Rashid Khan- leading from the front:
When Rashid Khan was appointed as the captain of Afghanistan cricket team across formats, he had a tough job at hand. After all, Afghanistan had a horrible World Cup 2019 campaign and it was a huge responsibility to bring the team back on track. The 20-year-old has done so and how!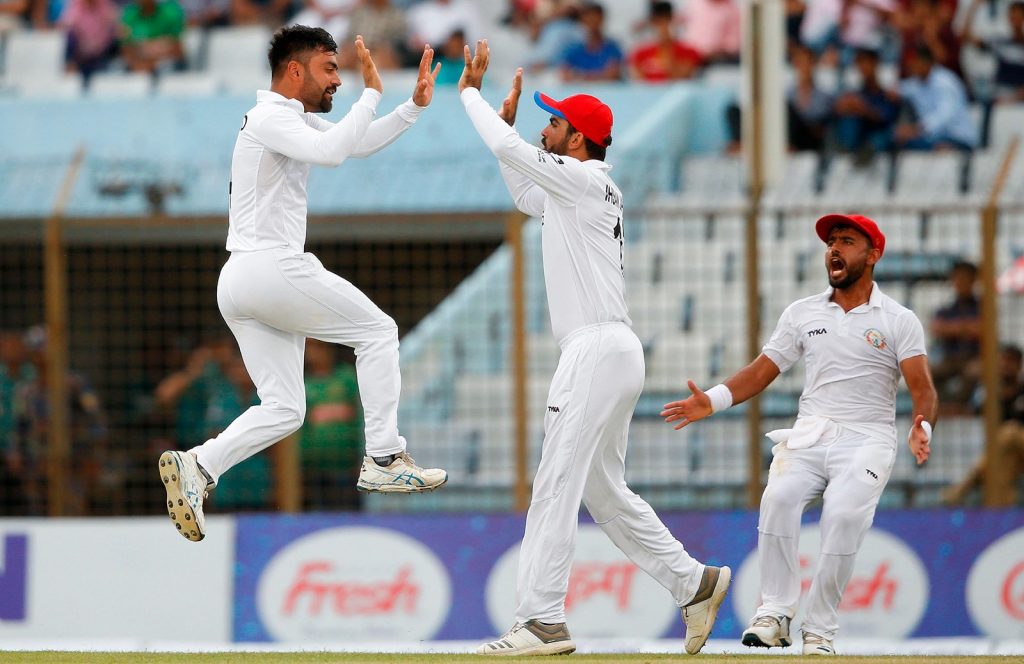 Rashid Khan led from the front in some style in the Afghanistan vs Bangladesh Test – taking 11 wickets in the match and scoring 75 vital runs with the bat. The young leg-spinner thus became the first debutant Test captain to claim a 10-wicket match haul and also hit an individual fifty in an innings in the same Test match. For the most part, in fact, Rashid was the biggest dominating factor in this Test courtesy his all-round show. Only two other captains in Test history – Imran Khan and Allan Border – have achieved the unique feat of scoring over 70 runs and taking 10 or more wickets in the same Test. Rashid, thus, joins an elite company.
There was no other player even in contention for the Man-of-the-Match award other than Rashid Khan. Undoubtedly, this a captaincy debut to remember.
Rahmat Shah and Asghar Afghan – the future of the team's batting
One of the key takeaways from Afghanistan's historic victory in the Afghanistan vs Bangladesh Test was that they weren't dependent on their captain alone. The batting line up also contributed with Rahmat Shah and Hashmatullah Shahidi leading the way in the first innings. Rahmat became Afghanistan's first Test centurion with his magnificent 102 on a pitch that was assisting spin. Hashmatullah's gritty 92 was also a tenacious effort.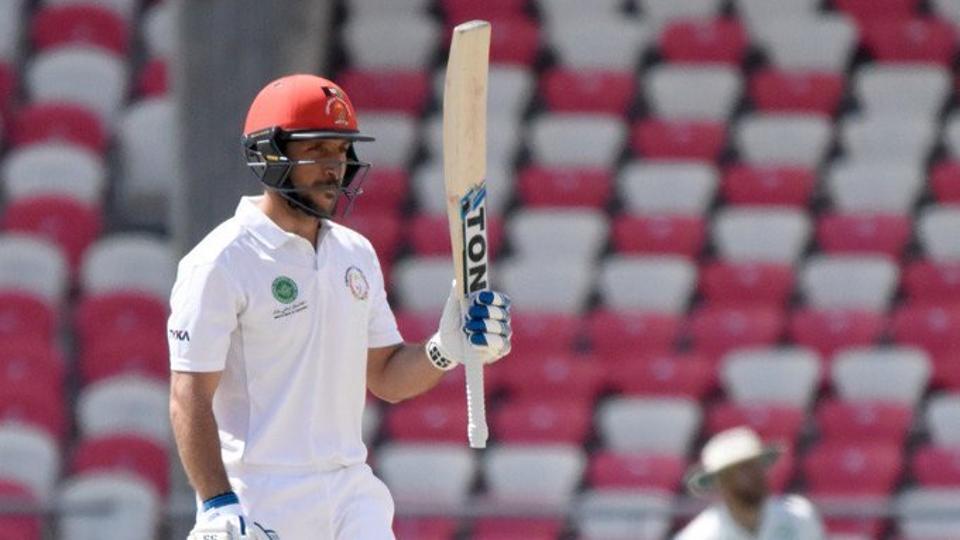 Asghar Afghan's patient 50 and wicket-keeper batsman Afsar Zazai's 48 in the 2nd innings, when the pitch was crumbling, were also commendable efforts under those circumstances. Add to it the 51 and 24 by captain Rashid Khan lower down the order in both the innings and Afghanistan have a decent batting unit. They have now shown that they can fight it out under tough circumstances in a Test match.
Bangladesh's poor Test run – time for a strategy rethink
The Afghanistan vs Bangladesh Test has also shown the mirror to the Bangladesh Test team. For years now, they have been pretty poor in the format. However, they kept getting away by preparing overwhelming rank turners at home and winning a few Tests here and there. It is important to realize, though, that the numbers are against them.
To enumerate, here is a look at Bangladesh's Test numbers from September 2009 to September 2019: 54 Tests 10 wins 33 losses 11 draws W/L ratio 0.303. This is the most compelling evidence that something is seriously wrong with the Bangladesh Test team. It must be remembered that they have been playing the format for close to 20 years now and despite that managed to lose at home against a new entrant.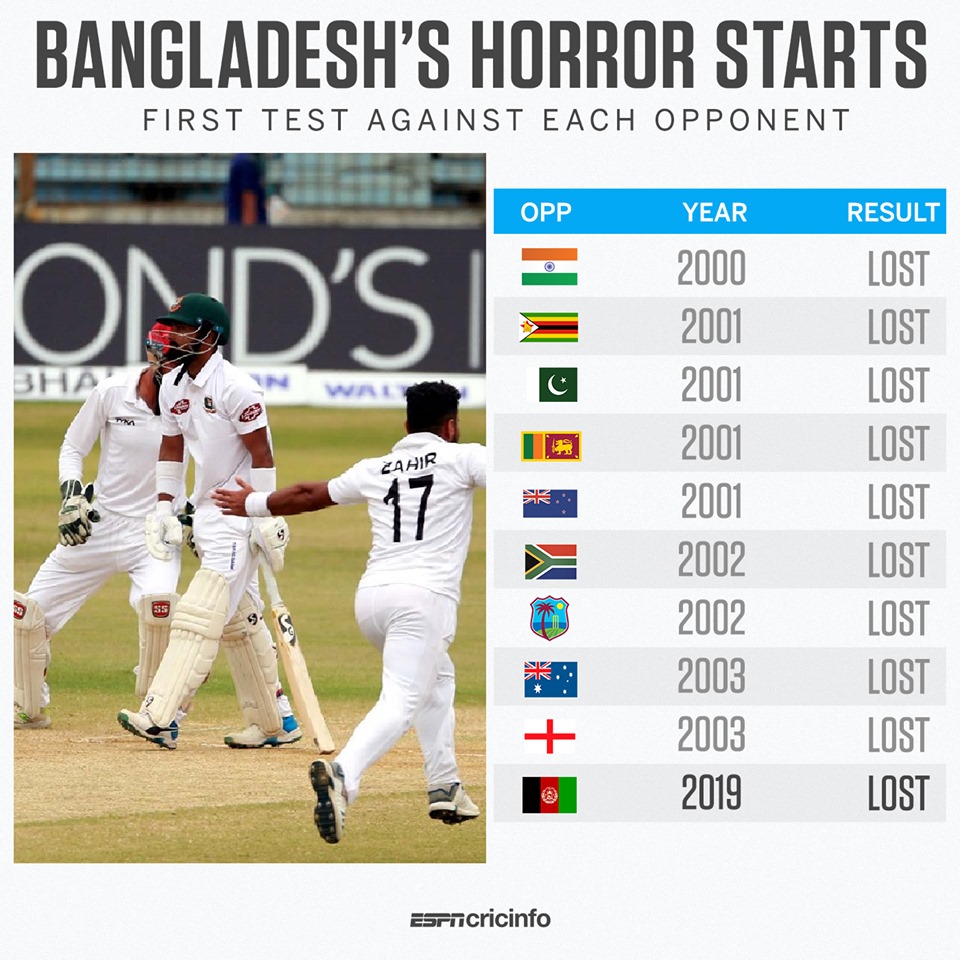 After the loss against Afghanistan, Bangladesh now also has another unwanted record –they have lost their first Test against each opponent they have played against. That's 10 Tests since their debut against India in 2000. For this reason, it is vital that there is a strategy rethink from the Bangladeshi team management and things aren't brushed under the carpet. They can't keep deepening on spinning tracks and a battery of spin bowlers to become a strong Test nation.
Afghanistan vs Bangladesh Test – The rise and rise of Afghanistan cricket:
To come to Bangladesh and beat them in their own backyard and outwit them in their own strategy is no mean feat. And to achieve this in only their 3rd Test, that too away from home, speaks volumes of the kind of growth Afghanistan cricket has shown in a very short span of time. It must be remembered that just a few years back, Afghanistan was in the ICC's World Cricket League Division Five. They didn't have a proper cricket stadium at home and are still a war-ravaged country.
Despite that, the team has fought adversities constantly and has kept rising in international cricket. The Afghanistan vs Bangladesh Test will hence be a key moment in the country's history. They have shown that they are here to stay, across formats. With a dynamic young leader at the helm, plenty of talent in the squad and a hunger to perform well at the big stage, Afghanistan has all the ingredients to become a strong cricketing nation. With proper opportunities, they will only get better.
Afghanistan vs Bangladesh Test – Mohammad Nabi bids adieu:
The Afghanistan vs Bangladesh Test turned out to be the final one for senior Afghanistan all-rounder Mohammad Nabi. The 34-year-old felt that younger players should take his place in the longest format. Nabi had a short but sweet Test career where he played only 3 matches; scoring 33 runs and picking up 8 wickets. In his last Test, Nabi took 4 important wickets and scored 8 runs.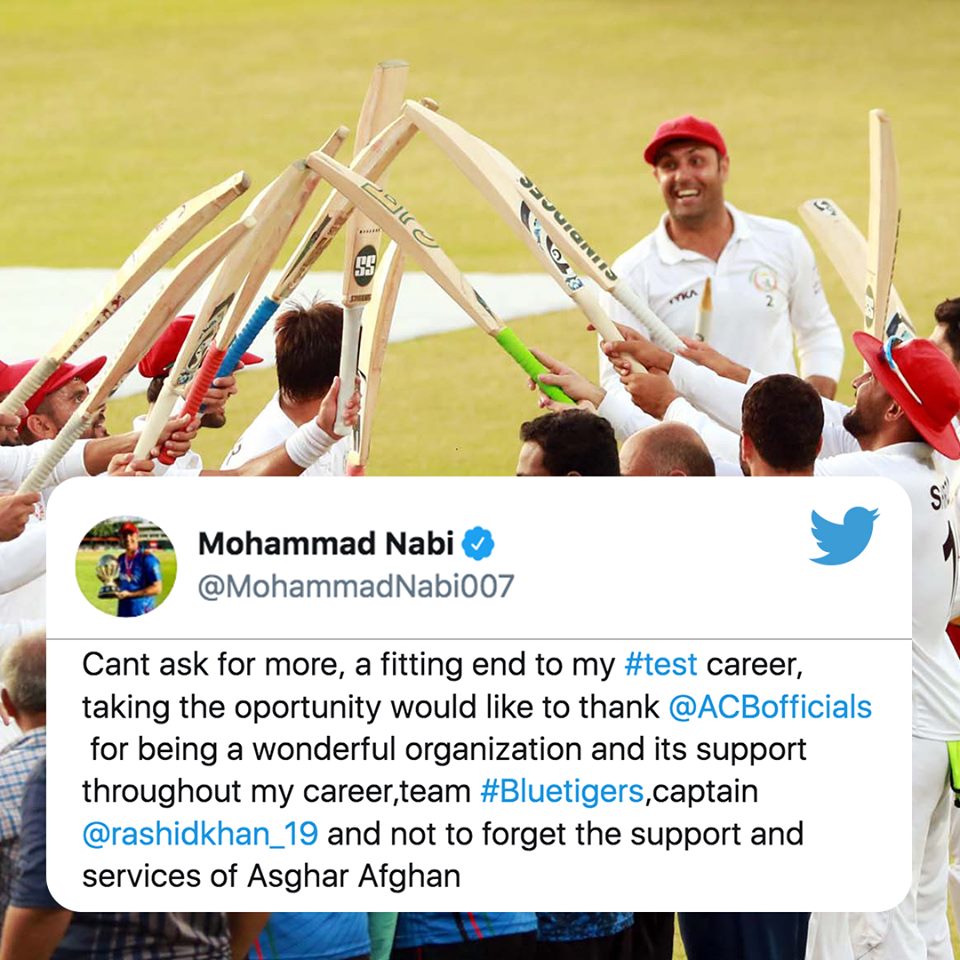 Nabi has been one of the most influential cricketers of Afghanistan and has been instrumental in their rise from the bottom. On the positive side, the spin bowling all-rounder would continue playing white ball cricket. It also must be remembered that Nabi is a crucial member of several T20 leagues across the world, including the Indian Premier League. Hence, while we couldn't get to see much of Mohammad Nabi, the Test cricketer, he would continue to show his mettle in limited overs cricket.
What was your favourite moment from the Afghanistan vs Bangladesh Test? Comment below.