Ab de Villiers, widely regarded as one of the most brutal batsmen in world cricket, turns 33 today and wishes are pouring from all over the world for this modern-day cricket's Superman. The stylish right-hander is regarded as one of South Africa's (even the World's) best batsman ever and he has done justice to the title, every time he has entered the ground and his batting records further proves the statement.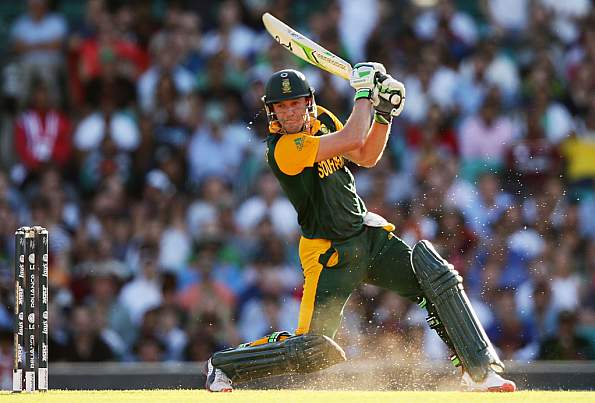 Ab de Villiers is undoubtedly the King of One Day Internationals as he holds the record of fastest fifty (16), fastest hundred (31) and fastest 150 (64) in ODIs. Further, he holds the record of hitting the most number of sixes in an ODI innings and is also the fastest player to reach 8000 runs in the same format.
What's more? Well, it's not just about limited overs format, Ab de Villiers has also played some incredible innings in Test cricket and from saving his team from a loss to taking the game for an impossible draw while playing defensive, he has proved time and time again of being a perfect complete package.
However, Ab de Villiers suffered from a lengthy lay-off due to an elbow injury and ended up skipping the test series against England and New Zealand. But, he is an integral part of the limited overs side and received the best of gifts when South Africa defeated New Zealand at the Kiwis' own backyard in the T20I played between the two sides on his 33rd birthday. De Villiers played a convincing inning of 26 and his team ended up registering a total of 186, against which New Zealand kneel down after scoring only 107 runs.
A player like him, leaves a bulk of fans wherever he plays and same is the case with Ab de Villiers. On his 33rd Birthday, de Villiers received wishes from his colleagues and fans. Here are the Tweets that came for the 360-degree player.
Happy Birthday Mr. 360 degrees @ABdeVilliers17 , the man who can bat in any pose he wishes too #IPLlogo pic.twitter.com/GQBtNZ4QWQ

— Virender Sehwag (@virendersehwag) February 17, 2017
#HappyBirthday @ABdeVilliers17! May it be a great day & an even better year ahead. #ProteaFire pic.twitter.com/wTRfa8rWGC

— Cricket South Africa (@OfficialCSA) February 17, 2017
When it comes to unorthodox shots, very few people can ace it like @ABdeVilliers17. Happy birthday Mr. 360°, have a splendid one!

— Sachin Tendulkar (@sachin_rt) February 17, 2017
Front of square or behind square, he can smash it anywhere! Have a smashing birthday @ABdeVilliers17! #PlayBold pic.twitter.com/Evo33tixTz

— Royal Challengers Bangalore (@RCBTweets) February 17, 2017
Happy birthday Best batsman in the world ❤ #Abd #ABDevilliers #birthday #HappyBirthdayAB pic.twitter.com/YW20eDeVaa

— Nafees Belim (@BelimNafees) February 16, 2017
#HappyBirthdayABD @ABdeVilliers17 @OfficialCSA @ESPNcricinfo lots of love from Nepal😊😊😊😊😊We love you #ABDevilliers Happy born day…. pic.twitter.com/dsdG29haQI

— Bandana Proteas ABD Adhikari (Tutu) 🍀 (@sparklingtutu17) February 16, 2017
Wishing you many more happy returns of the day all-round cricketer @ABdeVilliers17 brother. #ABDevilliers greatest #cricketer @ICC #cricket pic.twitter.com/QmEzp1A6Fa

— Roshan Bhondekar (@roshan_b) February 17, 2017
Birthday Wishes to #SivaKarthikeyan & #AbDevilliers 😍😍#HBDPrincessSivaKarthikeyan#HappyBirthdayABD #YaarPaathaVelaDaIthu pic.twitter.com/Awq8NOfTnC

— Online VSP FC (@VspOnline) February 17, 2017
May You Win this World Cup and get everything in your life ❤#Abdevilliers #ABD #NZvSA #HappyBirthdayABD #cricket pic.twitter.com/EynMTxuMeo

— Nafees Belim (@BelimNafees) February 17, 2017
https://twitter.com/WhoIsKrsma/status/832524771560656896
Happy birthday #ABDevilliers ! The most versatile cricketer the world has ever seen!#Cricket #southafrica #Mr360 #HappyBirthdayABD pic.twitter.com/Aa0ExgRQ3B

— Playo (@PlayoApp) February 17, 2017
#HappyBirthday #ABDeVilliers @ABdeVilliers17 #SAHero Wishing you all the best in 2017 and many more glorious years pic.twitter.com/kbM93AcBzK

— South African Heroes (@SA_Heroes) February 17, 2017
Happy birthday Mr.Awesome
Ab de villiers 17 february 1984
he turns 33 now.@ABdeVilliers17 #ABDevilliers pic.twitter.com/Foc6uacZTO

— Azar (@AzAzaruddin) February 17, 2017
After quit from the Test Captaincy, while recovering from his injury, the left-handed batsman is planning a return to the longest format in the home series against India and Australia by the end of 2017-18 season. He will also play an integral part for the South African team during the upcoming Champions Trophy and will then focus on the 2019 World Cup.
Follow us on Facebook, Twitter and Instagram for more updates. Don't forget to like and share. Do tell us your views in the comment box below.