Virat Kohli and Anushka Sharma are the most talked about couple in recent times and even a Bhiwandi school's administration thinks that the students should know about the Test captain's girlfriend.
The syllabus of the schools situated in rural areas has always been subject to criticism and various committees recommended some modifications for the syllabus. Chacha Nehru Hindi High School improvised the recommendations to a different level by asking the students, who is the girlfriend of Virat Kohli? (Many of us would want to take admission in this school now, right?). The question paper even had the options to choose from namely, Priyanka Chopra, Deepika Padukone and Anushka Sharma. So difficult to answer!!
The question was included in the Physical Education Exam for class 9th students on 13th October and according to us, this could be the only question that was actually out of syllabus and most of the students still knew the answer.
Here is the proof: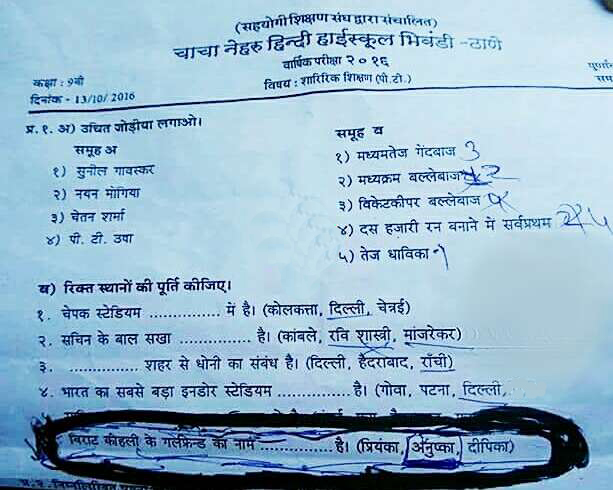 When the media asked about this blunder from the school Principal, he stated that the paper was prepared by the PT teacher and he is the who is responsible for this mistake.
Manoj Rai, the school's Physical Education teacher stated that he wanted to check the students on the grounds of general knowledge related to sports (haha!). He also including a question related to Sachin Tendulkar's best friend.
On the other hand, we think that he actually wanted to check the gossip quotient of the students and also encourage them to stay up to date with the glamor world. (we still can't believe that it was a PT exam.)
Media have always tried to make the lives of both these celebrities public, but now they will definitely get a shock after hearing this news.
Follow us on Facebook, Twitter and Instagram for more updates. Don't forget to like and share. Do tell us your views in the comment box below.
18 October 2016
Rohan Jaitly