If you thought that coffee and cricket have no parallels, then how about an analogy especially where the ongoing 2022 T20 World Cup stands? Let's try, shall we?
"Perhaps time has come to wake up and smell the coffee," so wondered the sleepyhead coffee addict after a late late night of hanging out with friends had taken its toll and the morning begun a touch too lately.
But then he also realized the following:
"Yes, even if it does taste bitter, what are you going to do? Throw it all away and kick the habit? No, right? You'd still like coffee as you like it; maybe not all cups are ideal always."
And in here rests a pretty fundamental question: can it actually be that way?
Is it possible to expect that a cup of coffee will, day in, day out, taste just as well as how the coffee addict likes it to be?
Some days it wouldn't taste as good. For there isn't such a thing as permanence, with the concept of time being an exception.
How difficult is it to understand that?
If each cup of coffee were to taste splendid the way the addict expected, then how would one experience that taste, which could perhaps be even better? Say, something that one simply hadn't had as on date?
Likewise we have cricket.
If every game were to culminate in a win, then what would become of that divine taste of victory, one that could perhaps be an ultimate leveler of life; something hitherto inexperienced.
There's nothing that can be done now that India has lost; whatever's happened, has happened?
If for instance, India would've won, and presumably, England would've batted regrettably to lose a gettable target- for 170 isn't Mission Impossible- then would we have learnt the lesson that has gone abegging?
How then would we come to know that the not all's well with the Indian bowling?
Mohd. Shami, Bhuvneshwar Kumar, talented match-winners that they maybe, were smashed mercilessly. That said, a cricketing youngling in Arshdeep Singh, unquestionably talented that he is, could certainly not have turned around a corner single-handedly.
Ashwin may not have won us games at the back of his magical spin at this stage of his career when it is perhaps a bit clear that in 2014, for instance, he was a different creature altogether.
Remember the 'ball of the century,' that flummoxed Hashim Amla, then among the best batters in the business?
If India were to win the must-win 2022 T20 World Cup contest against England, would we've come to understand just how brittle our top order really is?
Add to that a big question that the fanboy, quick to abuse, however critical his vitriol must answer:
Just how fair a victory would it have been for an Indian cricket team with arguably speaking only two batsmen in their groove? Their names- Virat Kohli and Suryakumar Yadav!
Yes, Hardik Pandya did play a blinder, a monster of an inning and when his team needed it, but was the returning (and daring) all rounder's level of consistency what it's been in the recent past prior to his injury?
Again, even if Pandya's valiant 63-off-33 would've won it for India, how would the Hitmen- Rohit and Rahul justify their apparent lack of runs that were as visible as an alcohol-infested man's beer belly?
If anything, the rude shock that is the 2022 T20 World Cup loss to England is a lesson in humility, albeit one that the classical Indian fanboy might not really learn from- but ought to.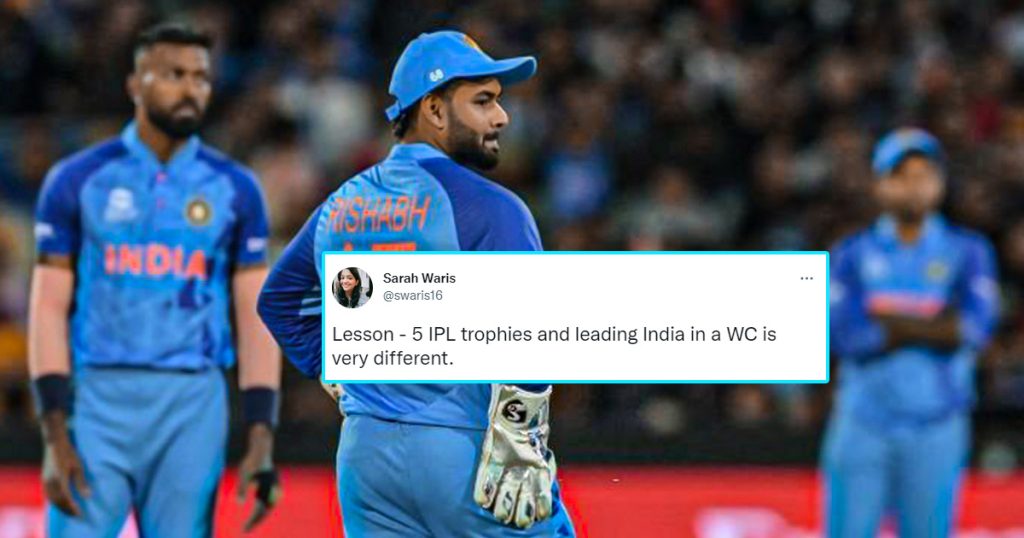 Remember, this fanboy- who spends the time trolling whilst his team is actually slogging out there- is a species that was quick to show the finger to Pakistan on social media even before Babar & team were completely out of the tournament.
And here we are- India are on their way to New Zealand to prepare for a bi-lateral series whilst the sick breed of hate-spreading, venom-spewing fanboy has said utterly unreal things that could've been avoided:
"Embarrassing." "Regrettable."
The adjectives continue.
Maybe some have even called the Indian cricket team coached by a man known for his integrity and simplicity, a vile bunch of losers- or something like it.
So much despite knowing the following:
The golden rule of T20 cricket, whether we like it or not, is unpredictability. Because unpredictable results such as Windies beating Eng in 2016, Mike Hussey playing a blinder vs Pak over a decade back in the day have happened. Truth is, you never know what may happen for such is the format of the sport.
The winner – or so it seems- in a T20 contest, in particular isn't the won who seems the strongest; but the one who plays well on that particular day.
And truth is, India weren't the strongest side. For the fear of sounding condescending, the team selection for the final games wasn't so spot on; was Karthik over Pant the right choice all along, why was Chahal not played, what was achieved by having KL Rahul open?
Alas, the fanboy who takes pleasure in restoring to name calling not sensible opinion-making would always consider that one bad cup of coffee is the end of the world when in truth, who knows what time may bring tomorrow?
What's the point in pondering about something that's happened when so much better can be achieved by planning well for the future. After all, we can see where the weaknesses are, what the issues seem to be.