First woman firefighter in India Taniya Sanyal braved all odds to take up responsibilty as a firefighter, a job that requires good mental and physical fitness.
It's easy to look at life from rose-tinted glasses and engage in poetry. It doesn't pose a threat to your life. But there's a great ordeal to be out there in midst of a threatening, uncertain situation to forge a career that can challenge one from the standpoint of both physical labour and mental strength.
What do you think? While for most of us occupied in corporate jobs, life may seem to paint a rosy picture. But, there are so many of us still who continue to traverse across challenges in making ends meet.
It can never be easy out there if you are in the heat of life and tasked with challenges that most of us do not have to face, can it?
Could there be anything possibly more tedious than the job of a firefighter? Constantly at odds with challenges, risks, uncertainties, the life of a firefighter is one constantly fraught with danger.
Then, when one gets to hear about a woman firefighter who's worked hard and consistently to forge a career in a sphere marked with onerous challenges- you've got to extend some regard.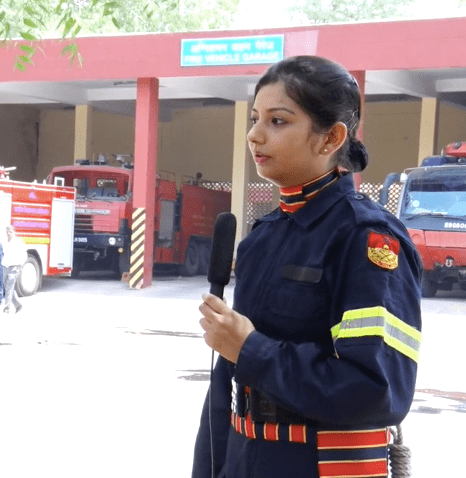 Do you know about Taniya Sanyal the first woman firefighter in India? Aware of her life journey and how she made it to a complex sphere of things? Perhaps, spending a few minutes of time to read an impressive story of this young, brave woman may interest you.
Firefighter Training
Having undergone extensive training earlier in April 2018– Taniya Sanyal is now a part of the revered Airports Authority of India's firefighting team. What a job, what amazing odds on hand.
It's the first time in history that the AAI has appointed a woman firefighter, a figure that was hitherto absent from the firefighting squad. And that's not the only interesting thing to note here. There's more to Taniya Sanyal that the country is getting to learn gradually.
Apparently, making the cut to the AAI firefighters unit is quite a challenge in itself. Beginning with a written examination, there's the much needed physical evaluation test that one needs to clear, upon which there's the final selection round.
The Kolkata-based earnest youngster cleared all mandatory requirements and made a name for herself when she was appointed to the team of AAI's firefighting squad.
Apparently, the state-run Airports Authority of India has about 3,310 firefighters operating in the mandatory fire services enabling planes to land. Thus far, prior to Taniya Sanyal's appointment, not a single personnel was a woman.
Speaking of the incredible first and a definite path-breaking move for her career, Taniya Sanyal shared she learnt of the opportunity through a newspaper-based advertisement.
And ever since she lay her eyes upon the vacancy concerning the Delhi-bound job, she never looked back. A critical factor that motivated her to go for the impending challenge was the constant motivation by her parents that enabled her to believe in herself.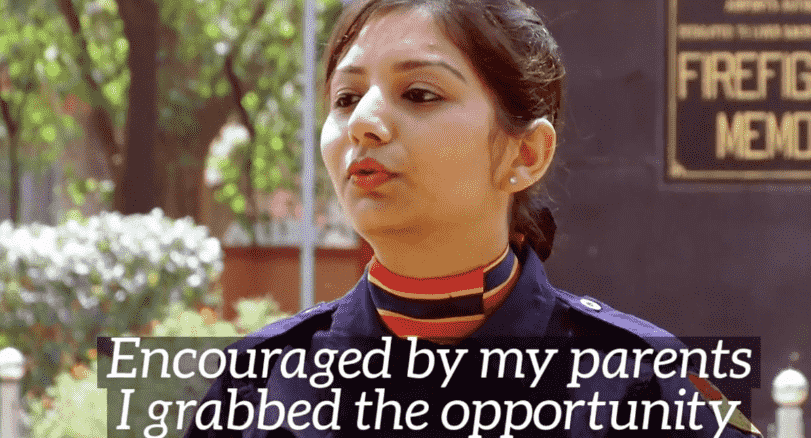 The mild-mannered girl confessed, "I always wanted to do something which was out of the box." In fact, the well educated and studious girl actually possesses a degree in Botany but was encouraged to do for the job the moment she discovered that she could attach herself to something challenging and away from the usual rut of life.
Interestingly, just because the new recruit happens to be a woman, no changes were carried out in the job description of Taniya Sanyal.
Becoming first woman firefighter in India is a big feat in itself and Taniya has emerged as a role model for other women to take up jobs in those professions that were earlier considered male centric.
Might seem imposing up front but it speaks of the parable of equality, a dominant discussion of our times. It is expected that Tanya will be associated with eastern region airports under the umbrella of AAI that include- Ranchi, Gaya, Raipur, Kolkata, Patna and Bhubaneshwar.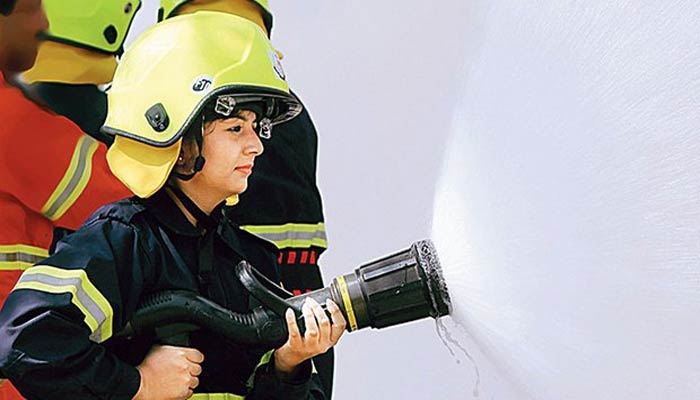 The appointment of a woman candidate in a taxing job thus far seemingly suited for and carried out mainly by male candidates seems a welcome move and indicates a paradigm shift.
That said, for other countries in the world- Russia, UK, Israel included- women candidates have continually been part of national services including the defence forces that are state-run.
So this was Taniya Sanyal's journey as first woman firefighter in India. If you like the article do share on Facebook, Twitter and comment.