In a country that's outrightly obsessed with chess, there's mostly very little reserved to appreciate the other sports. And it's not that there aren't other sports where people are doing well. There's soccer where outstanding talents like Suni Chhetri has made a name for himself. In Table Tennis, we've now got talented names like Manika Batra, who is working hard to change the trajectory of a sport that's hardly ever talked about.
It could be argued, that it isn't necessarily spoken in the same breadth of regard as Badminton, where names like Saina Nehwal and, now P.V. Sandhu have forged a name for themselves. At least, now, the scenario is changing. Sardar Singh has done the country proud for his feats in Hockey. And now, in the ebb of Chess, after seeing stalwarts like Vishwanathan Anand is in the hands of a young talent from the southern city of Chennai.
In case, you haven't heard of R. Praggnanandhaa, then you ought to know about him. The young boy, rather, a star from Chennai has done something so incredible that it has hitherto hardly been matched in the lair of this enormously difficult sport. In becoming the second youngest chess grandmaster, there's but one name on everyone's minds when it comes to chess. R. Praggnanandhaa has created a history of sorts.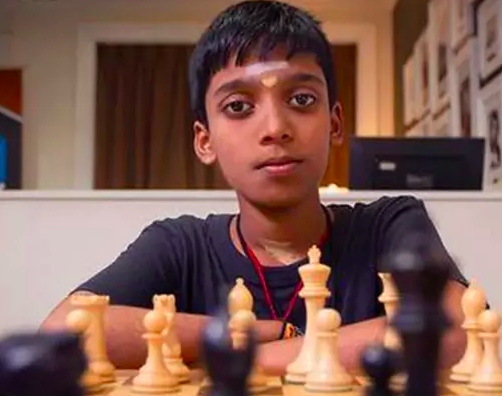 At an age where most kids- that's what R Praggnanandhaa is- are occupied in playing other sports, often focused mostly on hand-held gadgets and video games, it's rather extraordinary that the young lad has mastered chess at such an impressionable age. R. Praggnanandha has made history by becoming the youngest chess grandmaster in India, and the second youngest overall by earning his third GM recently.
The Chennai kid's sensational feat was achieved recently in Italy when he was competing in the Gredine Open. And here's what was exciting about the young chess talent's feat. When he was paired with the Dutch Grandmaster Roeland Pruijssers for the final round, there was no way that Praggnanandha was going to lose, in the sense where his title stood.
He had already been assured of his iconic status in the sport regardless of the result. In order to become a Chess Grandmaster, one needs to earn three norms and gather as many as 2500 rating. R Praggnanandhaa did all of this. Here's his performance on the rankings table.
At present, he is placed joint-top on the table at the end of 8 rounds, with 6.5 points. But in case you were wondering who holds the most outstanding record where it comes garnering excellence in the sport at a young age is concerned, then it's a Ukranian talent.
Sergey Karjakin became the youngest chess Grandmaster, taking no less than three fewer months to become so. While R Praggnanandhaa achieved the historic feat at the young age of 12 years and 7 months while the Ukranian had achieved the feat in 12 years and 4 months of time. This, in itself, is no less remarkable achievement either. It's simply outstanding that young chess prodigies are able to make heads turn using great imagination and guile that few others in the world can match.
But while the Chennai born's feat is the most recent in the ebb of achievements for an Indian chess prodigy, the Ukranian gathered his stardom back in 2002. So while this was a golden opportunity to match break a record that stood unbent for 16 years, it could be said that the Chennai-youngster's feat is no less iconic or impressive in any regard.
That said, a number of names from around the country have extended their heartiest wishes to this avid youngster and there's little surprise in knowing who had the brightest message for the young chess prodigy. Celebrated Chess icon Vishwanathan Anand has suggested that R. Praggnanandhaa has a great future ahead of him and can go on to gather many more feats.
In a heartfelt message on Twitter, Anand had the following to say on the youngster: "What impresses me about Praggnanandhaa is that he's not just a strong player but mixes imaginative middle game play with patient endgame skills and is uncompromising in not settling for easy, quick draws," Anand was quoted as saying by ESPN India. "He's also shown a level of sophistication in handling tournament games. I think he will go far."