The Bristol University is considered amongst the finest and most attainable universities in all of England. It's popular for management and business courses. But there's something else too that is popular about the Bristol University. And this is someone special who can be found in the University's campus every day.
Herman Gordon, with his positive energy and good vibes, is the cynosure of everyone here at the Bristol University. He is, above everything, a favourite among the students, who come to partake in educational endeavours from divergent geographies.
And recently, something so heart-wrenching happened to Herman that it turned his eyes moist, there being tears all over. Adored for students for his happy-go-lucky nature, Herman Gordon, it could be said, is among the most talkable points about the Bristol University.
This much-loved cleaner works in the capacity of a janitor. It isn't therefore hard to imagine just how much would his salary be. But never the one to complain, Herman Gordon goes about doing his job merrily as ever. Recently, he was in for such a pleasant surprise that he broke down but with tears of gratitude.
The students at the Bristol University had collectively crowd-funded £1,500, especially for their beloved friend. The idea behind the undergrad students running a crowdfunding campaign was to help Herman to visit his family in Jamaica. A man of African-American heritage, Herman has been living and working in the UK for a while now. But he's obviously lacked the necessary financial bandwidth to travel home.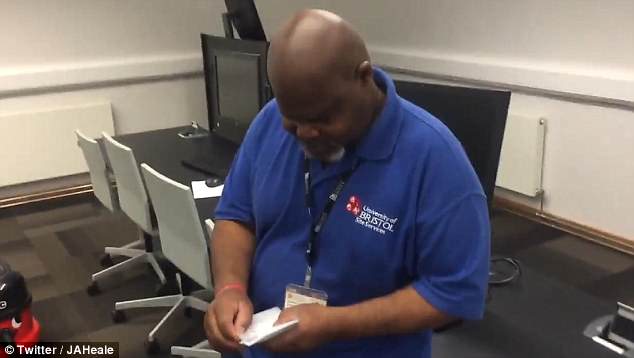 But upon being handed over the cash gift, Herman, quite simply broke down. He had no idea whatsoever that something so priceless was on his way. The required sum to travel to the Caribbean had been raised using a popular crowdfunding platform known as JustGiving. Interestingly, 230 students participated in the campaign, raising a respectable amount for the Bristol University cleaner.
But it all started was when a Facebook post spurred the idea to collect cash needed to fund Herman's Jamaica travel. And it could be said, the entire plan came into picture courtesy of a simple, harmless Facebook post on May 19.
A student had quite simply posted a Facebook status suggesting that Herman was "the jolliest person I have ever met." The post also carried the message that if you were ever down and wanted someone to cheer you up, then simply talking to Herman for a minute or two would bring a smile on a person's face.
A day later of this post, an anonymous Facebook user announced that a crowdfunding page was being initiated to fund the happy man's Jamaica travel. Within five days of starting the online page, the target was reached. But so far, it's unclear whether this is just a temporary or small trip for Herman to Jamaica or a trip from which he may not return to the university.
All that can be shared, however, is that Herman Gordon is on cloud nine, primarily because of the kindness and benevolence of his loving 'friends' at the Bristol University.
'I don't know if you know that song – 'Many a tear has to fall/But it's all in the game',' he said.
'That's what happened. A lot of tears.'