A hero can be anyone, the Batman himself said in The Dark Knight. One definitely doesn't need to jump around wearing superhero costumes, flanked by a mask or resting on one's acquired powers.
We all can be heroes and in fact, if you may have noticed, none of the brave instances fashioned for or leading to a heroic cause has come from anyone special so to speak. There've always been heroes among the common people like us who scale to attention displaying acts of courage and at the end of the day, unquestionable humanity.
What could have possibly given a better example of heroism than what a Parisian man recently did as he jumped on to save the life of an innocent young boy who he didn't even know?
Paris, a city of love and a city so often feted for its ethereal beauty can also fashion a thrilling escapade and often one too many. And just a few hours ago, the city was in the centre of what might've easily been a heady tragedy had it not been for the astounding courage and selflessness of one man- who climbed several floors of an apartment building to save the life of a dangling 4-year-old kid.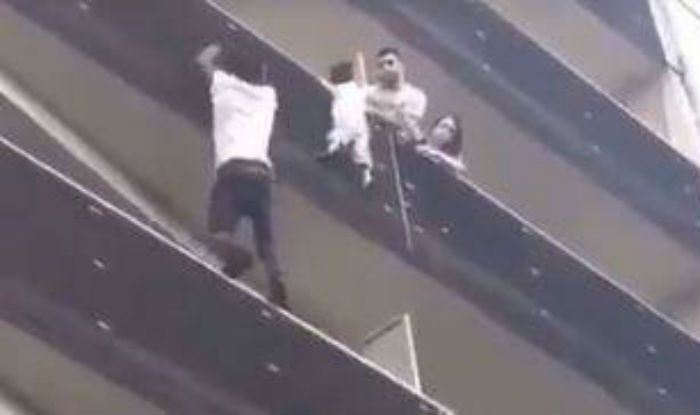 The shocking but ultimately, an uplifting incident took place at the famous 18 Arrondissement, a known locality in Paris. The man in the highlight was brave enough to climb several floors from the outside of the building, in front of a shocked, gathered crowd to reach a kid that had been holding on to a thin edge of the said building and dangling for his dear life.
Without even batting an eyelid or worrying about his own life, the heroic Paris man climbed four stories within seconds to save the child. The video footage that clearly captures arguably a quick-footed climber sees the man approaching the child to rescue him about as smoothly and easily as a child's hand reaches for his favourite candy lying pretty much, next to him.
This is INSANE.

A Paris man scaled a building yesterday in seconds to save a 4-year-old dangling from a balcony railing. https://t.co/Kk6OsL33nW pic.twitter.com/MBAoeX0c2A

— Nina Harrelson (@NinaHarrelsonTV) May 28, 2018
The man, then shimmied across the ledge to then pull back the child to safety as a gathered crowd of hundreds and thousands watched in shock and awe. Famous Press daily, Le Parisien reported that while there was another man who had been making an attempt to save the baby, who despite having a better view couldn't find a good grip, the moment clearly belonged to the rescuer; the brave man who didn't think about his life for even once.
It isn't exactly told as to how the child ended up in such a vulnerable situation but what's known is that once the boy's father left the apartment building to leave for shopping, the kid slipped on to the balcony, completely unbeknownst to all.
But the authorities in Paris, have, at this time, opened an investigation into the incident to unearth the truth as to what exactly transpired with the kid who was, as appears, in this incidence, left on his own. Or was he? Popular news gazette New York Post has shared the following in relation to the aftermath of the incidence.
The so-called Spiderman of Paris suffered only a few scratches in the daring rescue while the child lost a fingernail. But no matter what happened, it is incidences like these that fuel human kinds belief in its own.