Being environmentally aware of your surroundings and decision is the best thing one can do for our environment. You don't need to dump everything out and start living a minimalist life all of a sudden, baby steps toward something good and small changes are completely fine.
Now let's talk about something else that has been an important part of every desi's life, a big fat Indian wedding. But there's a couple from Mumbai who decided to ditch the whole show-off and instead opted for a green wedding.
A green wedding has been described as a wedding that has been well planned and thought out in a certain way to protect the environment in every which way possible. The couple, 27-year-old Deepa Kamath and 28-year-old Prashin Jagger decided to tie the knot on June 21 and they incorporated some really cool and eco-friendly ways to go through the process. From hand-made posters and e-invites to reusable plastic cutlery, this wedding was eco-friendly in every way possible.
While talking about why they wanted a green wedding, the couple told NDTV, "Our green journey started when Prashin decided to propose to me at my friend's farmhouse in Kerala. Instead of giving me the usual diamond ring or a gold ring, he gave me a wooden hand-made ring with our initials inscribed on it."
Both have talked about their little ways of being environmentally conscious. They do their bit by following waste management rules – composting, waste segregation, avoiding the use of plastics are some of their daily rituals. Which is why something like a green wedding was everything people expected from them.
Here's all that they did.
1. Rather than getting those plastic thingies to make people aware of the right people and location, the couple went ahead with a cardboard taken from the box of a TV. They decorated it and put it outside the venue.
2. They went ahead with a community hall with natural ventilation, so that an AC would not be so vicariously needed at the event.
3. They sent out e-cards and went ahead with word of mouth, to invite people to the wedding, rather than wedding cards.
4. Deepa and Prasin decided to opt for minimal flower decorations and hand-made posters using old papers and things lying around with green quotes on it.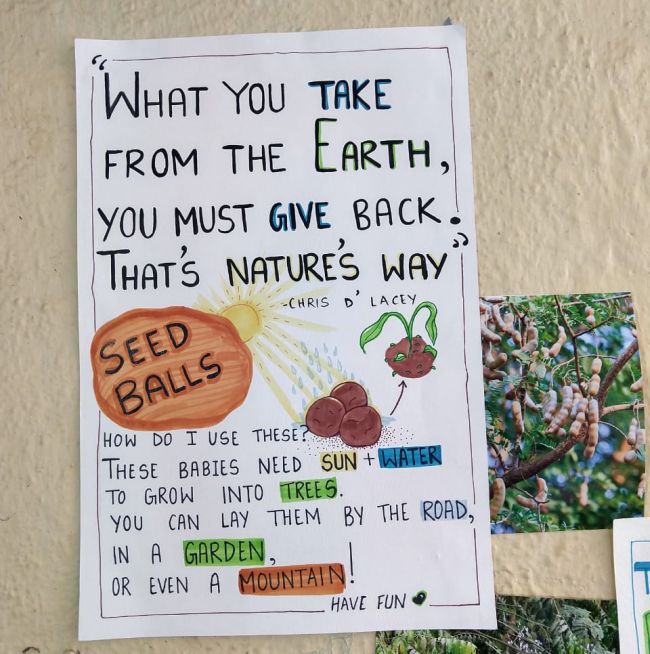 5. They decided to go with reusable plastic cutlery for the wedding so that nothing would be thrown in the trash afterward. Other than that, they also used leaves plates and compostable cutlery.
6. Leftover food was taken away by guests and given away to the people in need.
7. The flowers used in the wedding were then distributed among the guests so that they can use them in their pots and garden, as they decomposed easily.
8. For return gifts, the couple gave their guests seed balls which they sourced from a PuneNGO Bhavtal that grows into a plant. And, these were packed in small colourful bags designed by a local designer using all the waste cloth they had.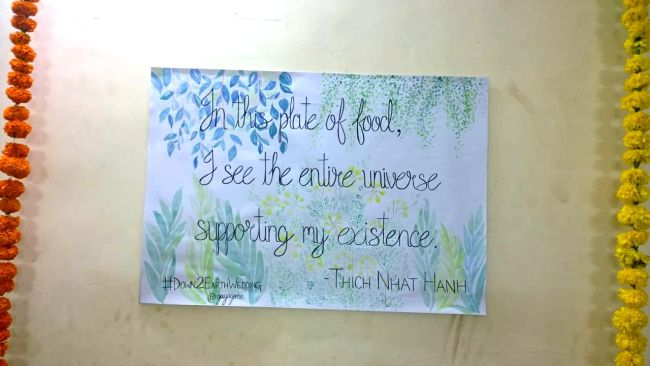 These small and fairly easy steps helped them in organising a green wedding and it carried out amazingly. More than anything, the couple was able to save themselves from a lot of damage that is otherwise done at weddings.
Jyotsna Amla