It is said that when tough times strike, some take a soft stand and hide out while there are some who take a strong guard and watch out for the others. And in a similar sense, a Kerala man came out with such a profoundly noble act that it deserves to be told and retold for the sheer value of inspiration it carries. So what exactly happened and why's this Kerala man making such good news?
Well, here's a question to us all: just how important or precious is our life's savings for us? Don't we all want to rest finally on a safe deck of saved sum so that we can all retire peacefully and live healthily after all?
But then, there are also some who care little for their self-welfare for their true intentions are for the welfare of the others.
This Kerala man, by the name of Janardhanan, had an entire life's savings of Rs 2,00,850 in his bank account. But instead of keeping it indisposed and strictly for his own good, he decided to give it all away to the Chief Minister's Distress Relief Fund, better known as the CMDRF. And just why did he do so?
So that he could help the state of Kerala to buy the much-needed COVID 19 vaccines. At a time in the country where one is perhaps only engulfed and surrounded in the news that brings misery and dismay, just how beautiful a piece of news is this from God's own country?
More information on the Kerala man suggests that Janardhanan happens to be a former beedi worker at the Kannur-bound Kerala Dinesh Beedi.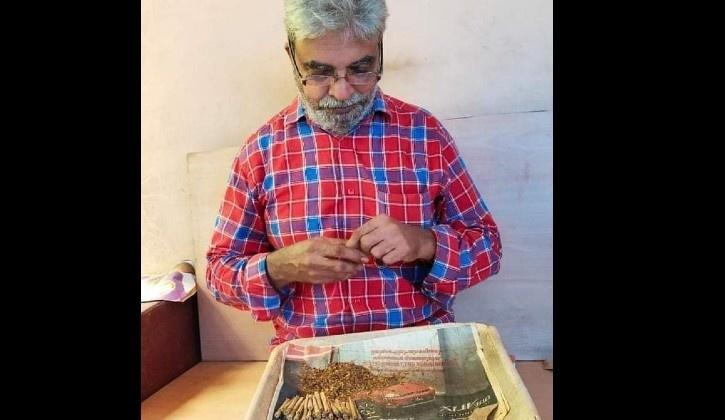 But truth be told, the Kerala man didn't himself sing praises of his story; it all began when someone posted the account of Janardhanan's large-heartedness on social media.
As it turns out, Janardhanan, aware of the plight all thanks to the COVID 19 chaos, visited his bank to withdraw the money where he was attended by an official. The same person broke his kind story over the internet in a post that stated the following:
"Yesterday, an elderly man came to our bank and asked me to check his account balance.When I told him that there was Rs 200850 in his account, he said he wanted to donate Rs 2 lakh to CMDRF to buy COVID-19 vaccines."
What was also revealed was that the official who attended at first thought that Janardhanan's decision was an impulsive one, hence he told him to reconsider it. But little did the Kerala man budge, he had decided and there was no going back on his decision.
But here's what's most beautiful: in extending all his money toward the CMDRF, he acted as an anonymous donor and had the following to say when coaxed about rethinking about his massive decision:
"I am not struggling to live in any way, I get a disability pension. Additionally, I still make around Rs 1,000 a week from making beedis. It was not a sudden decision. I have thought about it well!"
Also Read: Around 150 Beds To Be Made Ready At Vacant Flats In Gurgaon By Next Week!
Soon after the donation was made, the entire episode was posted on Facebook wherein the post became viral and the bank employee also kept Janardhanan's identity anonymous.
But later on, some users of social media and journalists were able to identify the identity of this kind and benevolent man and thus his story reached wider corridors where it is rightly being hailed.
What a tremendous act of kindness. It must be spread as widely as possible! Bravo, sir!