Chances are, at this point of time even if you are not watching the 2018 FIFA World Cup, then someone right next to your home or in the next block is. That is what is perpetually on, everywhere one goes and sees: whether in corporate offices or airports, food courts, stadiums, gymnasiums, public health offices and even, mobile phones being operated in parking lots.
Such incessant is the love and passion for the 2018 FIFA World Cup that you could actually skip a meal or an important professional assignment, but not a live game. Isn't it? But while teams like Russia, Sweden, Brazil, Switzerland, England among others are still holding the fort- a number of key players have shockingly exited. And that too, from the league or group stages itself.
After the exit of Germany, Argentina and, Portugal- three of the fiercest and strongest contenders for the current world cup, there came the rather low-key exit of Japan. The Asian nation was also among the teams that couldn't make it ahead to the final 16 stages.
But spare a thought. Spare a thought about Japan. They came here, competed hard, fought-off bravely and left behind an example. And in case, you are wondering, just what that example is, then well, here's the key reading.
After their agonising defeat at the hands of Belgium, Japan are the latest team (perhaps right after Spain) to have exited Putin-land in Russia. But even amid heartbreak- for every team regardless of strengths and talents wishes to get its hands around the celebrated trophy- Japan have gone an extra yard in thanking their fantastic hosts (Russia).
It's not too difficult to note that a number of Japan players were distraught, in tears when the team crashed out of the 2018 FIFA World Cup. Even then, in maintaining a rather sterling sense of cleanliness and top-notch standards of hygiene in the dressing room- the team from Japan- has left behind a huge example for every other team to follow.
Right in the immediate aftermath of their bravely fought 2-3 defeat to Belgium, one of the interesting sights to see was the green room (dressing room) occupied by Japan. It was left absolutely spotless clean as the players exited the stadium and headed back to the hotel, from where they'd leave for their home.
This was clearly a remarkable example set by the departing Japanese team. Here's why there's something in there for the others to understand and why one must admire the team.
"Just imagine, it's an all to play for, decisive knock-out contest, winning which would take you to the next stage of the mother of all footballing battles. You are playing literally on the edge and in so doing, you end up losing. 
With the thoughts of victory and triumph steered away from your grasp, your hopes dashed to the ground, with millions world-over watching the proceedings sticking like glue to the television. Can you even be in the right senses to bother about something as trivial as cleaning the player's dressing room?"
This is exactly what the Japan team looked after well. Truth be told- that's not all. Japan's fans also weren't far behind from the team and the squad. Upon completion of the contest, all Japanese fans in the stadia were seen personally collecting rubbish and leave-behinds themselves.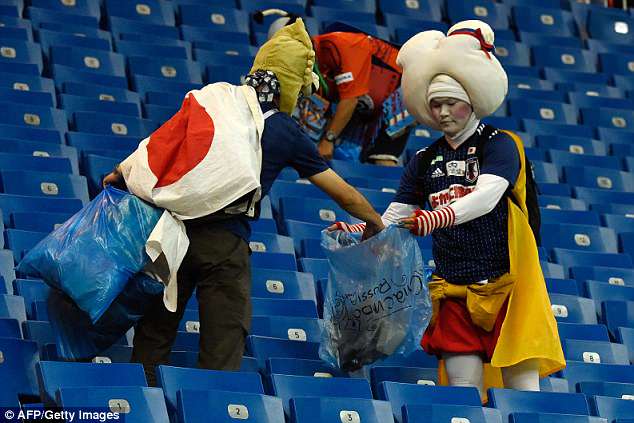 A few weeks back, precisely a month ago, a video snowballed into becoming a viral sensation in the social media stratosphere and guess what country was it based on? Japan, who else? In the video, it was shown that there are multiple lines or queues that are maintained and followed in rich earnest in the 'land of the rising sun'. People actually care about every tiny rug or detail that concerns their fellow civilians in Japan.
In this regard, seeing the soccer team going as far as cleaning the dressing room that was entrusted to the squad makes sense and leaves behind a strand of inspiration for others to follow.
The sporting nation that took it's close-fought defeat bravely was also praised on social media, particularly on Twitter, where appreciative Tweets bestowed upon Japan their penchant for cleanliness. After all, it's little surprise to see now-thanks to football teams like Japan- why they say cleanliness is next to godliness. Isn't it?